After a third consecutive winless week, the Arizona Coyotes are still the only remaining team in the NHL that has yet to outscore their opponent and emerge victorious from a game this season.
Following their 6-2 embarrassment at the hands of the Boston Bruins on Oct. 14, the 'Yotes headed out to Dallas to play the Stars at the American Airlines Center on Tuesday night. They did so with a new goaltender, as rookie Adin Hill made his NHL debut in the game. He played well, stopping 31 of the 33 shots he faced, but the Coyotes struggled offensively yet again and were defeated, 3-1.
The two teams then headed to the Valley of the Sun on Thursday for a grudge match at Gila River Arena. Although the Coyotes were finally able to generate a bit of offense, they were unable to stop Jamie Benn or Tyler Seguin as the duo combined for five points to help the Stars escape Glendale with a 5-4 victory.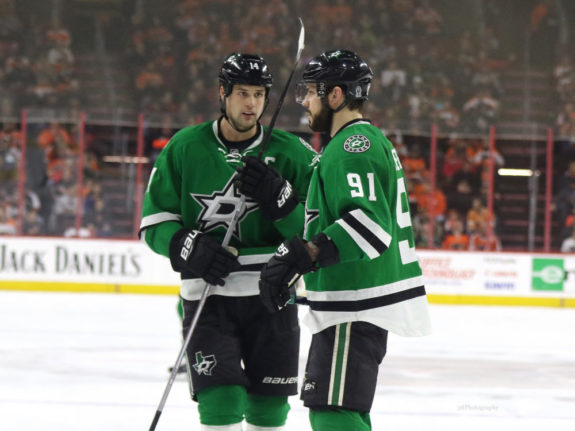 For the third consecutive weekend, the Coyotes had a Saturday night home game. And, for the third consecutive weekend, the Coyotes went home empty-handed. The Chicago Blackhawks came to town on a seven-game winning streak against Arizona and ultimately extended that streak to eight, albeit with some difficulty as the game was tied late into the third period until Lance Bouma scored the game-winner with 4:24 remaining. Tommy Wingels added an empty-netter as the Blackhawks picked up a 4-2 victory in Glendale.
Still Looking for a Win
Following Saturday's loss to the Blackhawks, the Coyotes will hit the road for a five-game trip through the Eastern Conference. They'll get things started in Brooklyn on Tuesday night against the New York Islanders. The Isles have been one of the league's most consistent teams in 2017-18 – since dropping their season opener in Columbus by a 5-0 score, the Islanders are 4-2-1 and have not allowed more than three goals in any game. Puck drop is scheduled for 7:00 P.M. local time (4:00 P.M. in Arizona) at the Barclays Center.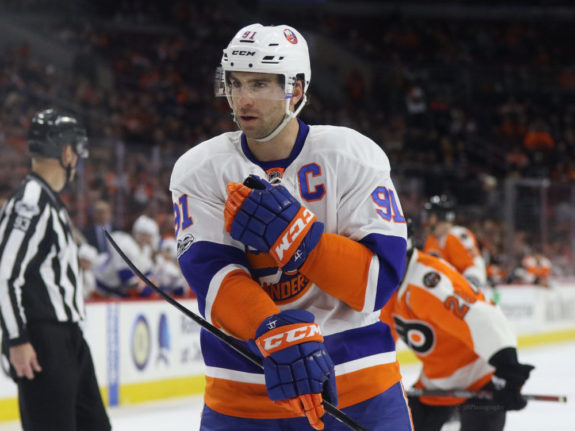 Following Tuesday's contest, the Coyotes will remain in the Big Apple as they'll take on the New York Rangers on Thursday at Madison Square Garden. 'The World's Most Famous Arena' hasn't been friendly to the Coyotes in recent years – they're 0-5-3 in their last eight visits there and will look to end that streak on Thursday. Puck drop is scheduled for 7:00 P.M. local time (4:00 P.M. in Arizona) at the Garden.
On Saturday, the Coyotes will cross the Hudson River into New Jersey and will wrap up their week with a matchup against the Devils. New Jersey is off to a surprising start – they're 6-2-0 and find themselves in first place in the Metropolitan Division after three weeks. Their success is due in large part to their offense, which is averaging 3.75 goals per game this season. Puck drop is scheduled for 7:00 P.M. local time (4:00 P.M. in Arizona) at the Prudential Center.
Keller for Calder?
Although the Coyotes have struggled as a group this season, Clayton Keller has been a standout on the ice in Arizona. He scored three more goals last week, giving him six on the season in addition to two assists. His eight points lead all Coyotes skaters and are second in the league among rookies behind only New Jersey's Will Butcher.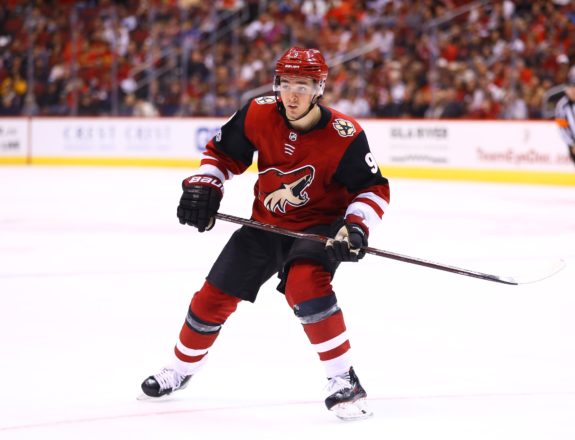 While Keller hasn't been able to help the Coyotes win a game yet, he has managed to garner a significant amount of league-wide attention for himself. Before the season started, Keller was named as a favorite to win the Calder Trophy, awarded to the league's top rookie. After eight productive games, it appears as if he'll be in the conversation for the award all season.
No Coyote has ever taken home the Calder – can Keller be the first?
Related – Clayton Keller: NHL 2016 Draft Prospect Profile
Pacific Division Roundup
Three weeks into the season, the Los Angeles Kings and Vegas Golden Knights sit atop the Pacific Division. Here's how Arizona's other division rivals fared last week:
Anaheim Ducks (3-3-1, 7 points)
Last week: 1-0-0 (6-2 W vs MTL)
Analysis: In their only game of the week, the Ducks demolished the hapless Montreal Canadiens at the Honda Center by the score of 6-2. The Habs have yet to win a game in regulation or overtime this season, and the Ducks added to their suffering with six goals on 45 shots against Carey Price.
Player of the week: John Gibson – Win, 49 saves on 51 shots (.961 SV%) vs MTL
This week: Tue at PHI, Thu at FLA, Sat at TB, Sun at CAR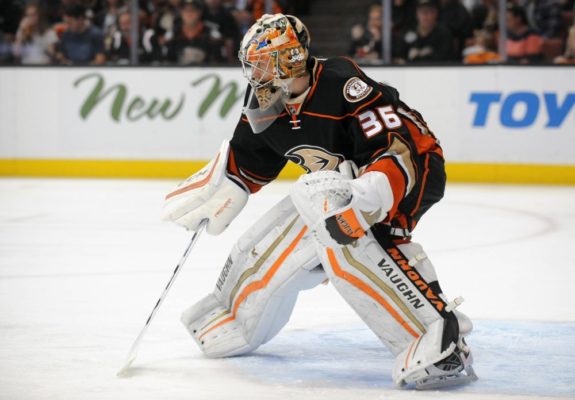 Calgary Flames (4-4-0, 8 points)
Last week: 0-2-0 (2-1 L vs CAR, 4-2 L vs MIN)
Analysis: After winning three of their first four games of the season, the Flames have since lost three of four and have fallen back to the .500 mark. Mike Smith continues to play well in goal, but the team around him needs to improve, as Calgary is allowing 35.4 shots per game this season.
Player of the week: Mike Smith – 0-2-0 record, 59 saves on 64 shots (.922 SV%)
This week: Tue at NSH, Wed at STL, Fri vs DAL, Sun vs WSH
Edmonton Oilers (2-5-0, 4 points)
Last week: 1-2-0 (5-3 L vs CAR, 2-1 OTW at CHI, 2-1 L at PHI)
Analysis: The Oilers continue to struggle offensively – they've scored just 11 goals in six games since their season-opening 3-0 victory over the Flames, and will need someone other than Connor McDavid to step up and create some offense. The upcoming return of Leon Draisaitl should help, but they need to figure things out quickly – they're already nine points behind Los Angeles for the division lead.
Player of the week: Connor McDavid – 3 assists
This week: Tue at PIT, Thu vs DAL, Sat vs WSH
Los Angeles Kings (6-0-1, 13 points)
Last week: 2-0-0 (5-1 W vs MTL, 6-4 W at CBJ)
Analysis: The lone remaining NHL team without a regulation loss, the Los Angeles Kings are absolutely steamrolling teams to start the 2017-18 season. They're once again getting regular contributions from Anze Kopitar and Dustin Brown, and are first in the league in goal differential at +13. L.A. will have to deal with the loss of Jeff Carter, though, as he suffered a cut ankle tendon when the skate of Canadiens defenseman Jeff Petry contacted his leg on Wednesday. He has already undergone surgery and will miss multiple weeks.
Player of the week: Dustin Brown – Goal, 3 assists, +5, 10 shots
This week: Mon at TOR, Tue at OTT, Thu at MTL, Sat at BOS
San Jose Sharks (3-4-0, 6 points)
Last week: 2-1-0 (5-2 W vs MTL, 3-0 W at NJ, 5-3 L at NYI)
Analysis: The Sharks got back on track with dominating wins over Montreal and New Jersey on Tuesday and Friday, respectively, but they took a step backward at the Barclays Center on Saturday as they lost, 5-3, to the New York Islanders despite getting a hat trick from Logan Couture. They'll need some contributions from Brent Burns and Joe Pavelski eventually if they're going to make any noise this season – each has only four points, and Burns has yet to score a goal after lighting the lamp 29 times last season.
Player of the week: Logan Couture – 5 goals, 2 assists, +3
This week: Mon at NYR, Thu at BOS, Sat at BUF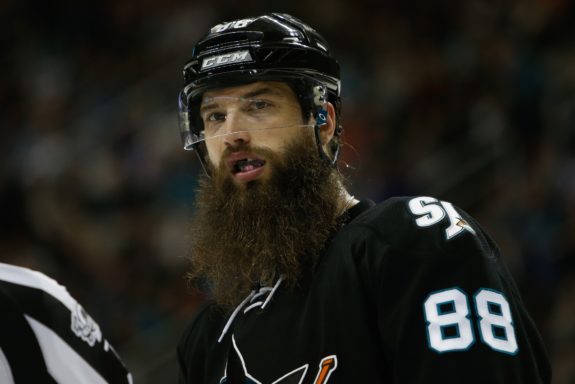 Vancouver Canucks (4-3-1, 9 points)
Last week: 3-1-0 (3-0 W at OTT, 6-3 L at BOS, 4-2 W at DET, 4-1 W at DET)
Analysis: Following three consecutive home losses two weeks ago, the Canucks rebounded with three road wins in four tries last week to climb back into the conversation in the Pacific Division. Sure, this is a team that's supposed to struggle this season, but don't tell that to Derek Dorsett and Michael Del Zotto, who lead the team in goals and assists with five each, respectively.
Players of the week: Derek Dorsett – 4 goals, assist, +3, 10 shots, 34 PIM
This week: Tue at OTT, Thu at BOS, Fri at BUF, Sun at DET
Vegas Golden Knights (6-1-0, 12 points)
Last week: 2-0-0 (5-4 OTW vs BUF, 3-2 OTW vs STL)
Analysis: The Golden Knights treated their home fans at T-Mobile Arena to two thrilling overtime victories this week as the improved to 6-1-0 on the season. However, the Knights are down to their number-three goaltender, as Malcolm Subban suffered a lower-body injury on Saturday against St. Louis. With Marc-Andre Fleury not quite ready to return, the Golden Knights will need to make do with Oscar Dansk in goal.
Players of the week: Reilly Smith – 2 goals, 3 assists, +1
This week: Tue vs CHI, Fri vs COL
Overtime is our time. Good Knight, everybody! #VegasBorn pic.twitter.com/LBj7wgiCbP

— Vegas Golden Knights (@GoldenKnights) October 18, 2017
The Coyotes continue to be the only remaining team in the NHL that has yet to win a game. Can they get the job done this week in New York? If they don't play well on this road trip and return home at 1-11-1 (or worse), does Rick Tocchet's job security start to become an issue?
A lifelong Phoenix resident, Louis has been following hockey since 2010, has covered the Arizona Coyotes since 2015, and has been playing hockey since 2020. So far, Louis has visited eight NHL cities, and one of his personal goals is to eventually make it to all 31 NHL arenas. For any questions or concerns, contact the writer via Twitter @LouisPannone.