After a thrilling overtime win over the Los Angeles Kings, the Arizona Coyotes are set to welcome the Edmonton Oilers to Gila River Arena on Wednesday night. This game provides the first opportunity for two Coyotes, Sam Gagner and Devan Dubnyk, to face their former team. With their old team making a visit to Glendale, let's take a look at how Gagner and Dubnyk fared during their time in Edmonton and the impact they have had with the Coyotes.
Sam Gagner
A first-round draft pick in 2007, Gagner spent his first seven years in the NHL with the Oilers. He recorded 101 goals and 295 points in 481 career games with Edmonton, but never scored more than 18 goals or 49 points in a single season. However, Gagner did etch his name in Oilers' history when he tied a franchise record for points in a single game with eight against the Chicago Blackhawks on February 2, 2012 at Rexall Place.
So far, Gagner has been held pointless in Arizona's first two games with a -2 rating. He had been relatively quiet during the preseason as well with only one goal, although he did have to deal with an upper-body injury for the last week of camp. Perhaps playing his old team might give Gagner the boost he needs to get his production going with the Coyotes.
Devan Dubnyk
Dubnyk was another first-round pick by the Oilers as he was selected in the 2004 draft. After going through juniors and the minor leagues, Dubnyk made his debut with Edmonton on November 28, 2009. In his 14th appearance, he got his first win on March 19, 2010 against the Detroit Red Wings. Dubnyk put together a 61-76-22 record during his four-plus seasons with the Oilers before being traded to the Nashville Predators on January 15.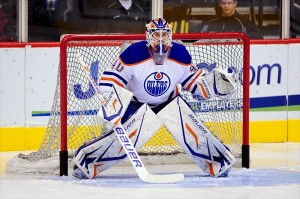 Dubnyk made his first start with the Coyotes on Saturday after Mike Smith allowed six goals in the team's 6-2 loss to the Winnipeg Jets on Thursday. Dubnyk made 26 saves in Arizona's 3-2 victory against the Kings. Despite a rocky start to that game, he played well the rest of the night and the defense played much better in front of him than they had on Thursday. It will be interesting to see if Dubnyk gets a chance to start against his former team, whether it is Wednesday night's contest or one of the other four meetings between Arizona and Edmonton this year. Head coach Dave Tippett has not yet announced whether Dubnyk or Smith will be in goal for Arizona for Wednesday against the Oilers.
Charles Woodall-Pike is a journalist who writes about the Arizona Coyotes for The Hockey Writers.