Now that he has received a new contract from the Vancouver Canucks, general manager Mike Gillis is faced with the most important summer of his tenure. The Canucks are coming off of back to back President's Trophy seasons that resulted in zero Stanley Cup championship banners hanging from the rafters at Rogers Arena.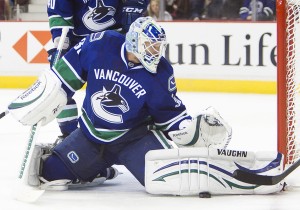 He has a team that has a talented core of players that will make them contenders again next season but that window is starting to close a bit. Gillis will have to find a way to tweak the team to get over the hump and keep them competitive for the long haul. To do that he is going to have to make some tough personnel decisions and find some diamonds in the rough.
At his year end press conference he mentioned that he wanted Vancouver to get younger and bigger and was evasive about the future of Alain Vigneault and Roberto Luongo. All of these issues will have to be resolved this summer and if he resolves them the right way the Canucks will be on top of the league again. If he fails then things might get a bit bleak.
The team is hardly dead in the water but stars Henrik and Daniel Sedin are getting older, Alex Burrows is 31 and has one year left on his contract, Ryan Kesler showed some wear and tear this year, and they will most likely not have Sami Salo back this year. Some rebooting will need to be done.
Head Coach 
There has been a lot of speculation about the future of Alain Vigneault, despite being the franchise's most successful coach. His critics will point to the fact that he hasn't been able to win it all with this core of players. While it is unclear who these critics would rather have behind the bench, there is a strong sentiment that it is time for a change. A fresh start would be the only logical reason to change head coaches at this time. Are there things that Vigneault could do better? Absolutely, but to fire him because his success has built up expectations does not seem fair.
This will be Gillis' first big step this summer. Does he fire a guy with a high level of success and who has been loyal to him? Is it time for a fresh voice and system for the Canucks? It doesn't seem like that will happen. At his press conference announcing his new contract he seemed to indicate that Vigneault will be back and would be the next to sign.
Inevitably there will people who don't like this move. However It feels like the right one now, but if the Canucks have a down season the second guessers will be all over Gillis and the knives will be out for Vigneault.
Goalie 
One of the most delicate maneuvers Gillis has in front of him is what he does in net. He is blessed with a problem that few general managers have to deal with. He has two top notch net minders, and a couple waiting further down in the system, that are the envy of most NHL franchises. The problem is that he can not keep both.
Roberto Luongo is under contract at roughly a $5 million cap hit and Cory Schneider is going to be a Restricted Free Agent this summer. To keep both the Canucks would be tying up too much of their cap space to make any other moves and would hamstring their roster. So one of them has to go.
For the longest time it was assumed that Cory Schneider would be the one traded but that  prospect seems to have shifted over the past few months. It started with Schneider taking over in Game 3 of the playoff series with the Kings. Then Luongo fanned the flames by saying he'd be willing to waive his no-trade clause and the rumor mill has been 'a go' since then. Either goaltender will garner interest from the several NHL teams that are goaltending starved. Luongo may be the most difficult to trade because he will have some say in what teams the Canucks deal with and will probably require a big salary to come back in return. Schneider is younger and cheaper and could net younger players back in return.
The direction that Gillis takes with these guys may end up putting the Canucks over the top or sinking them. Not only does he need to find the right package but he has to make the right call on who stays as the club's fortunes will be on that guy's back. This will be one of the best story lines in the league (non collective bargaining related) to watch this summer.
Younger and Bigger 
While Gillis made the statement about getting younger and bigger he did not offer a lot of details as to how we planned on doing that. He started this process at the trade deadline by trading Cody Hodgson to Buffalo for Zack Kassian who is 21 and weighs in at 6'3" and 214 pounds. Kassian is bigger and younger but was already on the roster so clearly Gillis has someone else in mind. Kassian will be expected to step us his game from what he showed last season.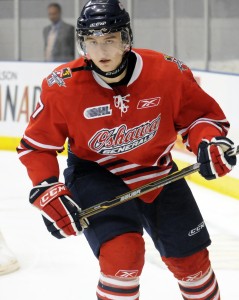 Perhaps Gillis is thinking about 2011 first round draft pick Nicklas Jensen, who is only 19 and has shown that he can adjust to the North American game by putting up decent numbers in the OHL. In a brief stint with the Chicago Wolves last season he scored a couple goals. It seems that Jensen is maybe too young to be the youth and size that Gillis is talking about, but you never know? Relying on Jensen, at his age, to provide secondary scoring seems to be a stretch.
Maybe he was referring to someone like defenseman Kevin Connuaton who had an impressive season in the AHL for Chicago with 13 goals. Connuaton is 22 and has pretty good size so he might fit Gillis' requirement.
Or perhaps Gillis was referring to players they wanted to bring in via the free agency or trade route. Outside of Kassian, and perhaps Connuaton, it does not appear that Vancouver has many guys in their system that are "younger and bigger"and NHL ready.
Mike Gillis has a roster that has some quality players on it-players who know how to win but need some help. They need secondary scoring and could use some help on defense. Will Jensen, Connuaton or some player to be determined provide that for them? Will Gillis put his eggs in the Cory Schneider basket? Who can he get in a trade for Roberto Luongo?
The questions are there, now we wait for the answers.