It's a little too early to compare Braden Holtby to Ken Dryden… or is it? Dryden made his NHL debut in 1971 after playing six regular-season games with a 0.957 save percentage. Holtby played seven regular season games with a 0.922 save percentage before taking his team into the playoffs. While Dryden may have edged out veteran All-Star Rogie Vachon for his spot while Holtby was more of a last resort, Holtby still looks like a keeper of a keeper for next year. Holtby managed to knock off last year's playoff MVP and Vezina Trophy winner Tim Thomas, but he isn't done with this year's Vezina Trophy front-runner Henrik Lundqvist. Here's how Holtby's compared so far: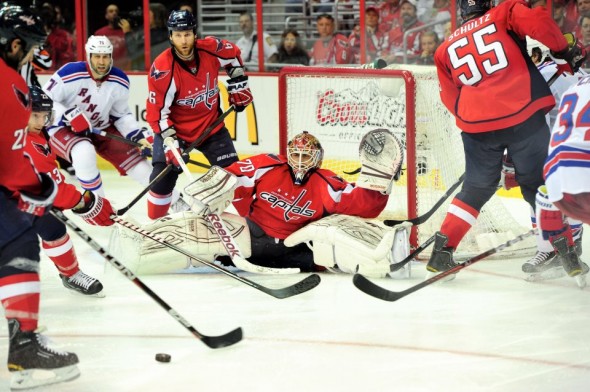 Games played: Holtby 12, Lundqvist 12
Wins: Holtby 6, Lundqvist 7
OT Losses: Holtby 4, Lundqvist 2
Shots Against: Holtby 397, Lundqvist 350
Goals Against: Holtby 26, Lundqvist 22

Goals against Average: Holtby 2.02, Lundqvist 1.70
Saves: Holtby 370, Lundqvist 328
Save Percentage: Holtby .932, Lundqvist 0.937
Shutouts: Holtby 0, Lundqvist 1
PIM: Holtby 2, Lundqvist 0
Blocked Shots: Capitals 130, Rangers 87
shots against in the series: Holtby 149, Lundqvist 133
Goals Against Round Two: Holtby 12, Lunqvist 10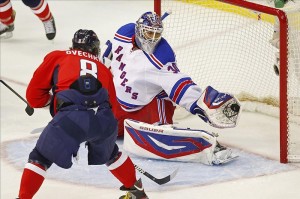 Quick numbers:
23% of Holtby's goals against were scored while the Rangers were on the powerplay
32% of Lundqvists goals against were scored with the Caps on the powerplay
Lundqvist has the most shots against both on powerplay and shorthanded of any goalie in the playoffs.
By Game 5 in the first round Holtby had 10 more shots on goal than he's had so far in this series
Game 5 was the first game won by the goalie with an inferior save percentage (sorry Holtby)
Regardless of how Holtby's storybook Cup run ends, whether it's over Wednesday night or two rounds from now, he's been the story for the Caps.