It was December 8, 2011.  The Rangers were 15-6-3, coming off a loss to the Toronto Maple Leafs that halted a five-game win streak.  The Lightning, 12-14-2, were desperate for a win, having lost their previous five games.
With the score knotted at one, Artem Anisimov carried the puck through center ice, starting off a great passing play with Brandon Dubinsky and Michael Del Zotto.  The puck would eventually find its way back on to Anisimov's stick at the top of the crease for an easy empty-net goal.
Anisimov's fifth goal of the year would give the Rangers the lead.   It would also spark a near-brawl that resulted in a combined 38 minutes of penalties to both teams, thanks to his infamous post-goal celebration:
Columbus hopes Anisimov can bring that kind of firepower to the Blue Jackets' lineup.
Anisimov, a product of Lokomotiv Yaroslavl, was drafted by the Rangers in 2006, going 54th overall.  He played one more season in Russia, picking up two goals and eight assists in 39 games – along with five points in seven playoff games –  before making the jump to North America for the 2007-08 season.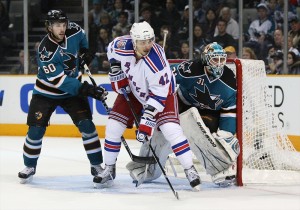 Anisimov got off to a strong start in his first season with the AHL's Hartford Wolf Pack, scoring 16 goals and 27 assists for 43 points. He played alongside future NHL teammates P.A. Parenteau (now with the Colorado Avalanche), Lauri Korpikoski (now with the Phoenix Coyotes), and a fellow rookie named Ryan Callahan.
His second season in the AHL was even better.  Anisimov led the Wolf Pack in scoring, with 37 goals and 44 assists, good enough for fifth overall in the league.  He made his Rangers debut on February 3, 2008, in a game against the Atlanta Thrashers; he was held scoreless over 9:27 of ice time.  Anisimov would return to the AHL for the remainder of the season.   He rejoined the Rangers in the postseason, making his Rangers playoff debut in Game 7 of their playoff series against the Washington Capitals; a game the Rangers lost 2-1.
Anisimov started the 2009-10 season in the NHL with the New York Rangers.   He picked up his first point – an assist – against the Capitals just four games into the season.  His first NHL goal came in the Rangers' next game, three days later, against the Anaheim Ducks.  Assisting on Anisimov's power play marker was current Blue Jackets' teammate Vinnie Prospal.   He finished the season eighth on the team in scoring, with 12 goals and 16 assists for 28 points.
The 2010-11 season was Anisimov's final under his entry-level contract, and, as players often do, he stepped up in his contract year.  Anisimov posted career highs in goals (18), assists (26), and points (44), playing much of his time on a line with Brandon Dubinsky and Ryan Callahan.  He finished fifth on the team in scoring.  Anisimov netted his first playoff goal that postseason, opening the scoring in Game 4 of the Rangers' series against the Washington Capitals.  The Rangers would blow a 3-0 lead in the game, ultimately losing the game 4-3 in double overtime and losing the series in five.
Anisimov came into 2011-12 with a freshly-inked two year deal valued at $1.875 million per season. While he didn't quite match his career numbers from the prior year, Anisimov still contributed to the team's offense. The acquisition of Brad Richards and continued development of Derek Stepan rearranged the depth chart and chipped away at Anisimov's ice time.  His average time on ice dropped from 16:12 the prior year to 15:24 in 2011-12. His shots on goal dropped significantly 190 to 132. Despite this, he still scored 16 goals and 20 assists.  He hit career highs in power play goals (4) and plus/minus rating (+12).  His ironman streak, though, came to an end during the season; he'd played an impressive 233 consecutive games for the Rangers before suffering an upper body injury that sidelined him for three games in March of 2012.  In the postseason, Anisimov scored ten points in 20 playoff games, though he did spend a bit of time pinned to the bench in John Tortorella's doghouse during the Eastern Conference Finals.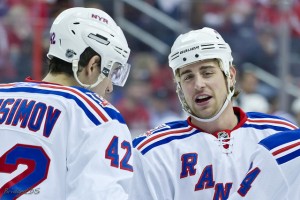 Anisimov had picked up his overall game and improved his play away from the puck.  The Rangers, though, had other forwards who were doing the same at a more rapid pace.  Derek Stepan, joining the Rangers right from the NCAA in 2010, had outscored Anisimov in back-to-back seasons and was solidly in front of him on the depth chart.  The emergence of Carl Hagelin on the wing further complicated the Rangers' top six.  Anisimov was effectively trapped on the third line, with less opportunity to continue to contribute and to develop as a scorer.
When the opportunity arose to acquire Columbus winger Rick Nash, Anisimov was an obvious choice for inclusion in the deal.  Rangers' GM Glen Sather was reluctant to part with any of his top forwards, and, at that time, Anisimov was outside the top six.  On July 23, the deal was made, and Anisimov, along with Brandon Dubinsky and Tim Erixon, was on his way to Columbus.
Only, Anisimov was already out of town.  On his honeymoon.  In Fiji.
"In Fiji, it's 16 hours ahead, so it was already the next morning. My cellphone had no reception in the room. But when we got to breakfast, my phone started telling me I had all these messages, and before I could look at any of them, my agent called. He'd been trying for an hour or so, I think."

"It didn't affect our honeymoon at all. We had a great time. And the more I thought about it, the more I started to get pretty excited. We have a pretty good team here, you know? We have some great players. We have the same dreams they have in New York or on any other team." – Artem Anisimov, courtesy Blue Jackets Xtra.
Anisimov brings a solid, though not spectacular, game to Columbus. He's shown flashes of offensive brilliance, though he's lacked in the consistency to maintain that level of play.  At 6'4", 200 lbs., Anisimov is an imposing figure on the ice, but needs to better leverage his size to his advantage.  Columbus General Manager Scott Howson expects Anisimov to be able to finally hit the 20-goal mark this season, and, given his progress, that's certainly reasonable.
"We're going to be very competitive, we're going to be hardworking, we're going to be fast. Our forward group is exciting. It has lots of balance, lots of versatility."

"Dubinsky and Anisimov [give] us size and skill at the center position. We were small there and we needed to get bigger. They can play center and on the wing and this gives [Head Coach] Todd Richards more options at the top of the lineup." – Columbus GM Scott Howson via press conference following the trade.
Coach Todd Richards has reportedly penciled Anisimov in at the team's third line center, according to Aaron Portzline of the Columbus Dispatch, giving the team greater depth at center:
"I think the guys we added are a reason to be excited. Strength down the middle is a good way to build your team. [Anisimov is a] really big, strong, good skater. The role he was used in in New York was a third-line winger or center. But what has me really intrigued is his size, and the fact that he moved very well on the ice." – Blue Jackets Head Coach Todd Richards
As Anisimov goes in to the final year of his contract, he'll also have a great opportunity to step up his game and prove himself as more than a third-line center.  He'll continue to grow and develop, and hopefully surpass the 20-goal mark.  For Columbus to be competitive, he'll need to.
Anisimov shouldn't bother with the 'sniper rifle' celebration this year, though.
Here in Columbus, we've got a cannon.