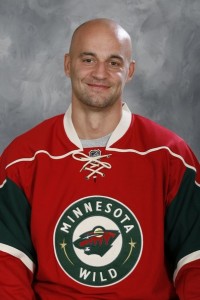 After a couple of aimless seasons out of the playoffs, Minnesota Wild general manager takes a huge gamble to reset the course of the franchise.
Sound familiar?
On the first day of the NHL Entry Draft in June 2006, Doug Risebrough traded his first-round pick and highly-touted prospect Patrick O'Sullivan to the Los Angeles Kings for playmaker Pavol Demitra. Demitra, without the fanfare of Zach Parise or even Ryan Suter, was a world-class talent, a three-time All-Star who was captain of the 2006 Slovakian Olympic team (and eventually, tournament-leading scorer of the 2010 Olympics).
I'm reminded of the Demitra deal as Wild fans are still staggering from the franchise-altering signings of Parise and Suter.
But let's go back further.
In only their third year of existence, the Wild shocked the hockey world by reaching the Western Conference Finals. However, that team was truly a Cinderella team, and besides Marian Gaborik, Pascal Dupuis, and Willie Mitchell, was not young or talented enough to sustain that success. The next two seasons, with the lockout sandwiched in-between, the outgunned Gaborik and company would miss the playoffs.
Entering the 2006 Draft, Risebrough was looking to supply Gaborik and recent signee Brian Rolston with more firepower. Demitra, who had just come off a point-a-game season with the headed-for-rebuild Kings, was a perfect candidate because of his friendship and on-ice chemistry with fellow countryman Gaborik.
The trade announcement, eliciting audible gasps from the audience in Vancouver, provided one of the most entertaining televised Draft moments ever.
Some were unhappy with the deal, as O'Sullivan was a prized talent. Some, however, were awed by the idea of two stars with such complementary styles terrorizing goalies around the league.
"Pavol Demitra's a good player, but if you want him to be a solo player, he's not going to be," said Craig Button, then a scout for the Toronto Maple Leafs, to the Minneapolis Star Tribune. "You have to get him the right linemate. And we've seen now, you put him with a guy like Marian, Pavol doesn't just jump from here to here. It's exponential.
"They're both smart players, both really good with the puck, both really good skaters, where Pavol maneuvers and Marian can really take off. And the way Pavol holds the puck and Marian gets open for him, that's how one plus one equals three."
While Button's understanding of exponents didn't quite add up, Gaborik and Demitra, though both slowed by injuries, led the 2006-07 Wild to 104 points, their best regular season ever. Demitra helped Gaborik to a then career-high .63 goals a game with masterful strokes like these:
Unfortunately, the Wild ran into the eventual Stanley Cup champion Anaheim Ducks in the first round of the playoffs. That Ducks team is still thought by many to be the best Stanley Cup-winning team since the lockout, mainly because of the suffocating defensive duo of Chris Pronger and Scott Niedermayer, who limited Demitra to a goal during the series.
The next season, even though Demitra was hampered again by nagging injuries, the Wild were able to earn their first division crown. But again, they bowed out in the first round, this time to a far less vaunted team than last year's Ducks. The Colorado Avalanche were led by veterans on their last legs like Joe Sakic, Peter Forsberg, Adam Foote, and ironically, Andrew Brunette, hero of Minnesota's 2003 playoff run, who helped wreck Wild hopes in 2008 with three goals against his old mates.
Demitra, he of a quiet two goals and seven points in 11 playoff contests over those two seasons, and saddled with the reputation of being a fragile player, was exiled by the Wild during the summer.
A year later, after another season outgunned and out of the playoffs, Gaborik fled the Wild and Risebrough was fired.
The Demitra trade turned out to be Risebrough's last big gamble before losing his job. Much the same way, the signings of Parise and Suter may turn out to be Chuck Fletcher's "all-in" as Wild GM if this current team doesn't markedly improve.
However, the stakes for Parise and Suter are much higher than Demitra's, in large part due to their respective $98 million dollar contracts. If two playoff appearances and a division crown in two years weren't enough for Demitra and Risebrough to keep their jobs, how long does Fletcher have after three playoff-less seasons under two hand-picked coaches?