After a strong rookie season in the NHL with the Chicago Blackhawks, Artemi Panarin was called to the Russian national team for the 2016 IIHF WC on home soil. Panarin is playing in his second World Championships, after helping Team Russia win a silver medal last year in the Czech Republic. On that occasion, Panarin scored ten points in as many games. He is also one of the 16 players Team Russia named to the 2016 World Cup roster. In this translated interview, taken after a Team Russia practice, that originally appeared on the popular Russian website Sport-Express, Artemi Panarin talks about his ties with Artem Anisimov and Patrick Kane, the 2016 IIHF WC in Russia, and explains that he still owes Tikhonov $5,000.
* For the original Sport-Express article by Igor Eronko, click here.
– You were the last player to leave practice.
– I'm used to it. Well, I also talked with everyone, we joked a bit.
– Do you leave practice last in Chicago too?
– Generally speaking, I'm among the last players. But in the second half of the season I was more tired, therefore I was one of the first (laughs). Seriously speaking, for the morning skate I'm one of the first, but at the practices I'm one of the last.
– Nikita Soshnikov told us that with the Marlies he practiced a lot initially, and he almost had no gas left for the games. Was it the same for you?
– We were given a lot of time to recover. But there were also periods where we had games every second day for a whole month, and we had only one practice. The game, then a day off, then morning skate and the game, and a day off again. Of course, coming from Russia, I was like "Where are the practices?" I had to practice alone at home.
– Did you take part in the rookie dinner? How much did it cost you?
– It was about five thousand dollars. By the way, I've yet to give the money back to Viktor Tikhonov. My credit card wasn't working, you know, I had a European one, and I was like "hmm, sorry, my card isn't working, maybe yours…?" Wow, I've owed him this money for half a year already. But I'm going to give it back when I get my bonus.
– After the seventh game against the St. Louis Blues you and Vladimir Tarasenko hugged during the final handshake line. What did he say?
– Usual things, good game, and so on. We constantly talk on the telephone. Before the seventh game he told me that I needed to call the national team to give them my size for the apparel for the IIHF WC. We joked a bit. And I really had to do it (laughs).
– I've read that you had some good arguments with Patrick Kane.
– Yes, definitely. But recently Evgeny Dadonov told me that we argued a lot too. It looks like I remember those times in such a pleasant way that I don't even remember it. I joked and told him that it was his fault.
– In another interview you said that once Artem Anisimov translated the coach's instructions as "play your way".
– Yes, it was like that. He yelled something from the bench to me, and I had a panick attack. I didn't even know where to go. So he just told me to play my way. And it worked. And regarding what it means, who knows?
– Didn't you have any video with examples of how to play and where to go?
– We had a line where we played with pure improvisation. We were given some basic tactics, but first, I didn't understand the language, second, Anisimov didn't translate, and third, we had our way to play. Where one wanted to go, he went. It was of course harder during the playoffs. The Blues studied our games and they knew where we were going, we only had like a couple of inches of free ice.
– Weren't you tired after such a long season? Didn't you want to go on vacation and not to play for the national team?
– No, I never had such a will. Talking about this, I was much more tired last year when I played for SKA [St. Petersburg in the KHL]. Overseas [in North America] you have more of a structured schedule, games every second day; work, home, work, home. You don't even get to feel that the season is going on. In contrast, when I was closer to home [playing in Russia], I felt like I wanted back home. I'm not tired and I can play further.
– Will you recommend other [Russian] players go to the NHL?
– I'm not going to recommend anything to anyone. They can all judge for themselves. But of course, [the NHL] is at a higher level. I'm glad to have tried and to have had some degree of success. Because I had a chance. If I didn't do it, I would regret it. All went well and I want to move further.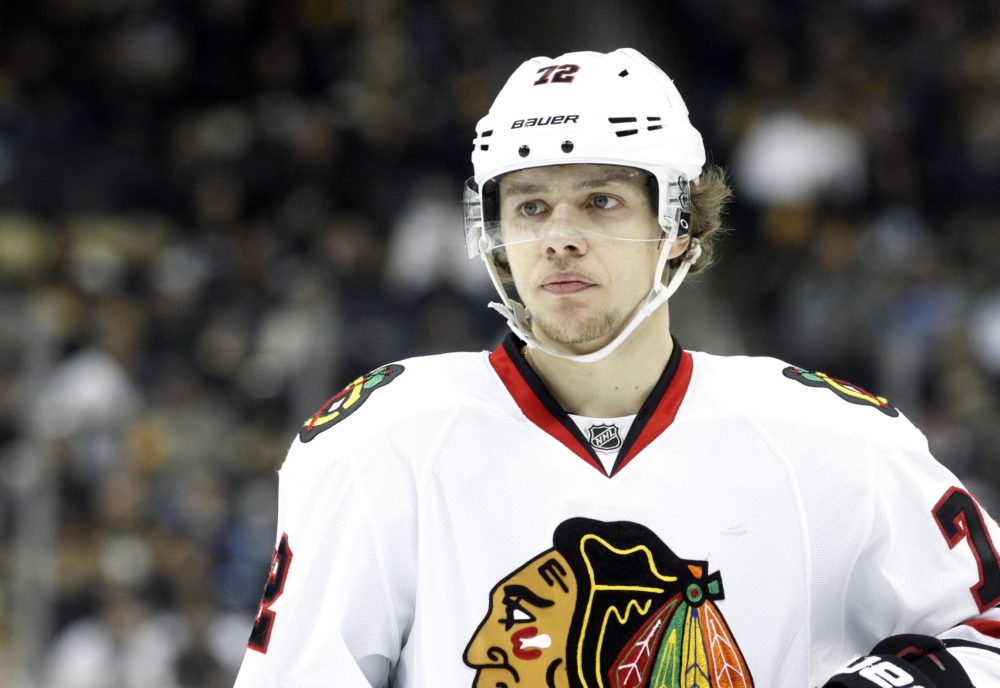 – Are you guaranteed to win the Calder Trophy? Or do you think it's more like a lottery?
– Of course I'd like to win. I'll be upset if I don't. I have a chance, so we'll see.
– Did you follow your main contenders Connor McDavid and Shayne Gostisbehere?
– I didn't even follow my games. It was a bit curious: I knew how many points I had, but I didn't know about my ranking. I asked my friend to show me the rankings, and he did. After the last game, I was in a position that I could get my bonus or not. I didn't sleep the day and the night before the game. Usually I don't think about money, but I had a good chance. I needed to focus. So I hit the ice and scored three points in the first period. It was fun. I didn't follow other rookies. I didn't even look at the scoring race. I didn't know that I had to end up in the top 10 scoring forwards. I also had Tarasenko right behind me. If he caught up to me, I would have to delete his number from my phone! I told him to stop scoring…
– At the upcoming IIHF WC in Russia you'll be one of the most anticipated players. People are expecting a lot from your Panarin – Shipachev – Dadonov line. Do you feel it?
– We'll do our best. We have a good, united team and if everyone gives 100%, all will be good. But it's sports, sometimes you lack some luck. The most important thing is to work and keep on working. In my first practice I skated with Dadonov only, Shipachev didn't skate. We're also playing at home, the atmosphere should be great. I'm very happy to be here. It's a little bit unusual for me when I hear someone speaking Russian right behind my back. At first I turn, but then I remember that I'm at home.
– You played a few games split from Anisimov and Kane. Was it hard?
– When you play with Kane, the game passes through him. He means a lot to our team and the game is built around him. When I'm away from him, I am my own boss, and he keeps on being an artist. Of course, it's great to play with them. But when I'm alone, I remember the way I want to play, I try to create something, to play in a beautiful way to get the crowd on their feet. I feel great that way. Therefore I'm happy both ways.
– So it's better without them?
– Not at all! It's good to play without them, but together it's much better. When you play the whole season with the same linemates you get used to them and you already know where to go. Anisimov knows very well that he needs to run back to defense. First! (Laughs.)
– On July 1st the Blackhawks can offer you a new contract. Maybe a multi-year deal.
– Yes, they can. But the team has a bad cap situation and I don't like it. And only rookie players can get bonuses (laughs).
– Getting back to Russia after such a great season with the Blackhawks, can you say that you're a star?
– No, no. I still remember the three years I played for Vityaz Chekhov in the KHL. There is a saying, when you're still in junior hockey, that you need to make it. Like playing at a good level, in a men's league, in the KHL, that means "making it". So I was scared for three years to tell myself that I'd made it. I was scared that it would bring bad luck. Now I think I can say that I made it. But of course I'm not a star.
A professional hockey writer and translator. Loves Russian culture, language, and hockey. Reachable on twitter @AlexSerenRosso