The NHL, like others in professional sports, tends to be a copycat league. Less successful clubs copy or borrow from a winning team's formula. If the Rangers intend to borrow from a fellow member of the NHL fraternity this summer, they need look no further than the team that ended their Stanley Cup quest.
The Penguins showed that you don't necessarily need to make wholesale roster changes to alter your club's on-ice fortunes. Sitting at 15 – 10 – 3 on December 11th and averaging just 2.36 goals-per-game, Pittsburgh made a change behind the bench, sacking Mike Johnstone and installing Mike Sullivan as head coach. The Penguins would go 33 – 16 – 5 the rest of the way while scoring nearly one more goal per contest after the move. It would be easy to point to the dismissal of Johnston as the turning point of their season, but turning the club's fortunes around wasn't as simple as a new philosophy from behind the bench.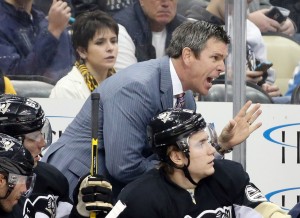 Upon ascending to the position after serving in the same capacity for Wilkes-Barre/Scranton, the Penguins AHL affiliate, Sullivan encouraged his charges to play with more speed. To help in this endeavor, Pittsburgh recalled young forwards Bryan Rust, Conor Sheary and Tom Kuhnhackl from the minors. Sullivan was familiar with the trio from his time in Wilkes-Barre and while none of the three new Penguins tallied more than seven goals or recorded more than 15 points, they added the type of energy Sullivan wanted in his lineup. The Rangers should look to borrow that idea as they also could use a similar injection of youth and energy to their roster.
As I discussed in my debut post with THW, the Rangers have been at their best when they play with speed. They were one of the fastest teams in the NHL during coach Alain Vigneault's first two seasons with the club. But last year they were much slower which played a role in the team's regressed puck possession numbers. In 2013 – 2014, the year the club advanced to the Cup finals, the Blue Shirts ranked 8th in the NHL taking 52.4% of the shots attempted. This season the club controlled just 47.37% of the shots attempted. There are several factors that likely contributed to that drop, not least of which was poor puck management from the club's blue liners, but sprinkling in some energy players will pay dividends on the team's fore check and improve their play along the boards; both areas that can boost puck possession favorably.
The other advantage to adding that type of young energy player to the lineup is that they are cheap. Rust, Sheary and Kuhnhackl are all in their entry-level or second contracts and as such don't cost much. Together they take up less than $2MM in cap space. Every team is going to have a few players that make big bucks and in order to maintain a proper payroll balance the club needs to mix in several contributors on entry-level or second contracts making close to the league minimum.
It's fine to identify an area to upgrade but it's another to identify how to improve it. Like Pittsburgh, the Blue Shirts should look to take advantage of players already in their system who should be ready for NHL duty. The Rangers prospect pool is not rated highly by the so-called experts. Generally speaking, the Blue Shirts rank in the bottom third among their NHL brethren. Top prospect, Pavel Buchnevich, should be ready to come over from Russia and may well prove to be an impact player but in terms of energy guys, we're going to have to look a little deeper. One guy that I expect to get a shot is Danish winger Nicklas Jensen.
Nicklas Jensen
Jensen, a first-round draft choice in 2011 by Vancouver, was acquired from the Canucks in exchange for fellow 2011 first-rounder, Emerson Etem, in a classic change of scenery trade. While Etem failed to make much of a mark in New York after coming over in the Carl Hagelin deal, Jensen pretty much exhausted his opportunities in the Pacific Northwest. Jensen, a restricted free agent, will need to be qualified but after a solid showing with Hartford following the trade (15 -11 – 25 in 41 games) it would be surprising if the Rangers did not bring him back.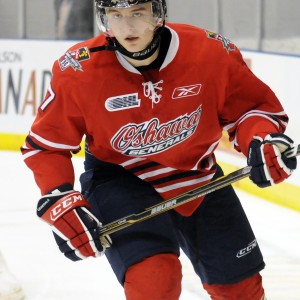 The scouting reports all cite his exceptional speed and size (6'3", 200), though they also reference he doesn't use that size enough. Wolf Pack head coach Ken Gernander mentioned Jensen's proficiency "in just about all areas of the game," a couple of weeks after the organization acquired the Danish import. Jensen may never blossom into the goal scorer his talent may suggest he can be but if he's willing to work hard and improve, the Rangers would be wise to take advantage of his size and speed in the bottom six.
Marek Hrivik
Another Wolf Pack player who deserves a shot and who could join Jensen on a reconfigured 4th line is Marek Hrivik. Hrivik, 24, tallied 41 points in 68 AHL games while also appearing in five games with the Rangers, recording one assist. He doesn't boast the speed and quickness Jensen does but he does a good job of using his body to shield away defenders and to protect the puck. He also has experience playing on an effective line with Jensen with Hartford.
The Rangers are expected to lose this year's 4th line pivot, Dominic Moore, to unrestricted free agency. Joining him on the open market is Viktor Stalberg, who frequently lined up next to Moore. The third member of that line last year was more often than not, Tanner Glass. It's possible, if not likely, that both Moore and Stalberg will depart via free agency. Glass, a favorite of Vigneault's, should still have to compete for a role. The Rangers need an injection of youth and energy and adding Jensen and Hrivik to the 4th line mix along with center Oscar Lindberg just might be the way to go.
Native Southern Californian who somehow adopted the New York Rangers as my favorite team. I've written for quite a few websites during my days as a blogger including: Inside Hockey, Ranger Nation and SNY.tv. By day, I work as an operations manager.