Many people, NHL fans, hockey personalities/media types and bloggers among them, are of the opinion that the New York Rangers' realistic opportunity to win a Stanley Cup with this current core group of players, their "window" so to speak, slammed shut upon their first-round playoff flame-out. Their run of recent successes, highlighted by a Stanley Cup Finals berth in 2014 and followed by a trip to the Eastern Conference Finals last year, was cut short by the Pittsburgh Penguins in stunning fashion after just five postseason contests. The rationale behind this position is based primarily on the ever advancing age of superstar net minder Henrik Lundqvist, who turned 34 this past March, and admittedly might have just a few more years left to chase hockey's holiest chalice.
As unquestionably the team's most important player, a dramatic drop-off in the quality of Lundqvist's performance would indeed signal the end of any chance the Rangers have of contending. However, while it is inevitable that age will eventually catch up to him, as it does to everyone, the evidence suggests his status among the league's elite at his position is still quite safe. And as long as the New York Rangers' backbone is solid, there is little reason to believe they can't prolong their window of contention for another year or two, assuming the right moves are made this summer.
Time For an Infusion of Youth
The Blue Shirts entered the postseason with one of the oldest rosters, with the average age of the club's skaters at 28. Management realizes this and there will be a concerted effort to get younger blood into the lineup next year. The two oldest members of the squad, Dan Boyle (39) and Dominic Moore (35), are scheduled to reach free agency and are likely to be replaced by internal options, Brady Skjei (22) and Oscar Lindberg (24).
Other veteran players who may not return are: Viktor Stalberg (30), Dan Girardi (31) and Tanner Glass (31). The team could look to replace Stalberg and Glass on the fourth line with moderately priced, younger free agents. Or they could steal a page out of the Penguins playbook by bringing up young players from their AHL affiliate and letting them earn roles with the team. Conor Sheary, Tom Kuhnhackl and Bryan Rust added valuable energy to the Pittsburgh forward ranks and all three had a hand in dispatching the Rangers in the postseason.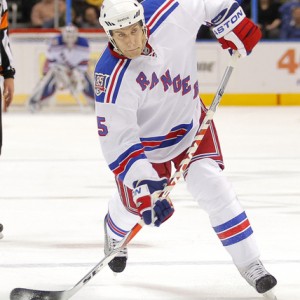 In the case of Girardi, the worn down warrior may be a candidate for a buyout. Years of blocking shots, absorbing and delivering bone-crunching body checks while matching up with the opposition's best players, has taken its insidious toll on his body. Even Girardi's biggest fans and defenders had to admit it was a tough season for the veteran blue liner. With four years remaining on his deal, a cap hit of $5.5MM and a NMC through the 2016-2017 season, the team is going to find it as hard to move him as it would be to justify putting him over the boards in Ranger blue next year.
It should also be noted that while not young, many of the team's key contributors are either still in their primes or just beginning their descent on the performance arc. Mats Zuccarello and Derick Brassard, both set to turn 29 in September, posted career years with Zucc leading the way in team scoring with 61 points while Brassard netted a team-best 27 goals.
Team captain Ryan McDonagh will turn 27 over the summer. Alternate captain Derek Stepan is just 25. Add in Chris Kreider (24), Kevin Hayes (24 in two weeks), JT Miller (23), Dylan McIlrath (24) and the aforementioned pair of Skjei and Lindberg and the Blue Shirts boast a solid contingent of youngish talent with lots of quality hockey left to play.
Defending and Playing Fast
Obviously something was amiss with the roster this season. At no point did the Rangers consistently resemble the squads that came so close to a championship in both 2014 and 2015. Defense, once the club's calling card, went from one of the league's best to a mistake-prone horror show too many nights this year.
Additionally, when Alain Vigneault initially took over as head coach, he was able to deploy a speedy forward group capable of pressuring the opposition into turnovers and quality scoring chances. The defense excelled at preventing chances while also successfully retrieving the puck and igniting the transition game. This season the Rangers struggled in all of those areas.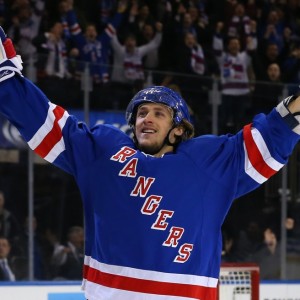 The salary cap forced the Rangers to deal speedy winger Carl Hagelin which had an obvious impact, but it was more than the loss of one player. The Rangers forecheck was spotty at best and they struggled transitioning through the neutral zone. This was particularly evident in the playoff match against Pittsburgh with the Blue Shirts struggling to generate quality chances. In the past, the Blue Shirts relied on their speed to create pressure and offense. Perhaps due in part to the nearly full season of playoff games the Rangers have played over the last half decade, the recent iteration of the club looked slow by comparison.
The common narrative on the New York Rangers near-term future is one of doom and gloom. The roster is flawed, weighed down with onerous contracts and simply not good enough to win, they say. But that narrative also ignores a few factors, including: the presence of a still elite netminder, one who has carried the Rangers on his back the majority of his eleven seasons in the league; the young veterans who are still in their prime; and the savvy and experienced hand of GM Jeff Gorton, who knows the game and better yet, knows what the team needs to stay relevant.
There is work to be done and it won't be easy, but there are moves to make this summer and the talent around Henrik Lundqvist isn't as bad as some would have you believe. The window is closing and may almost be shut, but it ain't quite there yet.
Native Southern Californian who somehow adopted the New York Rangers as my favorite team. I've written for quite a few websites during my days as a blogger including: Inside Hockey, Ranger Nation and SNY.tv. By day, I work as an operations manager.