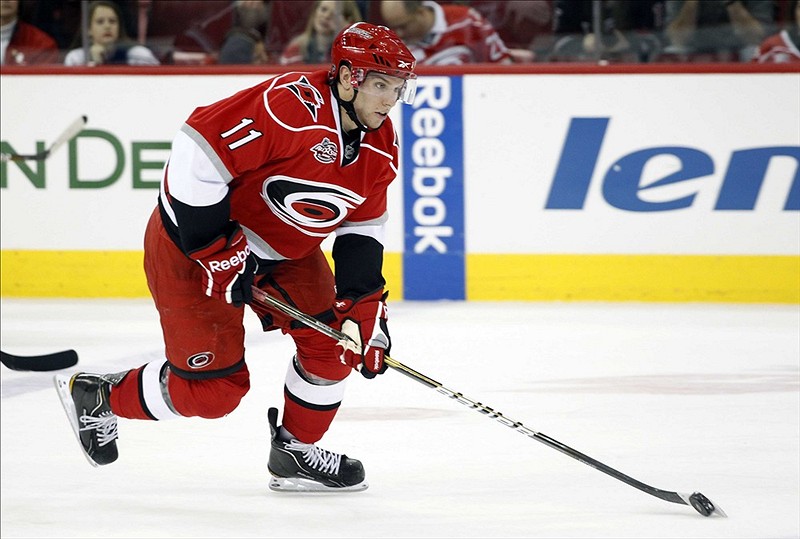 RALEIGH, N.C.—On a day when the hockey world collectively rejoiced over the end of the NHL lockout, no fan base celebrated quite as magnificently as the Hurricane faithful.
Mere hours after news broke that the work stoppage was coming to a close, the Charlotte Checkers, Carolina's top affiliate, hosted the Norfolk Admirals at PNC Arena in Raleigh's first ever AHL game. To the delight of the locals, the Checkers came out on top, defeating the reigning Calder Cup Champions, 3-1.
"We didn't want to try to get too fancy, to put on a show. We just wanted to play a good team-structured game and see what happens," head coach Jeff Daniels said. "We knew everyone would be here watching … (The team) wanted to come out and play hard, and I think they did that."
The Checkers got off to a hot start in the opening frame, generating a lot of offensive pressure in front of a rowdy and appreciative home crowd. However, that momentum would be short-lived.
Captain Brett Sutter was called for boarding 9:48 into the first period, receiving a five-minute major and a game misconduct for the infraction. Just over a minute into the ensuing power-play, Patrick Maroon scored for Norfolk to put the Admirals up 1-0.
"That was a tough break; (Sutter's) played so well for us this year," Daniels said. "He's the captain of the team, he's been the leader day in and day out—practice and games. I guess it was the right call, I guess he drew blood so that's an automatic five and a game. It's unfortunate, he's been playing so well."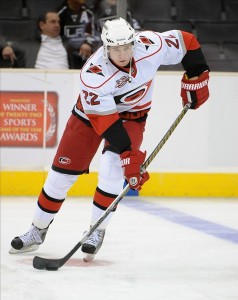 Despite falling behind early, the Checkers refused to let the opening goal dictate the tone of the game, and continued to out-shoot and out-chance the Admirals for virtually the entire contest. Charlotte's hard work paid off with 4:22 left in the second, as Zac Dalpe tied it up with a wrist shot that slid through Frederik Andersen's five-hole.
"I'd be lying if I said I meant to go five-hole," Dalpe said. "I was trying to go wide but I think it went off their defenseman's leg. Just a good play by Faulk to get the puck out."
The Checkers got on the board again after just 2:21 of play into the third period, as Chris Terry scored a wraparound goal to give Charlotte a 2-1 lead—one they would not relinquish.
Charlotte sealed the deal with 2:44 left in regulation, when Dalpe fed a beautiful pass to Jerome Samson, who potted a wrister to give his team a comfortable two-goal cushion.
"That's all about Sammy talking," Dalpe said. "I can't make that play if he's not talking to me."
The Checkers were backed by stellar goaltending from Dan Ellis, who has truly proved his worth this season after beginning the year on a tryout contract. Now a few months later, the veteran netminder has played a major role in getting Charlotte to first place in the South Division, and will be competing for an NHL roster spot in the next week.
"It was important for me to just overcome the injury. When you miss a lot of time you have to get your body back in shape, back in balance," Ellis said. "It's been a good start to the year. I'm thankful for the Checkers to give me an opportunity to play and to get back into shape and prove myself again.
"It's been a great ride. We'll see where it takes us—you never know."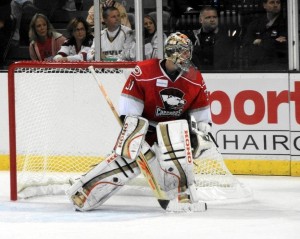 Ellis stopped 28 of 29 shots on goal, improving his goals against average to 2.46 and his save percentage to .922.
"(Ellis has) been great," Daniels said. "He's a great veteran presence in our locker room. His attitude's been great. He pushes guys in practice. He's seen a lot in his career; he's been a No. 1, he's been a backup. You see it in games when he gives up a bad goal early that doesn't rattle him … He's been a great influence on our team."
As the clock struck zero in the third period, the majority of the 10,256 in attendance rose to to their feet for a standing ovation—reveling in both the on-ice result and the prospect of seeing more hockey in the near future.
"It's a good building to play in. I like playing here, it's a lot of fun for me," Faulk said. "Yesterday we didn't really know. We'd hear things, then hear the opposite an hour later. It's pretty exciting that the (CBA) is agreed upon and things can get rolling."
"It was much more lively than most buildings we play in," Jeremy Welsh said. "You could see the passion of the fans after the game. It was great."
*   *   *
With the conclusion of the lockout, this game became far more important for many players than a typical regular season showdown. Sunday's matchup provided guys like Dalpe, Zach Boychuk and Bobby Sanguinetti one final chance to showcase their talents prior to the start of NHL training camp, which will commence later this week.
According to Daniels, the only player who is a "no-brainer" to get called up is Faulk. The rest of the roster decisions have yet to be made.
"I think it's all still up in the air to be honest with you," the veteran coach said after the game. "I think they're just going to wait and see how it all plays out before they make their decisions on what type of camp they want to have. So right now I can only assume Justin (Faulk) for sure."
Regardless of who gets called up and who stays down with Charlotte, the next week or so is sure to be entertaining. As normalcy is restored, Canes fans can breathe a sigh of relief and prepare for an abbreviated—albeit exciting—2013 campaign.