We love our hockey.
We love our hockey so much that on the first Sunday of 2013, we're able to forget about almost everything else in our lives and welcome the NHL, and all that comes with it, back into our lives. The NHL lockout is over and while many of us have had our team's goal song on repeat for most of the morning, others have been carefully plotting their teams' odds for a Stanley Cup in what will be a shortened season of 48 games or so.
This means that all of those season previews, power rankings and prediction columns that we all put off for 15 weeks reappear with an NHL season presumably beginning no later than January 19.
Instead of writing about the odds of a Stanley Cup or the impact of a team's chemistry on a truncated season (these will come later, no doubt–it is January), here's a power ranking of the 2013 Boston Bruins based on their importance with the team.
In addition to offensive production and stat pumping, the following list from 20 to 1 ranks the most valuable Bruins players to their team. There are some variables taken into consideration such as the player's impact in the locker room and specific roles on the ice but regardless, this is a list of the most important Bruins in Boston.
20. The 12th Forward
To be determined, I guess. In a column I wrote about who could fill the role, it was all but assumed that it was Jordan Caron's spot to lose. With an upper-body injury, it doesn't look like Caron will start the season with Boston. So who does? Chris Bourque seems likely to play on the left side of Chris Kelly and Rich Peverley, but this will be a rotating spot in the Bruins lineup until one forward stands out from the rest.
19. Daniel Paille
Daniel Paille continues to be a solid contributor on the fourth line and the penalty kill. However, with the influx of talent in Providence and many prospects lining up to make a case in Boston, Paille's spot could be the next up for grabs. For now, the defensive forward will start the year in the lineup.
18. Adam McQuaid
Returning from a head injury that knocked him out of the 2011-12 Eastern Conference Quarterfinals against the Washington Capitals, health will be a concern for Adam McQuaid. The depth defenseman has always been one tough hombre to play against but it will be important to see how he comes back from the former and a blood clot surgery that was performed in October. Reports have him sidelined until late January so it may be a 'wait and see' scenario for McQuaid.
17. Anton Khudobin
In my opinion, Anton Khudobin would be higher on this list had it not been for all of the talent ahead of him on the Bruins' roster. Khudobin is one freak Tuukka Rask groin injury away from becoming the starting goaltender in Boston in his first year on a professional roster. While a bit inconsistent in the minor leagues, the Russian native has had success in the NHL, posting a 1.32 G.A.A. and a .961 save percentage with a 5-1 record and one shutout in his small, sample-sized professional career.
16. Gregory Campbell
The best thing about Gregory Campbell is his consistency. In his two seasons with Boston, Campbell played in 80 and 78 games, missing only six total games. Though his point production dipped in 2011-12, Campbell's excellent face-off work and two-way play make him a solid option for a fourth-line center, penalty killer and an assumed 10-goal scorer.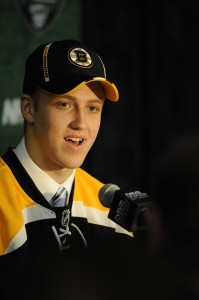 15. Dougie Hamilton
All eyes will be on the final piece of the trade that sent Phil Kessel to Toronto for what ended up being Tyler Seguin, Jared Knight and Dougie Hamilton. Hamilton is expected to make the Boston roster but expectations should be tame. The 9th overall pick in the 2011 draft will have to adjust to life as an NHL defenseman compared to his previous days spent in the OHL with the Niagara Ice Dogs. Still, there's plenty to be excited about.
Hamilton led all OHL defensemen in the 2011-12 season with 72 points (17 goals and 55 assists) in 50 games. That's, uh, pretty good–especially for a Bruins team starving for offensive production from their blue line.
14. Johnny Boychuk
When Johnny Boychuk is on his game, there are few defenders better. I mean that. Boychuk can deliver a bone-crushing hit, create a turnover and fire a one-timer that makes the puck scream like a wurlitzer all on the same play. His streaky play and some flaws in his own zone raise questions, but Boychuk is one Bruin that would absolutely haunt the team if he was wearing another jersey.
13. Chris Kelly
Chris Kelly's coming out party lasted well into the 2012 postseason where his "cage-face" folklore continued to rise after an overtime winning goal in Game 1. Still, the centerman otherwise known for his two-way skills put up 20 goals (a career best) for the first time in his career while playing in all 82 games.
Kelly may not replicate his offensive production in 2013 but the assistant captain was awarded for his stellar season with a new three-year, $9 million deal that will keep him in black and gold until 2015.
12. Rich Peverley
Technically, Rich Peverley is a bottom six player. However, production-wise, Peverley is one of the only forwards who can slide up and down each of the lines and fit in almost effortlessly. Peverley has the potential to be a 20-goal scorer consistently, if healthy, and could fit into one of the two-top lines if injuries occur to other forwards. Plus, I still believe that a productive Peverley is the key to cure the Bruins' power-play ailments.
11. Shawn Thornton
It takes a special player to change the pace of the game. For the Bruins, it's their fourth line winger, Shawn Thornton. It's no surprise that the Bruins' fortune turned in the 2011 Stanley Cup Final when Thornton was in the lineup. The gritty enforcer showed his value multiple times over the course of his five seasons with the Bruins with his up-tempo play and rock 'n sock 'em fights. And remember, it was Thornton who went after Matt Cooke after his hit on Marc Savard. But this was perhaps one of his best moments as a Bruin: https://www.youtube.com/watch?v=yumFPGAEB3w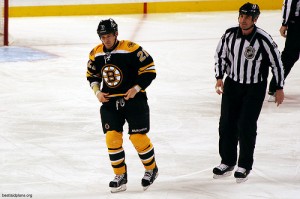 10. Andrew Ference
It's interesting to see the transformation of Andrew Ference from an injury-riddled, groan-worthy defensemen to one of the backbones of the roster who was named associate co-captain with Kelly to begin the 2011-12 season. Ference has proved just how important he is to the team both on and off the ice, being an active member around the Boston community by involving himself in sustainability and healthy lifestyle projects.
On the ice, Ference has remained healthy, playing in at least 70 games in the past two seasons and has contributed on the penalty kill. He's also one of the best NHLers to follow on Twitter.
9. David Krejci
In theory, a team's first line center should be within the top 5 players on the roster, right? Well, David Krejci isn't the Bruins first line center (but more on that shortly). Krejci has the ability to replace the production of Marc Savard and score 20+ goals and pick up well over 50 assists in any given season so, what's the problem? That's a good question.
There's no doubt that Krejci is immensely talented, but the consistency and ability to carry over momentum from game to game has often haunted the center. Despite rumors, Peter Chiarelli has said he has no plans to move the center, Krejci's performance definitely needs to be more consistent on a night-to-night basis if he wants to be a go-to guy with the Bruins.
8. Nathan Horton
You always wonder what could have been, right? As in, what could have been for the Bruins if Nathan Horton never got his second concussion in six months at the hands of Tom Sestito? The Bruins lost some serious spark offensively once Horton went down last season, missing all of the 2012 postseason. When a guy who was so dominant and an integral part of the Bruins' Cup run the year before becomes injures, there's certainly a noticeable void.
Fully healthy and expected to be in the opening night lineup, it'll be interesting to see how Horton progresses coming back from his second serious injury in such little time. If Horton's scoring touch returns, he'll be one of the most dominant players out there.
7. Brad Marchand
Notorious for his ability to get under people's skin, Brad Marchand is generally considered Public Enemy #1 to those who play against the Bruins. Marchand is a farm-raised player, making his ranks from being drafted in the 3rd round by Boston in 2006, to the Providence Bruins, to becoming a healthy scratch and now one of the most popular Bruins now. He was rewarded with a new four-year, $18 million deal that will begin in 2013-14. His chippy play has gotten him in trouble in the past but his offensive production and solid effort on the penalty kill makes him a valuable piece of the Bruins roster.
6. Dennis Seidenberg
Let's get this out of the way now–Dennis Seidenberg is the most underrated defensemen in the NHL. The German born defender has played in 80 games or more in both of his full seasons in Boston and is signed through 2014. This is a very good since Seidenberg makes very few mistakes on the blue line. His coverage, shot-blocking and work on both special teams units have played a huge role in the Bruins' success. Put him in the super pairing with Zdeno Chara and Boston's top defensive pair looks as good as any in the NHL.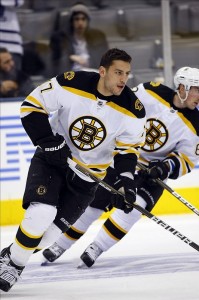 5. Milan Lucic
There's plenty of criticism but it's only because of the lofty expectations set for Milan Lucic. Here's an anecdote: in his first season with the Boston Bruins, Lucic was drawing comparisons to Cam Neely because he can hit, fight and score. "He's the next Neely," everyone would say months before they complain about him being overpaid and not scoring. But here's what everyone is forgetting–Milan Lucic isn't Cam Neely. He never was and he never will be, and that's not a bad thing. Plus, for what it's worth, Neely began lighting it up once he turned 24, the same age Lucic will be when the puck drops on the 2013 NHL season.
So let's chill with the comparisons and appreciate Lucic for what he is–a power forward who makes the Bruins better when he's on the ice.
4. Tuukka Rask
It's an understatement to say that the 2013 NHL season will be the most important of Tuukka Rask's young professional career. The crease is still hot from the spotlight left on Tim Thomas from just a season before and with Rask playing for his next contract and a chance to be the next franchise goalie, all eyes will be on the man in between the pipes.
As long as Rask can re-create some of the performances from his rookie season in 2009-10, the Bruins should be fine. The team in front of him is more offensively talented and better defensively so it will be up to Rask to keep his team on par.
3. Tyler Seguin
Here's a prediction that's almost guaranteed to come true: Tyler Seguin will be the Bruins' leading scorer by the end of the season. And he'll do it again next year, too. Seguin is about to breakout in a big way and follow up his impressive sophomore performance where he potted 29 goals and 67 points in 81 games.
The 2010 second overall pick will unquestionably be one of the next big superstars in the NHL. Seguin is just getting starting and could be taking the league by storm as early as this season. If that's not exciting for Bruins' fans, not much else is.
2. Zdeno Chara
There aren't many other defensemen who are feared as much as Zdeno Chara is. The ultimate shutdown defender, Chara is entering his seventh season captaining the Boston Bruins. He's also coming off his best offensive year scoring 12 goals and 40 assists for 52 points in 79 games. When anyone, let alone a defenseman of Chara's stature, can shutdown opponents' top scorers and be a threat to score on the blue line, it's a beautiful thing.
The 35-year old still has plenty of hockey left in him and isn't showing any signs of slowing down any time soon. Good news for Bruins fans, bad news for the rest of the NHL.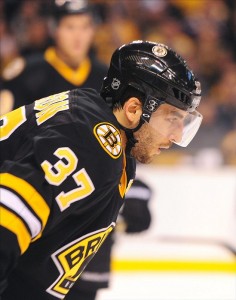 1. Patrice Bergeron
Patrice Bergeron is the heart and soul of the Boston Bruins. Period. Bergeron won't be in the top 20 scorers every year but what he brings to the Bruins organization is immeasurable.
The face-off specialist is one of the best defensive forwards in the NHL and now has a Selke Trophy to prove it. His leadership has been praised by the likes of veterans and past Bruins Mark Recchi and Brian Rolston and current captain Chara.
Bergeron makes every skater that plays with him better and was instrumental in developing the two-way games of Marchand and Seguin. So go ahead and keep underestimating Patrice Bergeron. He's the most valuable player to the Boston Bruins.
Follow Mike on Twitter for more Bruins updates, commentary and news.