By Mike Miccoli, Boston Bruins Correspondent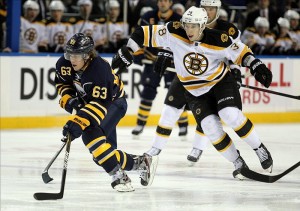 While speculation runs wild on the status of a 2012-13 NHL season, one of the more interesting developments in Boston comes down to the Bruins' openings on the forwards' depth chart.
With all of the lines intact as they were last year and the assumed return of right-winger Nathan Horton, a vacancy opens up on the Bruins' third line. The departures of Benoit Pouliot, who was traded to Tampa Bay in the offseason where he signed a one-year, $1.8 million deal, and Brian Rolston, who remains an unsigned free agent, open a spot on the left-side of Chris Kelly and opposite of right winger Rich Peverley on the team's third line. While the expectation is that Jordan Caron reclaims the gig once again, the deep group of forwards with Boston's AHL-affiliate Providence Bruins present some interesting options
The NHL lockout has paved the way to give more attention to the suddenly-crowded AHL where numerous candidates are vying for jobs in the big leagues once the season resumes. For several players on the P-Bruins roster, this time serves as a tryout for any openings. In theory, Boston would need another winger with a left-handed shot to play on the third line as well as an extra forward to serve as the team's healthy scratch in case of injuries. Here is a ranking of the five players who could be wearing the spoked-B full time once the new CBA is settled.
Jordan Caron
Caron, the obvious choice to fill the void on the third line, is no stranger to this role, starting the 2010-11 season with Boston before becoming the healthy scratch and later, getting sent down to Providence to hone his game. Much of the 2011-12 season was like this for the left-winger, as well. Caron has started on the Bruins' Opening Night roster for the past two years but would later have to battle for a spot on any given line. In the past, he's been bumped by guys like Pouliot and Zach Hamill who have shared the role of the 12th forward with Caron.
Although, Caron's inconsistency has no doubt hurt his development but there have been flashes of excellence from the former first rounder. Most notably, the winger had a stretch of six games in March where he put up three goals and four assists, snapping a seven-game point drought. In Providence, Caron is off to a solid start, scoring four goals in eight games—three of which came on the power-play, something that Boston could desperately use. Essentially, the third-line winger spot in Boston is Caron's to lose.
Maxime Sauve
Maxime Sauve is currently tied for top scorer on the Providence Bruins with four goals and two assists in eight games. Like Caron, three of his four goals were on the power-play making him another interesting choice for a roster spot in Boston. The former 2008 second round pick has dressed in one game for Boston–serving as the left-wing on the third line alongside Kelly and Rolston—where he spent a total time of 3:43 minutes on the ice, the least amount of any forward.
Sauve's lack of NHL experience is a concern, as is history with concussions. However, it should be noted that even in an injury-filled 2011-12 campaign, Sauve still put up 11 goals and 15 assists in 39 games. It's hard to discount the tremendous upside of the French winger and the potential that he could possess playing alongside a two-way center like Kelly and another speedy winger in Peverley. Though he may not start the year in Boston, it's hard to imagine Sauve doesn't get a few chances to crack the lineup throughout the season.
Chris Bourque
Seeing a Bruins jersey rushing down the boards with BOURQUE on the nameplate would no doubt invoke nostalgic memories for B's fans and that just may happen. Chris Bourque, son of Ray, spent the 2011-12 season with the Hershey Bears and finished the year as the AHL's top scorer with 27 goals and 66 assists in 73 games. That wasn't a flash in the pan season either. In 2009-10, Bourque put up 22 goals and 48 assists in only 49 games. So far in this season, Bourque has six assists in eight games. With point totals like these, it's hard to imagine why Bourque wouldn't be an automatic pick for a spot in Boston.
The problem for Bourque has been transitioning his minor-league game into the NHL. In 33 total games split between the Washington Capitals and Pittsburgh Penguins, Bourque has tallied one goal and three assists. Although he served as a bottom-six forward for both teams, Bourque has been unable to carry over his solid production from the AHL. One could make the comparison between Bourque and Hamill, the forward he was traded for, but the gritty winger could fit well in Boston's offensive system. Another upside for Bourque is the amount of shots he takes. Last season, Bourque fired 290 shots, a total that would have been tops for Boston but also in the top-10 throughout the entire NHL. For now though, he may have to wait until Caron and Sauve falter or injuries take their toll.
Carter Camper
Undrafted, Carter Camper signed with Boston right after his 2011 season with the Miami RedHawks. Camper has been a pleasant surprise in Providence, scoring 18 goals with 30 assists in his rookie year—good enough for 11th amongst all rookies in the AHL. Camper was also impressive in his one stint playing in Boston, scoring a goal in his three games with the team while averaging a total ice time of 6:42.
Unlike Caron, Sauve and Bourque, Camper has a right-handed shot and would have to be a candidate to play on his off-wing. Camper has done well to create chances so far this season with the P-Bruins, putting up two goals and three assists in eight games. However, his -5 is the highest of all forwards on the team. While the offensive upside is there, his work in the defensive zone leaves much to be desired. The 24-year old could be a dark horse to actually crack the Boston lineup this season, but there's more of a chance that he spends time traveling between the TD Garden and the Dunkin Donuts Center.
Ryan Spooner
Ryan Spooner headlines a trio of electrifying prospects for the Bruins (along with Jared Knight and Alex Khokhlachev) who will no doubt make an impact in Boston. Problem is, it's hard to suspect that any of these three will be in the lineup once hockey resumes this season. Out of all three however, Spooner is the one whose arrival could come sooner rather than later.
Spooner is right alongside Sauve with six points (one goal and five assists) to lead the scoring efforts for the Providence Bruins this season. The nifty center is in his third season with Providence, although having never played more than 10 games per year due to his time in the OHL, but is developing into a point-per-game player. Like Bourque, the biggest concern with Spooner is transitioning his game and skills in the NHL. While it's way too soon to tell what the rookie is capable of, it's for the best that Spooner continues to hone his skills in the AHL and isn't rushed into Boston. Although when the time comes, there's a possibility for Spooner to truly be something special.
Follow Mike on Twitter for more Bruins updates, news and commentary.