Ben Duffy
DOB: March 3, 1992
NHL Rights: N/A
Drafted: Undrafted
Height: 5'10″  Weight: 175 lbs
Position: Centre
Current Team: Prince-Edward-Island Rocket (QMJHL)
Josh Currie
DOB: October 29, 1992
NHL Rights: N/A
Drafted: Undrafted
Height: 5'11″  Weight: 190 lbs
Position: Centre
Current Team: Prince-Edward-Island Rocket (QMJHL)
                          ◊◊◊◊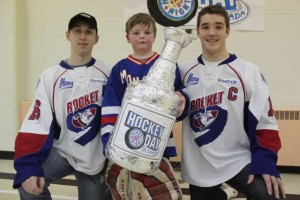 Off to a very surprising start this season, the PEI Rocket was slated to finish in the basement of the QMJHL by many pundits, me included, before the season. However, after a good start, the Rocket is currently ranked sixth in the Q with 23 points (11-6-1) in 18 games. The Rocket's early success is mainly due to a duo of overage players producing at a hectic pace through the first five weeks of the campaign.
So far, veterans Ben Duffy and Josh Currie have carried the offensive load on their shoulders for a young Rocket team. Currie, a native of Charlottetown, PEI, has notched 18 goals and 18 assists for 36 points, in 18 games, while Duffy, a native of Lower Sackville, Nova Scotia, has scored 13 goals and added 22 assists for 35 points, also in 18 games. Both players are currently sitting atop of the QMJHL scoring race, ranked respectively first and second.
Both players are currently on a two-point-per-game pace that would translate to a 140-point season should they avoid injuries and keep playing at such a high level.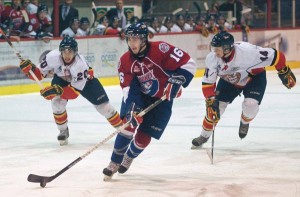 Their combined 31 goals accounts for 41% of the total offensive production (76 goals) of the Rocket this season! What is even more incredible about their offensive input is that the next best scoring forward on the team is Victor Provencher, who has only recorded 10 goals and 2 assists for a mere 12 games… The Rocket is so thin on offense that a trio of rearguards has to provide some offensive support in order for Duffy and Currie to help the Rocket win games. Jimmy Oligny, Tomas Pavelka and Alex Micallef are the team's next best scorers with 15, 15 and 14 points, respectively.
Duffy has always been an offensive player, as shown by his 82 points (34 g and 48 a) and 81 points (37 g and 44 a) the past two seasons. By playing his 259th game with the Rocket over the week-end, Duffy now holds the Rocket's record for most games played with the organization. Duffy recorded 23 points (9 g and 14 a) during a ten-game scoring streak earlier this season. Duffy is also the Rocket's alternate captain.
Duffy is blessed with blazing speed, soft hands and a great hockey sense. Despite his smaller stature, he is not afraid to drive the net to bury rebounds, but he prefers to play on the perimeter and use his great passing skills to feed his teammates. A very disciplined player, Duffy has zero penalty minute this season and only eight in 154 junior hockey games with the Rocket!
As for Currie, he is coming out of nowhere after a season of 30 goals and 16 assists for 46 points in 68 games along with a dismal +/- differential of -22. The year before, in 2010-11, he had only registered 9 goals and 11 assists for 20 points in 52 contests. Still, Currie was named the TELUS third star for the month of October in the QMJHL thanks to his great start. The 20-year-old centre collected 17 goals, including 3 short-handed marker, and he also netted 3 game-winning goals. The Rocket captain also collected at least 1 point in 12 straight games (14 g and 11 a for 25 points) during this successful month of October.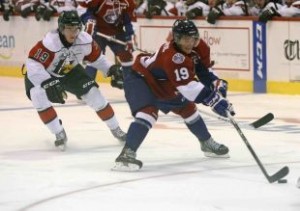 Still, Currie's success is not a surprise to his friends and coaches as his summer has been all about training. After the season ended, the hard-working Currie took only two weeks off before hitting the gym six days a week for three hours a day to get faster and add more muscles to his frame.
Currie even dropped the gloves a few times this season and has been playing a more physical game since the beginning of the season. The pivot is reaping the rewards of his hard work during the summer, as he is currently leading the QMJHL with 18 goals this season, tied with unheralded winger Jean-Sebastien Dea and prized prospect Nathan MacKinnon.
However, two weeks ago on October 24, the dynamic duo lost their linemate, Matej Beran, who sustained a broken wrist and will be out for several weeks. The six-foot-five, 208-pound winger had six goals and six assists in 13 games this season playing with Josh Currie and Ben Duffy before going down with the injury.
Will the dynamic duo continue on their torrid pace and help the Rocket make the playoffs, or will they falter and struggle, failing to even break the 100-point mark?
Follow me on Twitter for more updates on the Canadian Hockey League and hockey in general.