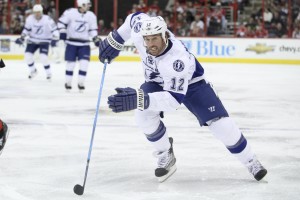 Last season was a frustrating one for Tampa Bay Lightning fans. After a season in 2010 in which they made it all the way to the Eastern Conference Finals, the Lightning followed that up with a 10th place Eastern Conference finish last season. Over the last several seasons Tampa Bay's defensive and goaltending woes have been clear, with ongoing questions pertaining to both. However, last season the Lightning tried to address those questions by adding some key players. General Manager Steve Yzerman went out and acquired defensemen Sami Salo and Matt Carle, two proven defensemen, as well as goaltender Anders Lindback, to accompany Mathieu Garon in net.
This past offseason, it was more of the same for the Lightning front office, adding depth to their lineup. Tampa Bay acquired B.J. Crombeen and former Boston Bruin Benoit Pouliot to add to their already deep group of forwards.
Some notable returning forwards for the Lightning include: Steven Stamkos, Martin St. Louis, Vincent Lecavalier, Ryan Malone, Teddy Purcell, Nate Thompson, and Brett Connolly. Some notable returning defensemen for the Lightning include—Marc-Andre Bergeron, Eric Brewer, Victor Hedman, Mattias Ohlund, Salo, and Carle. Some notable Syracuse Crunch players that I believe will have an impact at some point this season, if not start the season with the NHL club, include—Cory Conacher, Tyler Johnson, Richard Panik, J.T. Brown, defenseman Mark Barberio, and potentially standout goalie Dustin Tokarski.
A big advantage that Tampa Bay has is an extremely deep AHL roster, in which they could slide a number of different players into vacant slots if need be. However, some problems may arise from that. Aside from Brown being sidelined with a broken collarbone, some may argue where exactly Johnson and Conacher, two of the top young talents for the Crunch, would fit in on the Lightning. I believe that they both have the potential to be top six forwards in the NHL, but it remains to be seen where each would fit in with the current stars that Tampa bay currently has. Too much talent usually isn't a problem, but it could be if they don't have the right pieces.
Ultimately, with the amount of talent and core group of experienced players that they have, the Lightning should undoubtedly make it back to the playoffs this season. Not only that, I also believe that they will battle for the regular season title in, what should be, a competitive Southeast Division.
 Follow me on Twitter: @Matt_Metcalf