One of the stories to emerge this week was the announcement that Arizona State Sun Devils are elevating their club hockey program to division I. Thanks to a wealthy donor, ASU will be become the 60th member of division I hockey.
Many college hockey fans are already hoping their favorite team is on the phone with ASU's to schedule a two-game series in Tempe, AZ.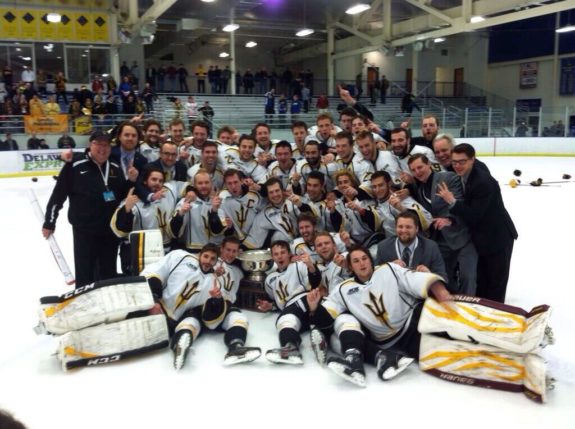 Where do I sign up?
This is an exciting time for college hockey. The Sun Devils move to division I is good for college hockey. We now have an even number of division I hockey teams, and you're adding a high-profile school.
ASU will also become the southernmost division I college hockey team. Now you have a college hockey market in the southwest. This is a plus for the western schools in the WCHA and NCHC.
ASU's ascension to division I status could be the first domino to fall in west ward expansion. Some have speculated that with ASU adding hockey, other Pac-12 schools will follow suit and add division I hockey. Only time will tell if this happens.
ASU is the first Big-Five school to add college hockey since Penn State joined the Big Ten two seasons ago. With ASU adding college hockey, there's a good possibility that they will bring more exposure to whatever league they decide to join. The NCHC seems like the most logical choice.
Reception has been positive
So far, the reception to ASU's announcement has been positive.
During Wednesday's press conference, UND head coach Dave Hakstol was asked about ASU's announcement.
"It's a great thing for college hockey," Hakstol said. "It gives us our 60th D-I program. It shows steady and consistent growth over the last couple of years. We're expanding into a new region, a region that is very strong with youth hockey and the National Hockey League. College hockey is a natural fit. I'm excited to see Arizona State step forward and make the financial commitment and other commitments."
St. Cloud State head coach Bob Motzko was upbeat about the move.
"There will be a whole lot of teams that want to play games in Arizona," Motzko said with a smile. "Scheduling will be no problem."
NHL Deputy Commissioner Bill Daly is also supportive of ASU move up to division I hockey.
"This is a game-changing moment for the advancement of college hockey in this country," NHL Deputy Commissioner Bill Daly said. "ASU's recognition and commitment to the game should have a significant positive impact on the continued development of hockey in the Southwestern United States and should lead the way for more schools to add NCAA Division I hockey programs in the future."
It will be interesting to see if other Pac-12 teams will follow suit and add division I college hockey. Moving forward, it will also be interesting to see what conference ASU ends up in. My guess is the National Collegiate Hockey Conference.
Eric is a 1996, 1999 graduate of the University of North Dakota. Eric covers the University of North Dakota Hockey and Division I college hockey. Eric is the Contributing Editor for Inside Hockey.