Bryan Allen Traded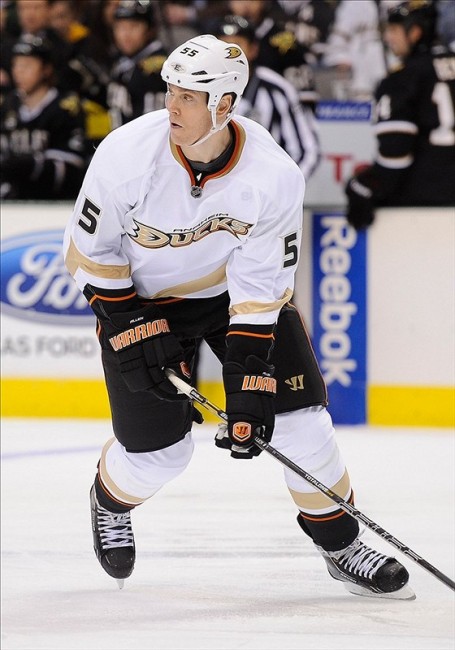 Bryan Allen's days as a member of the Anaheim Ducks are officially over. With the return of Francois Beauchemin and solid outings by Josh Manson, any observer would be hard pressed to argue that Allen will be missed out on the ice. In trading him, the Ducks part ways with a slow and lumbering defenseman that couldn't produce much of anything offensively and wasn't especially solid defensively either, which was supposed to be his calling card as a stay-at-home player. So by the sheer virtue of unloading a virtually useless player, Ducks' general manager Bob Murray has helped his team through addition by subtraction. Bruce Boudreau has insisted all season on pairing mobile puck movers with slow glass chippers on the blue line, and while the wins have been coming in, it could be argued that players such as Sami Vatanen are actually bogged down by playing with such inferior talent. In that respect, Murray's decision to part ways with such a player should immediately help players like Vatanen.
The New Guy: Rene Bourque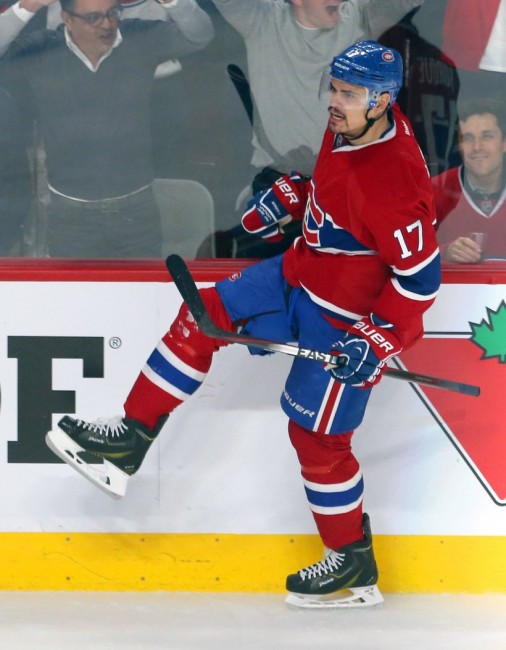 When Bob Murray clicked his phone shut and finalized the trade, Bourque instantly became the Ducks' highest paid left winger, cashing a little over three million dollars a year (set to expire in the summer of 2016). The enigmatic-at-best winger is still reaping the rewards of his solid stint with the Calgary Flames, where he logged three consecutive 20-plus goal seasons. Gifted with size, skill, and a long efficient stride, Bourque has always had the tools to be a very effective player in the National Hockey League, which he proved in Calgary. Ever since being acquired by the Montreal Canadiens in 2012 though, he's been less than a shadow of his Calgary days. To call him inconsistent would be an insult to Alex Kovalev, the very model of inconsistency in Montreal. Yet in the 2014 playoffs, Bourque found his dormant scoring touch, pacing the Habs with eight goals and playing a large part in their ride to the Eastern Conference Final.
So far this season, he's shown signs of improved work ethic on a game to game basis, yet  hasn't managed to score a single goal yet in 13 games, spurring on the hilarious Twitter movement, #AlmostBourque, referring to his nearly comical inability to finish off plays in 2014-15. While social media obviously hasn't been all that kind to him this year, Bourque can still bring something to the table for the Ducks. Anaheim's bottom six forwards, while serviceable, havent't really chipped in the kind of offense that the Ducks need to rely less on their top two lines for scoring. By bringing in the veteran Bourque, Murray sends a message to that group of players that they need to perform at a higher level, and according to him, the newly acquired winger will get his shot at playing time immediately. If Bourque's presence can elevate the play of guys like Ricard Rakell and Emerson Etem due to the added pressure, then the outcome of this trade only improves for the Ducks. Conversely, if the change of scenery is what Bourque needed and he immediately tallies a few goals, although perhaps at the cost of nudging out a young player, then the move still looks good. Dumping Allen was a good enough start, and adding a player like Bourque who will shake up the bottom six in some  way can only be seen as a good move for Anaheim now and moving forward.
Felix Sicard is the Anaheim Ducks' Lead Writer for The Hockey Writers. Now in his third season of covering the team, he writes previews and recaps for all Ducks' home games, as well as weekly analysis pieces.
In addition to covering the Ducks at THW, Felix co-hosts SB Nation's Anaheim Calling: The Podcast, as well as hosting The Garage Hockey Podcast.
For consistent Ducks' content, be sure to check out his Twitter @Felix_Sicard.