In their loss against the Toronto Maple Leafs, the Tampa Bay Lightning accomplished two feats they had yet to do this season – lose two in a row in regulation and it was the first game in which Ben Bishop allowed more than three goals.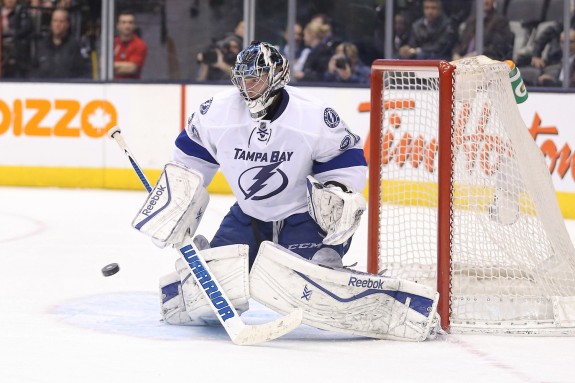 The bad game wasn't completely his fault, as the defense didn't do him any favors with their play in the neutral and defensive zones but Bishop has a big opportunity to bounce back quickly over the next week.
Playing in only three games over the next week, Bishop has put up brilliant numbers against each of those teams and with the games spaced out he will have the opportunity to play in each of them.
Minnesota Wild
Bishop has only played against the Wild three times, actually losing two of those games but outside his most recent appearance against them has fared pretty well against Minnesota.
In the three games, Bishop has posted a 2.24 GAA along with a .909 save %. Bishop has allowed six goals in three games against Minnesota, half of which came in their last meeting on October 25. His best outing came early last year, when he stopped 25-of-26 shots in a Lightning 3-1 win.
New York Rangers
His success against this team should be fresh in fan's minds, as Bishop stopped 15-of-16 shots in Tampa Bay's win in Madison Square Garden earlier in the week. His mastery doesn't end there, as in six career games Bishop has yet to allow more than two goals in a game.
The times he has shutout the Rangers (2) actually outnumbers the times that he has allowed multiple goals (1). His career stat line – 6-0 with a 0.93 GAA and a .967 save % and two shutouts.
Ottawa Senators
Bishop has a perfect record (4-0) against the team that traded a second round pick in the 2013 draft (Tom Vannelli)to get only to trade him later on for Corey Connacher (no longer with the Senators)
The Lightning and Bishop play Ottawa next Saturday, November 29. He has a career line of 2.55 GAA, .920 save % against the Senators.
Ending The Slump
Against all three teams Bishop has stopped 390-of-417 shots (.935%), an amazing number no matter how big or small of a sample size it is.
The Lightning are playing three good teams perfectly capable of making them pay for the mistakes that they have been making recently. No matter how good Bishop is, he was left out on an island for the most of the Maple Leaf game.
Every team have slides, even the best of the best, it is an inevitable fact but with Bishop's success against their upcoming opponents he can help put this one past them, and put Tampa Bay back in the win column.