I am sure it has been very trying times those that cheer for the blue & white. After a full week of two embarrassing blowouts, star player controversies, coaching & management insecurities, another tossed jersey, and finally a home team snubbing the very fanbase that paid their tickets, the Toronto Maple Leafs are clearly in a no-win situation once again.
Do I sound bitter? I shouldn't be. I'm definitely not as passionate as Steve Dangle. After all, I once was a Leafs fan.
Don't believe me? Here are a couple of proofs of me in a Mats Sundin jersey, circa. 2000…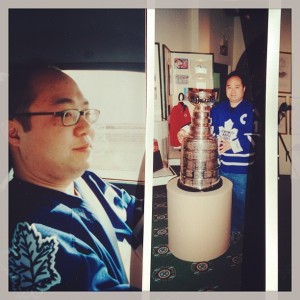 Yes, that was me with the very elusive Stanley Cup which has not been won by Toronto since 1967, eight years before I was born. How could I possibly have been a Leafs fan? Well, you could say that I slowly warmed to Toronto not long after their miraculous season in 1993. With the exception of one year in Vancouver, I grew up in Edmonton and had watched the "boys on the bus" become men all through the 1980s.
After the Gretzky Trade, and despite winning their fifth Stanley Cup in 1990, the Edmonton Oilers were going on the downward spiral. By 1993, the Oilers hit rock bottom for the first time ever and had been struggling through most of the 1990s. Meanwhile, the Maple Leafs led by former Calgary Flame Doug Gilmour put his team just one win away from meeting the Montreal Canadiens in the Stanley Cup Final.
A review of the last great Leafs team in the modern era (mind the Mullets):
Was I ready to make the switch then? Not exactly. When I moved away from Edmonton in 1998, living in Saskatchewan gave me the option to not only continue watching Oiler games, but also access Calgary Flames and Toronto Maple Leafs coverage. But slowly, I was losing interest in Edmonton, only because I was no longer there. And caring for Calgary? Not a chance.
So in watching the Maples Leafs in 1998-99, I started to like what I was seeing. The player I began to follow was Mats Sundin. He wasn't really welcomed with open arms when he was traded for Wendel Clark, but it took a long while for Leaf fans to warm up to his scoring talents. There wasn't a particular moment when I decided to jump bandwagons, but I decided to head to the sports store and throw $100 down on a blue Mats Sundin Leafs jersey. Soon after I was enthralled with the rich Leafs tradition that I began buying books about the team, collecting their hockey cards, and other tacky memorabilia.
I'm nothing like this couple, however…
Between 1999 and 2008, I had really hoped the Leafs would finally retake their lost glory. There had been some chances in 1999 and 2002 when they lost to Buffalo and Carolina respectively. Unfortunately, for the rest of the years it had been frustrating. Time and time again, the Leafs fell short against the top Eastern Conference contenders like the New Jersey Devils or Philadelphia Flyers. Even though they posted great regular season records, the Leafs faltered in the postseason.
But then came the 2004-05 lockout. Whatever it did to Toronto, the Leafs were never the powerhouse they once were. Fans started getting frustrated. I was also getting frustrated. How can they fix this? Pat Quinn no longer had the answers. John Ferguson Jr. had no answers. Brian Burke? Hell no. Up until I quit the Leafs in 2008, they failed to make the postseason three years in a row, and would continue to until their first round debacle against the Boston Bruins in 2013.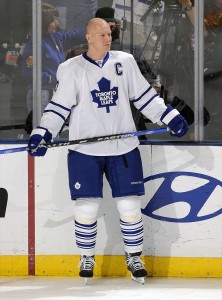 My advice for fans going forward? Prepare for a long season (most likely without playoffs) once again. Today's Maple Leafs are clearly a long way from being competitive. But the passion I had for Toronto was no longer there. I stopped watching them and weighed my options. After some consideration, I decided to do a cleanse. Instead of throwing my Leafs jersey on the ice, I sold it on eBay. At my garage sale, I sold all my tacky Leafs memorabilia to a sick kid who was the biggest Leaf fan I've ever seen, for free.
In closing, when Mats Sundin decided to sign with the Vancouver Canucks in 2009, I decided to give the Canucks another chance and cheer them on.
Just think if I returned to cheer for the Oilers…