It seems like it is almost certain now. On May 28 Damien Cox reported that it is almost 100% sure Auston Matthews is spending the 2015-16 season overseas. This would end the Matthews saga, and all of the uncertainties about where the highly touted American forward plays next season. First, it seemed to be only a decision between several NCAA schools or the CHL, where the Everett Silvertips held his rights.
Then, earlier this month, a Swiss newspaper reported the Zurich Lions of the Swiss league have signed Matthews already for the coming season. Even if that wasn't true and was denied by the team's CEO later that day, they admitted there were talks with Matthews and they intended to sign the 17-year old. They flew him and his family in and showed him the organization and their environment. But reports now are saying that also Finnish and Swedish teams joined Zürich in the bidding.
Almost 100% Auston Matthews is headed to Europe, not WHL or NCAA.. News is teams from Sweden, Finland may have joined Zurich in the bidding.

— Damien Cox (@DamoSpin) May 28, 2015
While it is common for European players to come over to North America to play in the CHL or other leagues for better development, going the different direction like Matthews is something more unique. But why would this deal make sense for the player as well as the European team? And what would be the impact for the future?
Why would Matthews play in Europe?
Matthews is ineligible for the 2015 draft because he was born two days after 15th September, meaning he can be drafted starting next year even though he is in the same age group as players like Zachary Werenski, Lawson Crouse and other 2015 top picks. He dominated during the past season with the U.S. National Team Development Program, scoring 116 points,  breaking Patrick Kane's record. He was also named MVP of the U18 Worlds in Switzerland, and played in an exhibition game with Team USA. Matthews asked USA Hockey not to take him to the Worlds in Prague/Ostrava, because he had to finish his school year. Given his skills, playing level and maturity of his development, you come to the conclusion he would dominate also at NCAA or CHL level.
Auston Matthews actually asked USA Hockey not to take him to the Worlds because he had to finish his school year.

— jake (@baskincase) May 2, 2015
There are voices saying if he was eligible for this year's draft, he would be selected number three just after McDavid and Eichel, both of whom are expected to play in the NHL  next season. Matthews is looking for the best possible development in his pre-draft year, and he figured out the Europe option would give him a greater challenge than playing NCAA or CHL. In Switzerland he would play against men in one of the best European leagues, have a 50+ game schedule and participate in the Champions Hockey League. Furthermore Switzerland is a country with one of the highest standards of living and travel is easy since all cities are close.
Marc Crawford thinks Swiss league is 'perfect training ground' for Auston Matthews http://t.co/0cowdsuxvr pic.twitter.com/CMxFHMxc0k

— theScore NHL (@theScoreNHL) May 25, 2015
In Zürich he would be coached by former NHL Coach Marc Crawford and would be part of the best Swiss team in terms of youth development and professionalism.  In Europe, he would be paid. Though this might not be Matthews highest priority, it should be considered as an advantage. This all seems to be very tempting for Matthews and might give Europe an advantage over North America.
Is it affecting Matthews draft stock?
Matthews is just too good to lose his current status as one of the top prospects available in the 2016 Draft. The kid is blessed with so much talent and high-end skills that you have to consider him a top pick even if he would not have the best season in Europe. However, of course he will not be as dominant in Europe as  would be the case in NCAA or CHL leagues. But keep in mind that scouts are professionals, and know the circumstances very well.
If he really should have a bad year in Europe and struggles to compete against experienced players, teams would take notice, though it probably wouldn't keep them away from not picking him early. Don't forget he still is very young and being able to play the entire season with a team from a European top league is a good achievement that not many of his fellow 2016 draft prospects can match. One other factor is his development off the ice. If you move into a different environment at this age, you develop yourself not only on the ice but also off the ice. Different culture, being far away from your home and living in a new environment is quite a challenge, but it will make him stronger in non-hockey areas as well. He will gain more confidence and become more mature faster.
How is this move impacting the future?
Matthews is setting precedent by signing with a European team. For a North American player it is  very uncommon  to spend the pre-draft year overseas. You can  debate whether it helps his development or not, there is no right or wrong. But for sure, European teams are benefiting from this move, maybe it even has impacts for the future.  The team/league which gets Matthews will especially benefit from his signing. The country would get attention from NHL teams, the league will be scouted a more intensively for at least the year Matthews plays there and this might impact other European prospects playing against Matthews as scouts watch their games more often. While this might be already the case for Sweden or Finland, for Switzerland it isn't in the same way. If Zürich would win the race and sign Matthews, the country of Switzerland could benefit.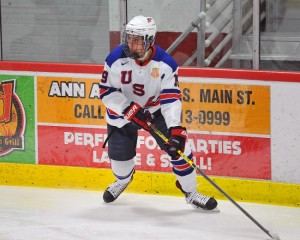 They haven't produced many NHL players yet and only a few got the attention of NHL fans, such as Josi, Streit or Hiller, and Matthews could give the country a bit more attention among scouts. If this all works out for Matthews then he might be a pioneer and other prospects would follow his lead and consider Europe as an option to develop their game further. On the downside if more and more prospects would choose Europe over North America, NCAA and CHL teams would see themselves not getting the top prospects and losing them to Europe which would of course not be in their interests. But let's keep in mind that only the best prospects would be able to consider Europe as a potential pre-draft season destination.
In Matthews' case, it would make sense because he isn't eligible for this year's draft. But if he was born just two days earlier he would be drafted now and it would be a completely different situation. One additional thing you have to keep in mind is that in some European leagues you are allowed to have only a certain amount of import players. Therefore, teams select those players very carefully and often they are among their best scorers. For example, in Switzerland you can have only 4 import players which means that Zürich would also take a small risk in signing Matthews.
He will still be only 18 years old by the time the season starts and no one knows how good Matthews will be playing against men and in a pro league. Even if it is expected he already has a big impact, it remains still a small risk for European teams to sign him  instead of looking for a more experienced import player.  If the prospect's talent and skills are not outstanding  European teams will be less interested in signing them, so only the top class of each draft would be considered  to go this route.
[RELATED: Matthews potentially setting precedent by signing in Switzerland]
Whichever path Matthews chooses, he is projected to be a dominant player at NHL level and his future is looking bright. If you have the talent and skill of the Arizona-born Matthews, all roads lead to a prolific career, and there is no doubt that he will make an impact one day at NHL level. His skills are tremendous and whoever wins the bidding war and signs him has a very good player on his team and can be blessed to see him wear the team's sweater for at least one year.