Last week marked an historic occasion in Australia's proud sporting history, though it was marked with little fanfare or media attention. Nathan Walker a 19-year-old left winger from Sydney signed an American Hockey League deal with the Hershey Bears.  On an ordinary day, a player earning a minor league contract is not terribly newsworthy, but its Walker's path to NHL's doorstep that is anything but ordinary.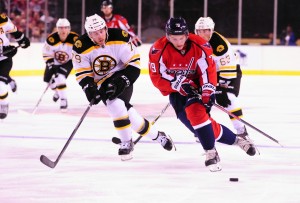 Australia: Not A Hockey Hotbed
Australia is not known as a hotbed of hockey talent. Just the term 'hockey' would have most people think you're referring to field hockey where the country has world class men's and women's programs. While Australia has seen some success at the Winter Olympics most of that success has come in the snow sports rather than those on ice. In total, Australia has 1800 registered players and operates a total of 22 public rinks; the City of Toronto operates 40. While Australians are known for producing world class athletes in a myriad of sports, 'ice hockey' simply isn't one of them.
It is, however, starting to gain traction in an already saturated sporting market that includes Australian Rules Football, Soccer, Rugby and Cricket. The Australian Ice Hockey League is an eight team semi-pro national league that has a growing fan base. A recent four game tour of 'international ice hockey' was a great showcase opportunity for hockey and was played by teams representing Canada and the US. Kyle Quincey from the Detroit Red Wings captained Canada, and Zenon Konopka from the Minnesota Wild captained the US. Internationally, Australia had won promotion to the top Division after going undefeated at the 2011 Division II World Championships, however they were promptly relegated back to the second tier the next year.
Czech-ing Out Early
Taken by the game of hockey at a young age, Walker was fortuitous to have an astute youth team coach that recognized early on that to truly develop he would need to leave Sydney. Aged 13, Walker packed his bags for the Czech Republic, the home country of his coach, to connect with HC Vitkovice. Here, he would have access to the ice time, coaching and general resources necessary to foster his development. "I wasn't really going to develop in Australia since I was on the ice once a week and playing one or two games, so making the transition to Czech Republic was a huge part of my development" notes Walker in an interview with NHL.com. It didn't take long before he was raising eyebrows within Europe by scoring six goals in one game in a junior game in 2010.
While maturing in the Czech junior system, Walker has consistently been named as a top NHL Draft prospect over the last two seasons and has logged impressive numbers against his age group in Europe. After being passed over in the 2012 NHL Draft, Walker rebounded with 24 points in 13 games for Vitkovice's under-20 team before moving across the Atlantic to finish the season with the USHL's Youngstown Phantoms. While adjusting to the smaller ice and other nuances of hockey in North America, Walker logged seven goals and 27 points in 29 games with the Phantoms to again consolidate himself as a legitimate draft prospect. He even played in the USHL v NHL Top Prospects Game, but again it was not enough as he was passed over at the 2013 NHL Draft.
"I wouldn't say it's frustrating [to not be drafted]," Walker says. "It's not what I wanted, but it's not that big a deal either. It just motivates me even more just wanting to be better than I am. Not getting called out [at the draft] just motivates me even more."
The Big Break
Motivated, and keen to make the most of the opportunities presented to him, Walker accepted an invitation to the Washington Capitals pre-season NHL camp where Troy Brouwer took the young Aussie under his wing. As the only non-affiliated player at the camp, it was important to impress, and there isn't a better way to achieve that than to log a SportsCentre Top 10 highlight with a through-the-legs assist to the Caps top prospect, Tom Wilson. Throughout the pre-season, Walker scored, earned a penalty shot and even fought (At 5'10, 185lbs he's far from a heavyweight) in an attempt to make himself noticed. There is little arguing, Walker tried every trick in the book.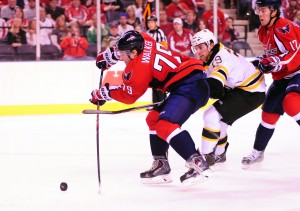 However in yet another setback, Capitals management learned that a little known rule known as the "Tomas Hyka Rule" would prevent them from inking Walker to a deal with the big club. Luckily, there was no such rule preventing their AHL affiliate Hershey Bears from signing him. Now, under the watchful eye of Capitals scouts, Walker now enters his last year of NHL Draft Eligibility knowing a full-season in the AHL might just be enough for any of the 30 NHL clubs to finally pull the trigger on Draft Day.
Nathan Walker's is atypical for a hockey prospect, but the appeal is universal and it proves hockey's potential reach exists far outside North America and Europe. Australia has proven its ability to provide talent into the NBA, NFL and MLB and by next year the NHL could round complete the set. While Walker continues to knock on the right doors, the question leading into the 2014 NHL Draft Day, will anyone answer?