The Washington Capitals enter this season with a solid collective group of forwards and two young amd most definitely capable NHL goalies. The biggest problem on their team that could hinder them is a fractured defense. After the top three defensemen (Mike Green, Karl Alzner, John Carlson) there are huge holes that weren't filled in the offseason. Defensemen John Erskine, Jack Hillen, Steve Oleksy and 19 year old rookie Connor Carrick fill out the remainder of the Capitals blue line. Below is THW's preview of the Capitals' defense along with simple projections for each player.
Mike Green
Although he missed time once again due to injury last season, Washington's highest paid defenseman had a strong 2012-13 campaign. He totaled 26 points, including four goals on the power play and two game winning goals. Green registered 36 hits and 61 blocked shots.
Known as a streaky performer, Green racked up five straight games with points from March 30th to April 6th, compiling five goals and two assists over a five game stretch. He averaged 4:02 of ice time on the power play per contest and .538 of his points came from the man advantage.
He'll get a chance to have another good season in Washington, manning the point on a highly skilled power play unit that includes talented forwards Alex Ovechkin, Mikhail Grabovski, Troy Brouwer and Nicklas Backstrom. His health is the primary concern for Capitals' management, as they don't have a quality defense to begin the season already and losing a man would be detrimental to the team's success.
Projection: 15 goals, 39 assists, 54 points
Karl Alzner
As Green's defensive partner, Alzner brings a fundamentally sound shutdown game. He's solid with his first pass and has a nice reach with good positioning. Selected fifth overall by the Capitals in the 2007 NHL entry draft, Alzner became a top-notch defenseman in the NHL. General Manager George McPhee made a solid move in re-signing Alzner to a cap friendly four year deal this summer.
While he won't bring much offensively, Alzner is strong on the penalty kill and is a complement to the smooth-skating Green during even strength. His awareness enables Green to jump up into the rush, while Alzner's instincts enable him to breakup two-on-one opportunities on the defensive side of things.
Projection: 1 goal, 11 assists, 12 points
| Player | TOI/G | ES Points | PP Points | Offensive Zone Start % | Corsi Relative QOC |
| --- | --- | --- | --- | --- | --- |
| Mike Green | 24:51 | 12 | 14 | 46.70% | 0.232 |
| Karl Alzner | 20:57 | 5 | 0 | 46.10% | 0.479 |
| John Carlson | 23:01 | 17 | 5 | 48.90% | 0.571 |
| John Erskine | 18:27 | 6 | 0 | 44.70% | 0.508 |
| Jack Hillen | 17:36 | 9 | 0 | 50.20% | 0.372 |
| Steve Oleksy | 17:16 | 9 | 0 | 45.50% | -0.355 |
John Carlson
Picked in the first round in the 2008 NHL entry draft one year following Alzner's selection, Carlson was another solid choice by McPhee that has panned out well. Carlson brings an offensive game like that of Green's, but has done a much better job staying healthy. He hasn't missed one regular season game the past three seasons following his call-up from Washington's AHL affiliate, the Hershey Bears when he entered the league.
He totaled 22 points last season, second on the team for Capitals' defensemen. Carlson was stronger offensively than first line defenseman Mike Green during even strength play last year, with .773 points coming during even strength play. He'll be paired with the defensive-minded John Erskine to start the season, as Carlson and long-term defensive partner Mike Green were separated last season and likely won't be re-untied in hopes of spreading out the offensive capabilities throughout the entire blue line.
Projection: 10 goals, 28 assists, 38 points
John Erskine
Erskine was labeled by head coach Adam Oates as a top four defenseman for the Capitals during the preseason. He'll have to play well in that role if Washington has any hope of contending and making a playoff run. He has a strong defense first mentality like Alzner, but plays a far more physical game rather than a schematic one like the improving Alzner.
This will be the eighth year that Erskine plays for the Capitals, as he signed a two year contract extension with the club last year. He totaled six points and 34 penalty minutes for Washington last year, along with a plus ten, the second best rating in his career. He'll play second pairing minutes for the Capitals with Carlson, along with getting substantial penalty kill time. Carlson and Erskine played the toughest competition for the Capitals' defense, with both players in the top two for Washington defensemen in Relative Corsi Quality of Competition last season.
Projection: 2 goals, 7 assists, 9 points
Jack Hillen
Hillen enters 2013-14 in his second year with the Capitals and in the first year of a two year contract. After suffering an injury early in the season, the former Nashville Predators' defenseman rebounded with a nice season. He totaled nine points in 23 games, including one game winning goal.
He suffered the injury during the first game of the season, only registering 3:29 of ice time. Hillen missed the whole month of February, but earned 20:01 of ice time in March and 17:02 in April prior to the playoffs. He showed good discipline with only 14 penalty minutes, along with a plus nine, a strong rating like Erskine's. Hillen will be paired with second year defenseman Steve Oleksy on the third pairing, but could get some time to play with rookie Connor Carrick early in the season.
Projection: 4 goals, 11 assists, 15 points
Steve Oleksy
The Oleksy story was one of the most inspiring during the 2012-13 season. He earned his first NHL contract after signing an AHL deal with the Hershey Bears in which he had to work hard to even make the roster. Oleksy brought a physical presence and strong defensive game to Hershey, something head coach Adam Oates picked up on while co-coaching with Mark French in Chocolate town.
After he signed with Washington, Oleksy impressed early on. He totaled nine points in 28 regular season games for the Capitals, playing on the third pairing along with earning 1:39 of ice time per game on the penalty kill. He'll face tough competition this year with improving rookie Connor Carrick on his heels for a spot in the starting lineup. If he can maintain his strong physical presence and defensive reliability while contributing on offense at times, Oleksy should spend the whole year in Washington.
Projection: 2 goals, 11 assists, 13 points
Connor Carrick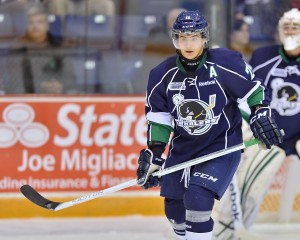 Carrick made the team as a surprise, following the demotion of more experienced defensemen Tomas Kundratek and Dmitry Orlov to the AHL. The most likely scenario is that he sticks with Washington till the ten game limit and is then sent down to junior, to play his final year for the Plymouth Whalers of the Ontario Hockey League (OHL). He'll be paired with left handed shot Jack Hillen when he gets in the lineup.
Projection: 0 goals, 2 assists, 2 points (sent to junior after stint in Washington)
Stay tuned for the Capitals forwards preview and a season preview.
Washington Capitals Goalie Preview
You can follow Matthew on twitter @m_speck and email him at mspeck21@yahoo.com with any questions or comments.
Matthew Speck covers the Washington Capitals organization for The Hockey Writers. He provides coverage of both Washington at the NHL level and prospect related content. Matthew also covers local sports for the Lebanon Daily News in Central Pennsylvania. You can email him at mspeck21@yahoo.com with any questions or comments.