The Chicago Blackhawks won the Stanley Cup last season with a goalie tandem consisting of Corey Crawford and Ray Emery. The Washington Capitals are hoping they can follow the same route between the pipes and play deep into this summer. Below is a preview of Washington's two goalies at the NHL level, in part one of three, of THW's Washington Capitals 2013-14 roster preview.
Braden Holtby
Washington's fourth round pick from the 2008 NHL entry draft was the clear cut starter last year in the nation's capital. Coming off a ridiculous 1.95 goals against average and .935 save percentage in the 2011-2012 Stanley Cup playoffs, Holtby earned that role. And he would not disappoint.
| Player | ES Save % | PP Save % | GAA | Road GAA |
| --- | --- | --- | --- | --- |
| Braden Holtby | 0.931 | 0.86 | 2.58 | 2.78 |
| Michal Neuvirth | 0.917 | 0.877 | 2.74 | 2.89 |
The 24 year old net-minder recorded 23-12-1 record in 36 regular season games, with a respectable 2.58 goals against average and .920 save percentage. Capitals fans saw a better Holtby each and every month throughout the regular season schedule, as the young goalie sported a 5.04 goals against average in January, followed by 2.90, 2.29, 2.16 in the following months. His save percentage also improved each month, from .863, .907, .925 to .937.
When Washington won, Holtby was on his game. He registered a 1.88 GAA and .939 save percentage in Capitals wins, but a 4.01 goals against average and .886 save percentage in games Washington lost. Four of his twelve wins were shutouts, with two apiece coming in February and March. He went 3-0 in shootouts, allowing one goal in nine shootout attempts.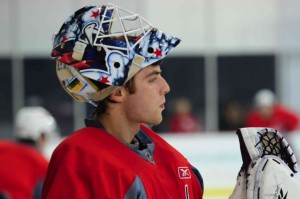 Holtby should earn close to 70% of Washington's starts this season, starting with the season opener in Chicago. The defense in front of him hasn't changed that much, but there is room for improvement. When he plays more Holtby is more effective in the net and getting off to a hot start unlike last season will be essential.
Projection: 2.48 GAA, .923 save percentage
Michal Neuvirth
Washington's backup goaltender signed a puzzling two year pact with the Capitals this offseason. General George McPhee has stated he wants two quality net minders which Neuvirth assures, but goaltending prospect Philipp Grubauer continues to shine in the AHL and is close to NHL ready. Neuvirth, at age 25, is only one year older than Holtby. He played in only 13 regular season contests last year, holding a 2.74 goals against average and .910 save percentage with a 4-5-2 record. His save percentage was the same as his career average, so no one can blame Neuvirth for that. Neuvirth is a legit NHL goalie and could start for numerous clubs. But after sporting a 2.45 GAA in the 2010-11 campaign, the Czech Republic Native has registered a 2.82 and 2.74 GAA the past two seasons which is a cause for concern.
He should play in around 30 games this year, backing up Holtby. He could become a valuable deadline piece for Washington if they are in contention for the playoffs, something THW is expecting.
Projection: 2.64 GAA, .913 save percentage
Stay tuned for more Capitals roster previews throughout the day prior to opening night for the National Hockey League.
You can follow Matthew on twitter @m_speck and email him at mspeck21@yahoo.com with any questions or comments.