Welcome to Avalanche at a Glance, a column by THW dedicated to anything and everything Colorado Avalanche. This week, my partner Kevin Goff and I will discuss the upcoming 2016 NHL Draft and possible Avalanche deals.
Stocking the Cupboard
Sebastian Hedley-Noble: The 2016 NHL Draft is just days away, and Colorado are sitting in a very comfortable position with their picks. This will be another chance for the new front office and scouting department to add key pieces for the future of the organization.
This should be an active and exciting draft for the Avalanche. They hold the 10th overall selection, the same spot that got them the AHL rookie of the year this past season, Mikko Rantanen. While you obviously don't ever want to select in the top ten since it means you didn't make the playoffs, this isn't a bad time to have it. Let's just hope it's the last high pick Colorado has for a while. There will be a couple of players available to the Avalanche at number 10, it is probable they get someone they've ranked higher on their list, just like Rantanen was. In our THW Mock Draft of the first two rounds, I took the place of the Avalanche and selected Clayton Keller at 10th and Samuel Girard at 40th. I was pretty happy with those selections given who was left on the board.
This draft can go many ways, with it being forward heavy, and numerous different opinions on who should go when and where. What are your thoughts on the upcoming draft Kevin? Do you have your eyes on any players in particular for the Avalanche to target at the draft? If so, got any names you'd like to throw out there?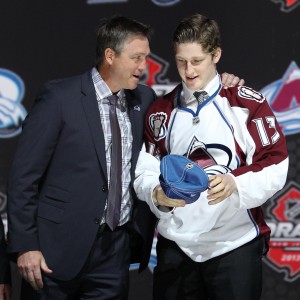 Kevin Goff: The NHL Draft is always a time of hope for fans of any organization. You simply never know when a team has hit the jackpot with a certain pick. At the same time, there are several nerves that come along with the NHL Draft as fans worry that their team will blow it, and create a bit of a vacuum within the system. That latter is where we currently find the Avalanche. Over the past few years, we've seen the Avalanche part ways with several former draft picks from the Rick Pracey years, and this season has been no different. Joey Hishon went to the KHL, the Avalanche do not appear to be in any rush to sign picks Alexis Pepin or Nick Magyar. Plus there is some doubt as to whether or not the Avalanche will sign Will Butcher, while Conner Bleackley and Kyle Wood both were sent out in the Mikkel Boedker trade.
This uneasiness has gone down a little bit as the 2015 Draft shows a lot of positive signs. Each draft pick, with the exception of Gustav Olhaver, has a certain amount of buzz surrounding them, one of the first drafts in a long time that has shown this much upside. The Avalanche must continue this positive trend in drafting but need to do a much better job in development. It's time for the Avalanche to get back to one of the things that made them so successful during their glory days. Yes, they had unbelievable talent to build around, but whenever they needed to have a young guy step in, there was a young player to do it. Players such as Chris Drury, Milan Hejduk, Alex Tanguay, Dan Hinote, Ville Nieminen, John-Michael Liles and others were able to fill slots in the lineup and contribute in one way or another. The team used to have a great history of developing from within, but that has not been the case in recent years. Hopefully the Avalanche can get back to this. 
This is one of the few years where I've really had a lot of issues zeroing in on who I think the Avalanche will take. A couple do stand out, but I'm far from sure on them. I see the Avalanche being very forward-focused during this draft and would expect their first two picks to reflect this. With the 10th pick, I would expect the Avalanche to go with either Logan Brown or Michael McLeod. I tend to lean towards McLeod due to the complete nature of his game and his amazing skating abilities. At 40th overall, I am taking a liking towards both Will Bitten and Nathan Bastian. Very different types of players, but both are incredibly capable. I lean a bit more towards Bitten for a similar reason that I lean towards McLeod. A complete player at all spots of the ice that can skate as well as anybody in the draft.
Let's Make a Deal
http://gty.im/507186032
Sebastian Hedley-Noble: There have been no shortage of Avalanche trade rumors swirling about of late. Names such as Tyson Barrie and even Matt Duchene(laugh) have been thrown out there. That is until Joe Sakic stepped in and made a statement saying Barrie is not going to be traded, that he expects the core to remain intact, and take the next step in their development. Sakic also mentioned they don't expect to be one of those clubs going after a huge free agent splash come July the 1st. Take his words for what you will, and hope that Barrie does get signed. He's entering the prime of his career, and is one of the best in that offensive defenseman category.
I'm betting quite a few teams will be interested in the 10th overall pick, whether it makes sense to move it or not would all depend on the return of course. Tons of potential scenarios are available, but the bottom line is – the team needs to improve, get over the hump, and back into the playoffs on a consistent basis. They're too skilled and fun to watch to be playing golf. They aren't far away either, depending on Boedker and Matthias' decisions, the Avalanche are a much deeper team, ideally it'd be nice to keep them both. It's a concern, but if they do depart, Rantanen will be available, along with any free agents or players acquired via trade, to replace them.
Alexander Radulov's name is still being linked to the Avalanche, along with some big name defenders too. This offseason is crucial for this team and its future, but I sincerely believe they are in capable hands. The biggest need still lies in defense, it'd be nice if they kept Barrie and added a top pairing left-handed defender to round out the group and get that much-needed improvement in their own zone.
Do you see the Avalanche being active in the trade department Kevin? Who would you like to see Colorado deal for and/or unload?
Kevin Goff: In regards to Tyson Barrie, I remain completely unconvinced that there is any reason that the Avalanche will trade him. Barrie is restricted and has one other disadvantage. Even if he and the Avalanche go to arbitration and he chooses a two-year option, at the end of that second year he will still be considered restricted. It is in both party's best interest to get some kind of a 3-5 year deal done, and I anticipate that they will.
As for other deals, I do think there are moves for the Avalanche to make. I've been very vocal about the team needing to explore trading Jarome Iginla. I know that there is a major challenge to this with his no-movement clause, but I do believe the Avalanche can leverage his desire to win a cup in order for him to waive this. He made a comment last November about not wanting to uproot his family, but the offseason allows a much more natural transition period to take place. Other moves I would love to see the Avalanche make are more of a "trim the fat" variety. Getting rid of guys like Brad Stuart, Cody McLeod, Nick Holden and others to make room for better players at better price-points. I know people love McLeod and all his "leadership," but he is no longer at a place where he is productive for the team on the ice and that has to take precedence.
Favorite Moments
Usually with Avalanche at a Glance, we include some video of our favorite moments from the past week. Since it's the off-season, with this edition we are going to add two doozies, one new and one old.
Duchene's Draft Dreams Come True
20th Anniversary Video: Uwe Krupp's Triple Overtime Stanley Cup Winning Goal
Thanks for reading everyone, please feel free to comment below on who you'd like the Avalanche to draft, trade, trade for, or sign!