From now until the NHL Entry Draft, we will have a series of articles helping you get ready for both the draft and the combine. Today, we present to you a mock draft. We gathered a group of writers from the Hockey Writers and conducted a two-round mock draft. Were there any major surprises? Here's how the first round went down. Stay tuned for round two.
The Stanley Cup Final is over for another season. For the 29 teams that weren't able to hoist the Cup, that's music to their ears.
The NHL Draft is set for June 24th-25th at Buffalo's First Niagara Center. The question that everyone wants to know is where this year's prospects will end up.
Except for maybe 2-3 prospects, the field is wide open. Prospects expected to go in the first round could slip to the second round. Those that project outside the first round could sneak in. And how many trades could we see on draft day?
With so many questions and possibilities, anything can happen. We at the Hockey Writers decided to try our hands at a mock draft.
We gathered various writers and conducted a full two-round mock draft. One thing to keep in mind when we share these results is that we drafted assuming no trades. We expect trades to happen. But for the purposes of this draft, we focused on team need vs. best player available. This should help give you a sense of what teams are thinking given who's available.
The Toronto Maple Leafs won the lottery and have the right to select first. Here we go.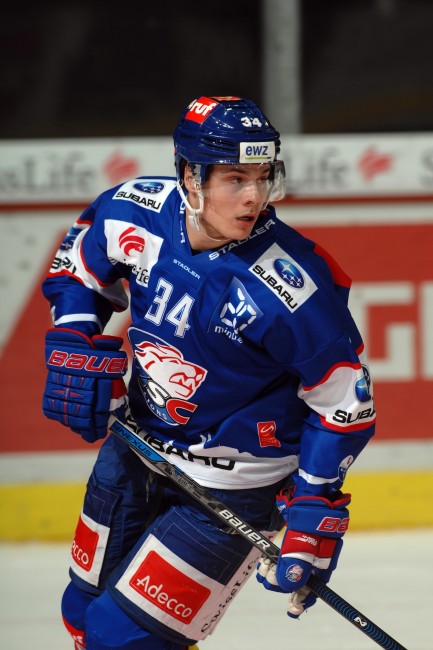 THW Mock Draft: Round 1
1. Toronto Maple Leafs (Jeff Langridge): In what might be the biggest surprise of the draft, the Toronto Maple Leafs select little known center Auston Matthews. In all seriousness, the Maple Leafs have been looking for a true No. 1 center since Mats Sundin. They've tried Tyler Bozak and Nazem Kadri. Even Peter Holland was given a shot. That will all end now with the drafting of Matthews.
In the 2016 Draft Preview issue of the Hockey News, one scout says this about Matthews, "You can say he won't put up the points of a McDavid or an Eichel, and that's perhaps true… But I think he's a Jonathan Toews-type of player. He's the kind of player you win with."
That is exactly the type of player the Leafs needs. The Leafs will have players that will be putting up lots of points in William Nylander and Mitch Marner. Matthews will put up more than his fair share of points as well. However, it's that potential leadership that will help the Leafs the most.
2. Winnipeg Jets (Tony Torrao): The Winnipeg Jets are proud to select Patrik Laine. Laine is a big-bodied (6-foot-4 and 206 pounds) right-winger with "that little something extra" according to Damien Cox of Sportsnet Canada. He had 17 goals and 33 points in 46 games for Tappara Tampere of Finland's top league. His shot has been compared to that Alex Ovechkin, a lofty comparison for an 18 year-old. Winnipeg has not had a prolific scorer since Marian Hossa (Evander Kane notwithstanding) and the days of the Atlanta Thrashers. Laine has the ability to create his shot, not to mention protecting the puck with his big frame. His wrist shot has been dubbed "elite" by Matias Strozyk of Elite Prospects, to go along with a powerful one-timer while on the man advantage. He's a two-way forward with good instincts and all of the physical attributes to play in the NHL from day one.
3. Columbus Blue Jackets (Mark Scheig): With Matthews and Laine gone as expected, the Blue Jackets are pleased to select Jesse Puljujarvi with the 3rd pick. He's arguably the best prospect in this draft given his overall tools. According to Central Scouting director Dan Marr, Puljujarvi plays a complete game and has a scoring touch. The Blue Jackets not only get the best available player, they get someone who fulfills a need at right-wing and is ready to play this season.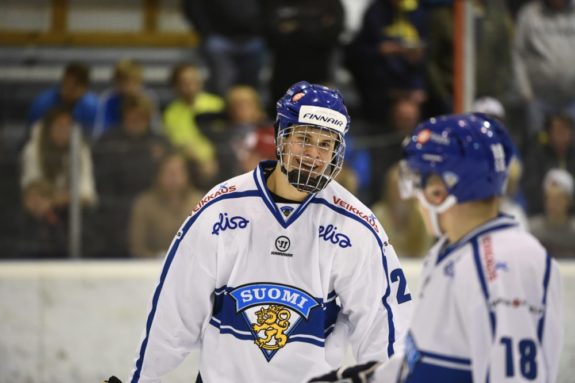 4. Edmonton Oilers (Marcy Di Michele): The Oilers select defenseman Mikhail Sergachev. The projected players at number four are either left wingers (which the Oilers have a lot of) or left-handed shooting defencemen (which the Oilers have a lot of), so it's more than likely they'll trade down. But if I had to pick someone in this spot, I like Sergachev because of his size and puck-moving ability.
5. Vancouver Canucks (Colton Davies): With the surprise of having the option of both Pierre-Luc Dubois or Matthew Tkachuk at fifth overall in this mock draft, the Canucks chose arguably the most complete player in this year's draft in Dubois. The 6-foot-2, 205-pound forward can play center or the wing. Dubois put up 42 goals, 99 points, 112 penalty minutes and a plus-40 rating in 62 QMJHL games with Cape Breton last season. He added seven goals, 12 points and 14 penalty minutes in 12 playoff games. The 17-year-old is evidently a skilled scorer and is a tough player to play against.
6. Calgary Flames (Ryan Pike): The Flames are happy to select Matthew Tkachuk. The Flames need to keep accumulating high-impact forwards and Tkachuk was dynamite this season in London. He'll be a really good complement to players like Gaudreau, Monahan, Bennett and Shinkaruk.
7. Arizona Coyotes (Charles Woodall-Pike): John Chayka's first choice as Arizona's general manager is the Swedish forward Alexander Nylander. Nylander brings a strong knowledge of the game and a deadly accurate shot to go along with his hockey pedigree. In his rookie year with the OHL's Mississauga Steelheads, Nylander led the team in points in both the regular season (75) and in the playoffs (12). At 18, he still has time to grow and fully develop his talents before making his way to the pros. When Nylander does arrive in the desert, he has the potential to be the top scorer he was in the OHL, especially playing with guys like Max Domi, Christian Dvorak and Dylan Strome.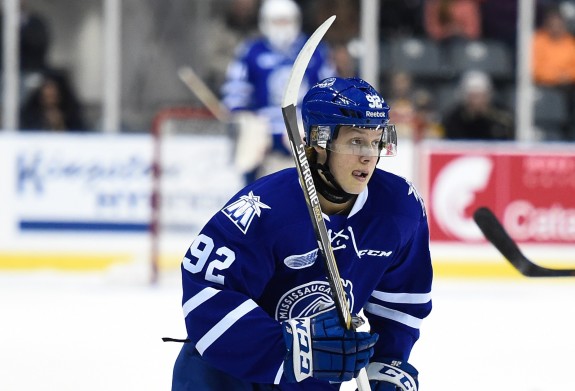 8. Buffalo Sabres (Michael Straw): The Buffalo Sabres select Jakob Chychrun. The Sabres appear to be happy with their forward group, and the need for defense is just too big to pass up at number eight. His skating is above average for a larger defenseman, and he has the potential to be a top-tier player in the transition and break out. His offensive presence in terms of knowing where to put the puck could use work, but that should come with time before making it to the NHL. With Chychrun, Buffalo could be drafting the future partner of Rasmus Ristolainen.
9. Montreal Canadiens (Nick Guido): Montreal is pleased to select Olli Juolevi. Although the most important need for the Habs is a big centre, the Knights defensemen in this slot is too good to pass up. The Canadiens benefit from the drop of Juolevi and bring in a big (height and weight) defenseman who in a few years will challenge for a spot in their top four. His International experience in the World Juniors paired with a winning organization in London, at slot 9 there isn't a prospect who's closer to being pro ready than Juolevi.
10. Colorado Avalanche (Sebastian Hedley-Noble): The Avalanche are proud to select Clayton Keller. At the number 10 spot, I knew there would be a great player that would fall to me. However, I did not anticipate the top 3 defenseman to be selected before it was my pick! Sergachev(maybe selected at 4th to entice Avs fans in a possible Barrie deal?), Chychrun, and Juolevi were all taken before it was the Avs turn. With that turning out how it did, I had two players left that I was considering selecting, Clayton Keller and Logan Brown. I went with my gut and selected the small, but extremely gifted Keller. Colorado needs some nice playmaking ability in their lineup and Keller has that in abundance. Keller would look great next to Duchene or MacKinnon, or centering a line with Duchene or MacKinnon on the right-wing. Brown wouldn't have been a bad choice either, and even though Keller is much smaller, I believe he is one of the most skilled players in the entire draft.
11. New Jersey Devils (Dennis Schellenberg):The Devils are quite deep down the middle but are lacking offensive forwards. Tyson Jost is a strong goal scorer who can really fire the puck. He plays with a high-energy level and possesses a strong vision too. The combination of speed, determination, energy-level, scoring touch and vision made it an easy decision to pick him with the first pick. Jost can serve the Devils in the coming years as a high-scoring player as well as a setup guy. Jost brings a complete package to the table and the Devils will follow Jost's next season with the University of North Dakota.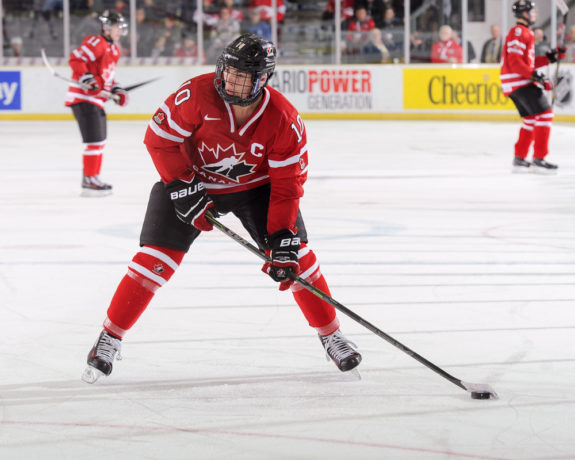 12. Ottawa Senators (Malcolm Campbell): Standing 6-foot-1 and weighing 172lbs, 17-year-old Jake Bean has the makings of a future number one defenseman in the NHL. Bean is thought to be the number one ranked pick coming out of the Western Hockey League (WHL) this year according to Hockey's Future. That ranking is bolstered by the fact he finished sixth in the WHL in scoring among defenseman with 64 points, and led defenseman with 24 tallies. While his offensive prowess is known, his ability in his own end is nothing to scoff at. In his two seasons with the Calgary Hitmen he has been a positive player, finishing this season at +20, and his rookie year at +8. While the Sens have arguably the best d-man in the league in Erik Karlsson, Bean could learn a great deal from number 65, and would give the Sens flexibility on the blue line in the coming years.
13. Carolina Hurricanes (Dean Plunkett): Logan Brown is a big – really BIG – forward that excels at both ends of the ice. He can be dominant in the offensive zone but takes care of his own end as well, willing to go into the dirty zones anywhere on the ice. He has an NHL, and Hurricanes, pedigree from his father Jeff, and grew up in St. Louis arenas learning to skate and shoot from NHL stars Keith Tkachuk and Al MacInnis. With his 6'6 frame he is not overly physical for a player his size, but will finish every check and battle down low very effectively. He also brings a scoring touch with all that size and skill. He was one of the Spitfires leaders this past season, tallying 74 points in 59 games and led the team as a set up man with 53 assists.
14. Boston Bruins (Mark Allred): A decent size defenseman (6-foot, 190 pounds), Dante Fabbro is a two-way player with exceptional skills in all three zones. He's got a big shot from the point that rarely misses, and when needed, he possesses a nasty one-timer. His mobility with or without the puck is most impressive as he maneuvers along the blue line and has the smarts to sneak down low for an offensive chance. His defensive zone presence is another strong part of his game with his vision to see a play happen and close the passing lane down with his long reach. He's also an aggressive minded defenseman that can rattle the boards with thunderous hits, or set up an open ice collision. A player with an uncanny ability to disturb forwards with enough pressure to cause turnovers as his team looks to transition offensively. Fabbro would certainly be a significant piece in the Boston Bruins defensive depth chart, but would also be wise for the organization to select him for the purpose of scouting location. Last season's BCHL top-defenseman, and top-scoring blue liner has committed to Boston University for the upcoming season, which is only a shot drive from the Bruins office at TD Garden.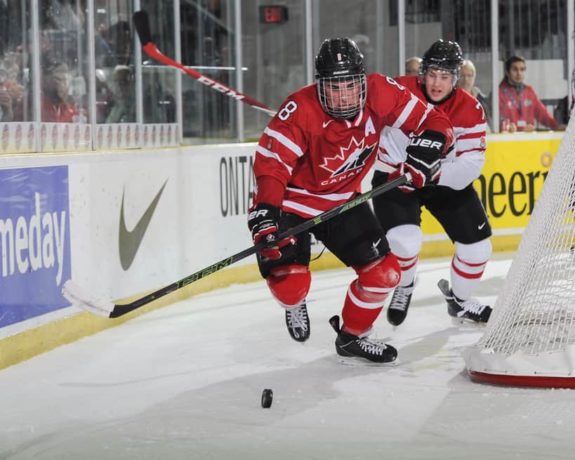 15. Minnesota Wild (Dustin Nelson): The Minnesota Wild grab a homegrown product and the son of a Minnesota North Stars great. Kieffer Bellows is a strong forward with a lot of upside. His 81 points for the US National Team Development Program was the seventh most points any player has ever put up while playing with the program. 50 of those points were goals, which is a good balance for the Wild, who have been in need of a prospect who has the potential to light the lamp on a regular basis.
16. Detroit Red Wings (Tony Wolak): With the 16th pick in the draft, the Red Wings are likely to take the best player available or trade down (as usual). If Detroit indeed decides to pick, Val-d'Or's Julien Gauthier would be a great addition to the organization. With Gauthier, however, the Red Wings would add instant offense to their collection of recent draft picks. Adding the 6-foot-4, right-handed Gauthier to a group that includes Dylan Larkin, Anthony Mantha, Andreas Athanasiou, Tyler Bertuzzi, and Evgeny Svechnikov would give Detroit a fantastic offensive future. In 54 games this season for the Foreurs, Gauthier lit the lamp 41 times. He played 14 fewer games than the prior year, but managed to find the back of the net three more times.
17. Nashville Predators (Colin Fitts): Logan Stanley will be a hard player to pass up when the Predators select at 17th overall. Stanley has a large frame, in addition to being a smooth skater which fits perfectly into Nashville head coach Peter Laviolette's ideal back-end. Defense is an area of weakness in the Predators' prospect pool, and drafting Stanley will address it. Stanley, a left-handed shot, can compliment promising defenseman Jack Dougherty, a right-hander, in the future.
18. Philadelphia Flyers (Mark Scheig): The Flyers need to continue to build up front. With that in mind, they select center Michael McLeod with the 18th pick. He is a speedy center who projects well to the NHL. He had a down year thanks in large part to injuries. He's one of the biggest wildcards in this draft. But given his skating ability, McLeod is worth taking a chance on. He could become a top-six center given the right development.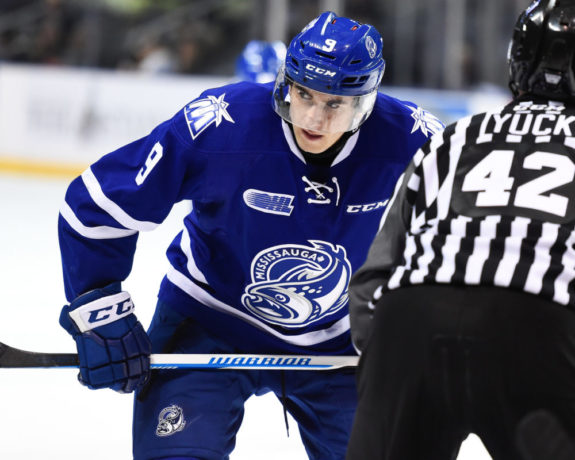 19. New York Islanders (Noel Fogelman): The Islanders usually do not select hometown players but Charlie McAvoy is too good to pass up. The 18-year-old is one of only two collegiate players that received an A rating from NHL Central Scouting. The Boston University Terrier was named to Hockey East's All-Rookie Team after leading the defensemen with 24 points. The Long Beach native is a stride two-way defenseman. He's a strong skater, who likes to join the rush. McAvoy has the potential to be a better Nick Leddy.  He has a heavy, accurate shot. Not with the power delivered by Ryan Pulock though.  Between McAvoy and Pulock, the Islanders would be deadly from the point on the power play for years to come
20. Arizona Coyotes (Charles Woodall-Pike): Arizona's power play had struggles getting going this season, finishing 20th in the league at 17.7%. Part of those issues centered on finding a suitable replacement for Keith Yandle, whom the Coyotes traded at the deadline in 2015. So with the 20th overall pick, which the Coyotes acquired from the New York Rangers in that Yandle trade, Arizona selects Kale Clague. Clague is an offensive defenseman with great vision from the blue line and knows how to generate scoring opportunities. With a bit more experience, Clague will be a great asset for the Coyotes, quarterbacking the power play and setting up Arizona's big scoring threats like Oliver Ekman-Larsson.
21. Carolina Hurricanes (Dean Plunkett): German Rubtsov is a small forward that plays bigger than his slight frame. Scouting reports say it's very hard to knock him off the puck when he has it, and when he is under pressure he's very good at escaping it. When he does lose control he's quick to use his strong East-West mobility and active stick to gain it back. He's good in the neutral zone, and has good positioning in the passing lanes when he's back checking. A good player in all three zones. Rubtsov is not a pure goal scorer, but he uses his puck control skills to make his line-mates look better. His ability to hang onto the puck until seams appear or passing lanes open is advanced, and would make him a great addition to a line with a goal-scorer.
22. Winnipeg (Tony Torrao): Another big-bodied power forward (6-foot-3, 200 pounds), Max Jones plays to his size, yet is agile enough to catch defenseman flat-footed and skate right by them. He's a tremendous skater with good speed for a bigger player. His combination of size, speed and strength allow him to barge his way to the front of the net and create chaos once there. Jones has an edge about him that hearkens back to the old-school power forward. He drives the play up ice, be it with speed or his strength. And good luck getting the puck away from him. He's not afraid to throw his weight around and you can expect a few big hits each game from him. That said, it's his cannon of a shot that has most NHL teams excited. It simply screams off the blade of his stick. The Jets will add yet another large presence up front with the addition of Jones. Like Patrik Laine with the second overall selection, Jones should be able to step right into a thinned-out group of Winnipeg forwards and have an immediate impact.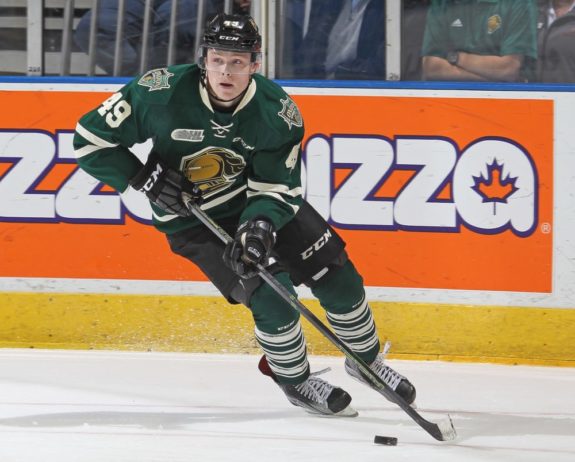 23. Florida Panthers (Matt Pryor): Tage Thompson checks off several boxes for the Florida Panthers: He's a big (6-foot-5), physical power forward. His forechecking ability will help drive puck possession, which only makes him more appealing to the new, analytics-focused management in Sunrise. Thompson will also be an asset on the power play, an area of weakness for the Panthers. Though he's primarily a center, Thompson will most likely be a top six right wing in Florida; after all, Jaromir Jagr can't play forever, can he?
24. Anaheim Ducks (Mark Scheig): The Ducks need to restock their forward pipeline. They get a player in Rasmus Asplund who can play center or wing. He was one of the best performers for Team Sweden at the World Juniors, playing on a line with top prospect Alex Nylander. He'll fit well with the Ducks, as he's a speedy player who loves to aggressively forecheck. He can also finish around the net and make plays in close. He can also win faceoffs and play an excellent possession game.
25. Dallas Stars (Derek Neumeier): The Stars are in a comfortable position heading into the draft because of a deep and balanced prospect pool. They'll have the flexibility to make a gamble and go big, and Tyler Benson could fit the bill. Considered a Top-10 talent heading into the year, he was never quite at 100% during his draft-eligible season due to injuries. A versatile 200-foot player and team leader, he could be a major steal if his development remains on track once he regains full health.
26. Washington Capitals (Derek Neumeier): The Capitals have a lot of different, dangerous offensive weapons on their team, but they don't have anyone like Riley Tufte, a gigantic winger with impressive scoring instincts. He could become one of the most effective net-front power play guys in the NHL if properly used with the rest of the supporting cast already on the team, which is a terrifying proposition for the rest of the league.
27. Tampa Bay Lightning (Dennis Schellenberg): Luke Kunin is a smart and speedy goal-scoring center who possesses an elite offensive sense. He is one of the fastest skaters in the draft and shows a lot of creativity with the puck. His great shot and offensive instincts could make him a dangerous scoring center at NHL-level, but it needs to be seen what he can do at a higher level with his average size. At that position though, Kunin is worth the gamble for the Tampa Bay Lightning.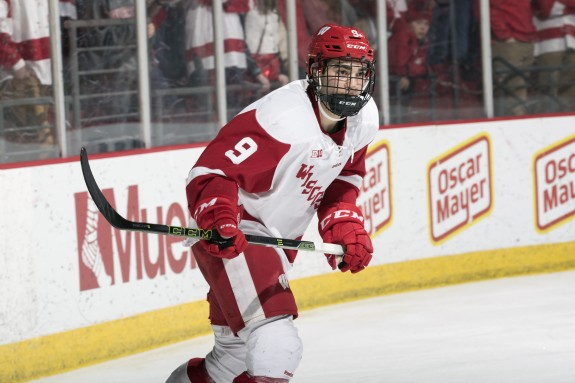 28. St. Louis Blues (Mark Scheig): The Blues were hoping hometown kid Luke Kunin fell to them. But as is, they take perhaps one of the most talented prospects in the group in Alex DeBrincat. Although very undersized at just 5-foot-7, DeBrincat scored 50 goals in back-to-back seasons for the Erie Otters against consistently bigger competition. He's a monster at 5-on-5, as he was one of the league leaders in points/60 at even strength. He has some of the best hands in the draft. He can find open teammates in tight spaces, and finish at an elite level. Can he adjust to the size and speed of the NHL game?
29. Boston Bruins (Mark Allred): Another big bodied forward (6-foot-2, 203 pounds) with an evolving skill set, Cameron Morrison could be called a "complete" player and one that any National Hockey League team would love to have in their future system. His vision and hockey sense makes him one of the better forwards that could be available in the late first round. He's good along the boards with a strong ability to keep the play moving. In open ice he controls the puck well, but needs to work on getting open in the neutral zone and the ability to receive a stretch pass will be something to work on throughout his development. Another key attribute to his game is his versatility at either the center, or left-wing position. In the USHL last season, he was the rookie of the year with 66 points in 60 games, and led the league in plus/minus with a +38. Morrison would be a solid pick for the Bruins and could rise through the developmental ranks quickly as he increases his skills, and adds to his resume in every level completed. He's committed to the University of Notre Dame next season, and could join Bruins prospect and fellow Fighting Irish junior forward Anders Bjork who could mentor him with past Bruins development camp experience.
30. Toronto Maple Leafs (Jeff Langridge): The Leafs have had a habit of picking up offensive, play-making defensemen. What they have lacked in is bringing in young, shutdown defenseman. Sure Martin Marincin did a fine job this past season, but it's time to bring one in via the draft. Libor Hajek projects to be just that. He could be that stay-at-home defenseman that lets the Leafs' offensive defensemen like Morgan Rielly and Jake Gardiner to pinch a bit more, knowing Hajek will cover for them.
Need more wonderful draft content? Check out our THW Draft Guide, full of content for the die-hard hockey fan.