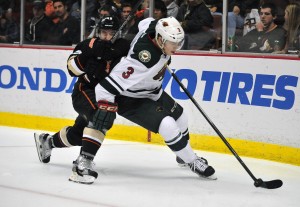 The game started out well for the Minnesota Wild. They took a 1-0 lead off a Charlie Coyle goal early in the first period and then the lights went out as the Colorado Avalanche caved in on the team from St. Paul Minnesota. The Wild were not outplayed in the first two periods. In fact they seemed to outplay and out shoot Colorado but its goals that count, not chances.
The Colorado Avalanche's top guns performed well and they caved in on the Minnesota Wild in the second frame.
This was a another frustrating game for Wild fans and I'm wondering if the Wild can do anything more to choke on their chances and let a team that isn't playing as well as them capitalize on their opportunities while the Wild do what they have been doing all season and that's not bury the puck.
Minnesota Wild's Inability to Score Burned the Wild
The Minnesota Wild had many chances in this game but only managed to net two goals. Semyon Varlamov looked great didn't he? Most goalies looked great against the Minnesota Wild this season. The team is great at making opposing goalies look like Vezina Trophy candidates. Saturday night wasn't any different.
Zach Parise and Mikko Koivu had their chances as mentioned above but they first line was only able to score two goals for the Minnesota Wild. These two players will need to find ways to create scoring chances that lead to goals. Just having chances isn't good enough. Goals win games; scoring chances make you look good. Who cares about looking good? Winning g games looks much better.
The frustration that many Minnesota Wild fans had during most of the regular season continued in game 2. Minnesota did well in game one by scoring four goals but made critical errors in their end of the ice to give Colorado the game. Tonight the Wild had scoring chances, didn't score enough goals but did much better clearing the puck from their defensive zone.
Darcy Kuemper Comes into Mop Up For Bryzgalov
Ilya Bryzgalov was pulled midway through the second period after Colorado scored their third goal. Bryzgalov didn't play bad game. He made some big saves in the second period but the Wild's inability to contain the speed of the Colorado Avalanche and their great forwards did the Bryzgalov in.
The goals scored by Gabriel Landeskog, his second and third of the series were things of beauty. The Colorado Avalanche broke out of their end with great speed, Landeskog was the recipient of good passes and he placed the puck where it needed to be; in the back of the net. It's hard to fault Bryzgalov on those goals.
Darcy Kuemper played well. He made some big saves as the Wild were pressing to score a goal. By pressing, the Wild gave up odd man rushes. Kemper was there to close the door and keep the Minnesota Wild in the game.
I don't want to take anything away from the Colorado Avalanche. They are an opportunistic bunch. When they have chances, they bury those chances. In game one, they took advantage of brutal errors by the Wild. On Saturday night they took advantage of the Wild's inability to score and took advantage of their fast paced rushes by scoring big goals.
The Minnesota Wild has to dig out of a big hole. They have been caved in by a mighty Avalanche squad and I don't think they can dig themselves out of it. At this point they will be lucky to win a game. They need to play with a sense of urgency and desperation. They need to take advantage of their opportunities.
Minnesota needs to find ways to deal with the speed of the talented Colorado offense. If the don't there is no way that the Wild will win any games.
The one question I have going into game three is if Mike Yeo will start Darcy Kuemper. I think he will. Darcy played well in a period and a half of play. Darcy's strong play might force Mike Yeo's hand that needs a way to create a spark for his club. Changing things up in goal might do that.
Minnesota did make it interesting at the end of the third period. Ryan Suter took a penalty with under two minutes to play but they managed to get  a shorthanded goal with 1:19 left in the game. Colorado won the game 4-2 (scored an empty net goal with 14.2 seconds left).