I did this once before, after the weekend home-and-home with the Philadelphia Flyers back in March.
This isn't so much an article, as it is my take on what ails the Pittsburgh Penguins through their first two playoff games against the Columbus Blue Jackets in a very concise fashion, with a solution to each problem following.
For the record, let me also say that I stand corrected, as I predicted the Pens would sweep this opening-round series.
Passing – The Penguins may be the worst team in the NHL at this simplest of concepts. It's hockey 101 for crying out loud. If you're feeling froggy and you have the means, re-watch Game Two from last night and seriously count the number of clean passes completed by the Pens. Better yet, count the passes that are either intercepted, not on the mark to their intended target, or just mishandled by the receiving player. I think the latter would astonish you. Dan Bylsma's system is completely based off stretch and cross-ice passes. To the point where the Penguins are so enamored with this style of play that they try to force said passes and a negative result ensues. Put more simply: the Penguins are trying to complete the football equivalent of a 45-yard hail Mary nearly every time they pass the puck. How many 45-yard passes, let alone hail Marys are completed in a game?  Not many. The same amount of clean, completed passes by the Penguins.
Solution – This one is easy. Instead of practicing fancy-shmancy shootout moves (which is now a meaningless endeavor) at each practice, how about a return to basics and just work on passing? Break-out passing, power play passing, neutral zone-specific passing, etc. As they say, practice makes perfect (just ask the Detroit Red Wings).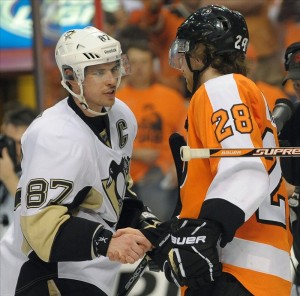 Turnovers – The Pens simply must be more responsible with the puck. It's as though they're playing on nothing but talent and physical ability, without using their heads. Two of the Penguins' best players – Sidney Crosby and Kris Letang – are the biggest culprits so far. Letang's gaffe in Game One led directly to Derek Mackenzie's shorthanded goal that gave Columbus a 3-1 advantage for the time being. As for Crosby, he continues to complicate the game for not only himself, but his teammates on the ice as well, by attempting ridiculous cross-ice passes through a ton of traffic that have little to no shot of ever connecting. Not to mention the countless drop passes to no one and passed-upon shot attempts in favor of a "prettier, highlight reel" play.
Solution – Simplify the game (sound familiar?). Instead of trying to make the tough, fancy pass that will generate "ooohs and ahhs" from the crowd, how about settle for the smart play that will generate a goal? Stop trying to force a round peg into a square hole, or in this case, the puck into an area that is clogged with guys wearing the opposing sweater. 
Arrogance – This is Dan Bylsma's fault. For example: while playing with a 3-1 lead (I won't say defending, because that is not how the Penguins played) in the second period on Saturday night, Bylsma inexplicably threw four forwards on the ice in favor of offense during a power play six minutes in. Crosby, Kunitz and Neal were the forwards down low, with Malkin (as usual) running one of the points. Having just been victimized at the right point but getting away with it, Malkin was then torched from the left point when Matt Calvert was able to steal the fumbled puck and scored his first of two huge goals in this game. A shorthanded goal that gave the Jackets all the momentum they would need to ultimately shut down the Penguins' offense, tie the game late in the third period, and win in 1:10 into the second overtime (Calvert's second of the game).
Solution – For Pete's sake just do what most every other coach in the NHL does. Go with a conventional power play look when playing with a lead. If you're trailing, then I get the idea of going with four forwards on the ice to try and generate a bit more offense. This Penguins team however, is loaded with offensively-gifted and quite capable defensemen in terms of the power play. Put them out there and let them do their job. Especially Paul Martin, a very talented distributor of the puck. While we're on the subject of arrogance and commonplace coaching practices league-wide, match lines when you're on home ice. Your captain will appreciate it.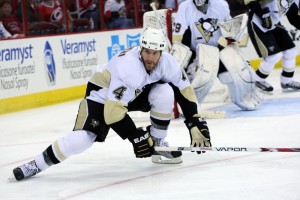 Discipline – I don't think many of us were all that concerned with post-whistle scrums and retaliatory-type penalties in this series. Through the first two games, that theory seems to be holding up. What I didn't expect were penalties stemming from pure laziness. A slash, a hook, interference. All have been called on the Penguins so far. The most notable being Rob Scuderi. A guy who took exactly one penalty in the regular season has now been caught twice in as many games in the playoffs. So far the Penguins have conceded two shorthanded goals, to go along with three power play goals against, good enough for a minus-1 in the special teams category.
Solution – MOVE YOUR FEET! The three words every hockey player has heard more than once at some point, and a hockey coach has screamed more than enough times that he probably mumbles it in his sleep.
Communication – The one thing I noticed from sitting 13 rows behind Marc-Andre Fleury during periods one and three of Wednesday night's Game One is that this team doesn't talk to each other much in the defensive zone. Especially the defensemen to their goaltender. There isn't a lot of chatter on the ice, period. Too many times Fleury has come out of his net to play a puck in the trapezoid area, only to have a mix-up in where the puck should be going. Defenseman to defenseman is also an issue. They're relying too much on what is perceived and not talking to one another about what is reality. This is purely what bit the Penguins in regards to the first goal of the series, and the game-winner last night. Too many guys all going in one direction, yet not talking to one another and just assuming what will happen, and we all know what assumption is.
Solution – Easy. Talk to each other. I've said for many years that 90% of life's problems can be eliminated by two things: common sense and communication. That's your life lesson for today, kids.
In summation, I would honestly not be the least bit surprised if the Penguins now lose this series. The Blue Jackets have dominated the majority of the 141:10 of time played so far in this series. Save for the first period of last night's Game Two (where the Pens found themsleves having dominated to the tune of a 3-1 lead) Columbus has carried the play.
Their head coach Todd Richards has even moved away from trying to match the Dubinsky line against Crosby's unit, because the other Jackets' players are doing a yeoman's job in shutting down the Art Ross Trophy winner.
Nationwide Arena in Columbus will be loud and electric on Monday night.
The Pens better clean up their act, or they'll find themselves in very familiar unfriendly water.
Tannor can be reached via email at TDTorraoTHW@Gmail.com or on Twitter: