Postseason play had become a yearly tradition for the Hershey Bears and their fans since they became affiliated with the Washington Capitals. However, this season the Bears underachieved monumentally and missed the playoffs for the first time in nine seasons. First-year Hershey head Coach Mike Haviland had high expectations coming into this season, but they never panned out.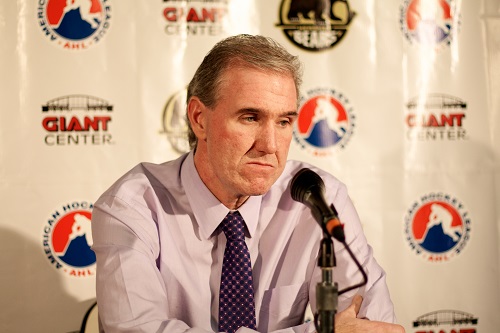 "I don't think it's really hit me yet," Haviland said of not continuing the season into the Calder Cup playoffs. "I know this franchise, I know it's only my first year here, but even for me I'm not use to being out this early. I don't think it will really hit me to maybe a week or so here."
The Chocolate and White struggled predominately in the 2013 calendar year, but picked up their play with a 12 game home winning streak led by their top forward line of Ryan Stoa, Nicolas Deschamps and Brandon Segal.
Bears finish with a 39-27-5-5 record and 24-10-1-3 at home, in a 2-1 win over ADK.

— Scott Stuccio (@ScottStuccio) April 20, 2014
"Just the .500 start through October, November there really kind of sat us back a little bit where we were always chasing it. But 88 points I would have thought coming in this year, I don't know the last time you needed 88 points to make it and above, 90 to get in. Overall it's a disappointment, we didn't make it. There's positive things, but we didn't make it so that's what I just said to them, it's disappointment for all of us."
The Bears man advantage (15.2%, 24th in AHL) was pathetic down the stretch, finishing the season in a rut where they registered just one power play goal in over 30 chances on the man advantage. Hershey never became the puck possession team Haviland envisioned, but they came together as the season progressed.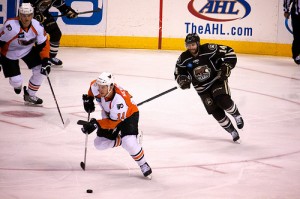 "Our power play needs to be much better, "Haviland explained of changes required for the 2014-15 Hershey Bears roster. "Our face-offs, we got better when we acquired (Kris) Newbury, but certainly I think this weekend we got bit a lot on draws. I think that's something we need to bear down on is face-offs, but special teams, especially the power play needs to be way better next year. Five-on-five I thought we were a pretty good team this year, but we had chances on the power play we didn't execute or finish when we needed to."
Haviland might not return, but that decision will be made by Washington. The Bears have numerous free agents both on NHL and AHL deals, with a big uncertainty of their roster makeup for next year. Changes are coming and Doug Yingst surely will aim to put a more competitive club on the Giant Center next season.
"I think when everybody saw those first exhibition games where we scored six goals or whatever," leading goal scorer Jeff Taffe admitted. "It's a long year, we had some ups and downs and it's just like every team. It's frustrating, it's embarrassing and I think everyone has the same feeling around here. It gets real when you have to pack your bags up and head home."
Bears Top Relocating Phantoms in Season Finale
While the focus was on Hershey missing out on the postseason, there was still a game to be played. The Bears earned a 2-1 home victory in front of 10,964 fans at Giant Center with the feel of an exhibition contest. The Bears jumped out to a 2-0 lead through two periods with goals from Joel Rechlicz (1) and Jeff Taffe (21). Rechlicz's goal was his first of the season and just his third of his AHL career for the Bears' enforcer.
"He was excited," Haviland said of Rechlicz. "We talked to him this morning, we got in late and he wanted to play. It was great to see him get a goal, he was real excited. Good for him, I thought he was maybe going to get another one there too."
Former Hershey Bears forward Derek Whitmore scored for Adirondack in the third period, who made a push at Bears net minder David Leggio towards the end of the contest. Leggio, who improved to 23-18-3, totaled 25 saves on 26 shots in his 45th game of the season. The former Rochester Americans goalie played roughly 1100 less minutes between the pipes for Hershey this season.
"It's always great to get a goal like that," Rechlicz said. "It was a great team win and I thought they guys did really well and responded tonight. I'm lucky I got the rebound and the rest is history I guess.
Game Notes
Attendance: 10,964
Bears Injuries: Ryan Stoa (lower body), Casey Wellman (upper body), Caleb Herbert (lower body), Tomas Kundratek and Garrett Mitchell
Hershey Healthy Scratches: Nicolas Deschamps, David Kolomatis, Peter LeBlanc and Brandon Segal (veteran)
The Bears improved to 90-80-14 all-time against the Phantoms, who move to Lehigh Valley next season
You can follow Matthew on twitter @m_speck and email him at mspeck21@yahoo.com with any questions or comments.
Matthew Speck covers the Washington Capitals organization for The Hockey Writers. He provides coverage of both Washington at the NHL level and prospect related content. Matthew also covers local sports for the Lebanon Daily News in Central Pennsylvania. You can email him at mspeck21@yahoo.com with any questions or comments.