January 28 is the 9th annual Bell Let's Talk Day. It is an opportunity to come together and support those who are struggling with mental health. After a year of fighting through a pandemic, economic turmoil, and social injustice, we need to be there for each other now more than ever. If you are struggling with mental health, please know you are not alone. Contact your local physician and communicate with those who support you. We are stronger when we are together.
If anyone knows the value of goaltender depth, it's the Colorado Avalanche.
Only a few months ago, the team watched as their starting and backup goalies succumbed to injury in the middle of their playoff series against the Dallas Stars. The Avs had to rely on Michael Hutchinson for the rest of the series, and despite a late rally, Hutchinson and the team crashed and burned in a memorably painful Game 7.
Now two weeks into the 2020-21 campaign, Colorado is already suffering in the goaltender department. Starter Phillip Grubauer has been solid, but backup Pavel Francouz has yet to start. The lower-body injury he sustained before the team's Los Angeles road trip has landed the Czech goalie on injured reserve. Head coach Jared Bednar's assessment was not encouraging:
Taking over for Francouz is rookie Hunter Miska, who made his first career start during Colorado's second game against the Los Angeles Kings. While his Avs debut was overshadowed by that of Bowen Byram, Miska played fairly well despite the lackluster effort in front of him.
The Avalanche could go with a Grubauer and Miska tandem, and that may be what they decide to do. The problem, unfortunately, is Grubauer has his own injury problems. If he does go down for any stretch, Colorado will have to rely on a combination of Miska and Adam Werner (who has seen action in only two NHL games).
The top of the Western Division is already very competitive, and a goaltending crisis would not help Colorado achieve its goals. It may be time for GM Joe Sakic to be proactive, and bring in a new backstop to help steady the team. But who could Sakic realistically bring in?
Thomas Greiss
Veteran goaltender Thomas Greiss signed a two-year, $3.6 million AAV contract with the Detroit Red Wings during the last offseason. The German goalie has had a steady NHL career and seems to be getting better with age. He won the William M. Jennings Trophy with the New York Islanders just two seasons ago and followed that up by forming one of the better goalie tandems in the league alongside former Av Semyon Varlamov. He may be a detriment to the actively-tanking Red Wings, posting a .917% in three games this season, despite the team's permeable defense (the Red Wings still managed to lose all three games, though).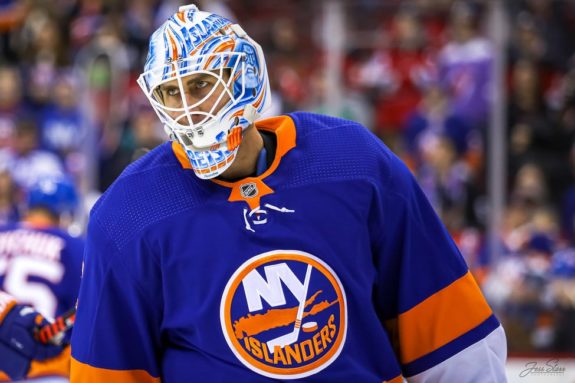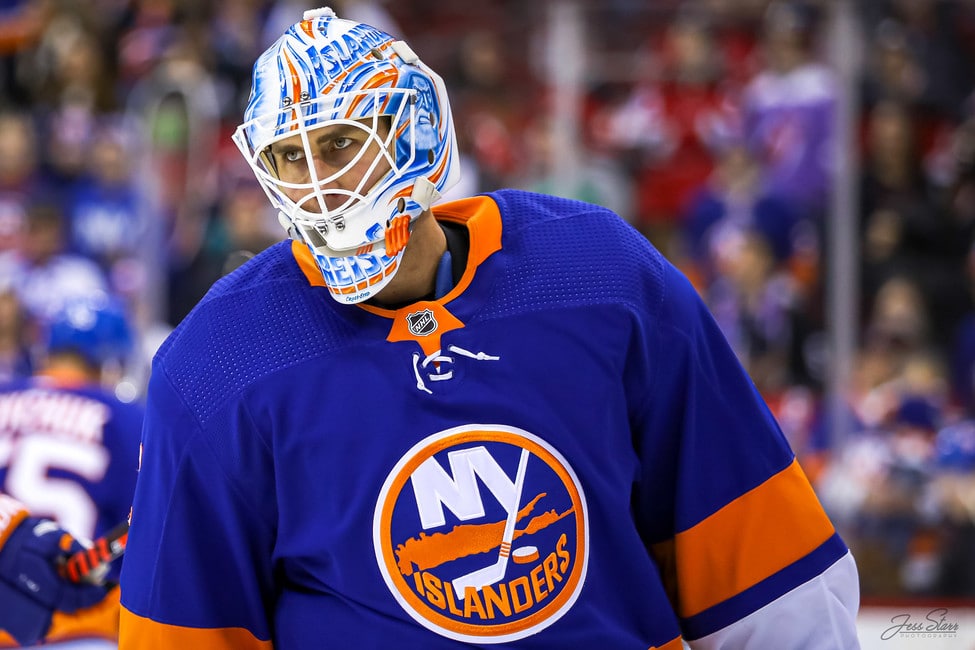 The 34-year-old has shown he does well as a 1B goalie option and could be solid behind Grubauer. His cap hit and contract length are both reasonable, especially if Colorado could convince Detroit to retain part of his salary.
What would it take to get him? Likely a first-round pick and a promising young player. A reasonable candidate may be Ryan Graves, who would steady the Red Wings' blue line despite struggling to find a home on the Avalanche roster this season. It could be Francouz if Detroit is intrigued by his potential. The Avalanche shouldn't be quick to part with any top prospects for Greiss, but Sakic would likely balk at any high asking price.
Antti Raanta
Four seasons ago, Raanta was signed by the Arizona Coyotes to be their full-time starter. He had performed well as Henrik Lundqvist's backup with the New York Rangers, and largely, has performed as expected for the Coyotes. He is in the final year of his three-year, $4.25 million AAV contract and has lost his starting role because of his recent struggles with injuries and the great play of Darcy Kuemper. He could be expendable to the Coyotes, who find themselves up against the cap despite low-to-middling results on the ice.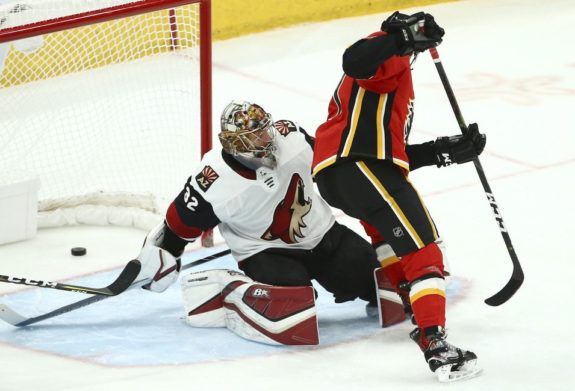 Raanta would be a slightly more cumbersome fit on Colorado because of his price and risk of injury. That also means the trade price would be lower, maybe a low-level prospect and a roster player the Avs could afford to lose, like Francouz or Pierre-Edouard Bellemare as cost control. The Avalanche only have so much cap space to work with, so the team would have to be very careful in evaluating what they have to give up for Raanta and whether it's worth the risk.
John Gibson?
Stick with me here. Having an elite goaltender is a great way to cement your status as a contender, and John Gibson is an elite goaltender. He should be fresh on Avs fans' mind, after the show he put on only a few days ago. It would not be easy to get the Anaheim Ducks to part with him, and he would likely cost a lot, but it would give Colorado top-tier players on offense, defense, and in net. Gibson is playing some of the best hockey of his life, and there's potential for his numbers to get even better playing on a deep Avalanche squad:
But man, would he cost a lot. The starting point could be Bowen Byram or Alex Newhook. A trade offer could also include multiple first-round picks, other top prospects like Shane Bowers, Drew Helleson, or Martin Kaut, and roster players like Graves, Francouz, Tyson Jost, J.T. Compher, or even Grubauer. I estimate that the Ducks might accept is Byram + 2021 1st + 2022 1st + Kaut + Francouz. Gibson also carries a well-earned $6.4 million AAV cap hit through 2027, which would be a costly addition to an Avalanche team that will only get more expensive in the coming years.
In short, a Gibson trade is very, very, very, very unlikely to happen. But boy, would he look good in an Avalanche sweater.
Just For Fun: Marc-Andre Fleury
"The Flower" is a fan-favorite around the league and helped make the Vegas Golden Knights one of the most fun teams from the beginning. But his place on the Vegas Strip has become suspect since the team brought in Robin Lehner at the 2020 trade deadline. The saga has been dramatic and well-documented, but for now, Fleury happened in Vegas and is staying in Vegas.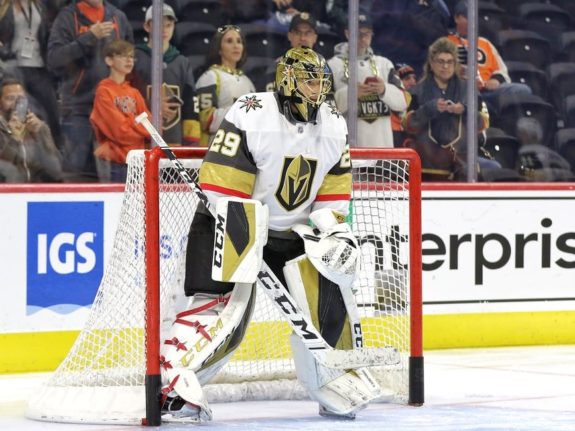 While Fleury would be a fun addition to the Avs, he would cost $7 million against the cap this season and next, and he is also 36 years old. The team can't afford to pay a deteriorating, expensive goalie while they try and make sure they pay Gabriel Landeskog and Cale Makar. Vegas will have to look elsewhere to plant The Flower.
What do you think the Avalanche should do? Stand pat with what they have? Complete a realistic trade for Greiss or Raanta? Swing a homerun trade for Gibson? Get someone else?
Whatever happens next, it will be another memorable chapter in the Avs' journey to win the Stanley Cup.
---
---
Avery is a writer covering the Colorado Avalanche. He is graduating in April with a B.A. in English and Mass Communication. He has previously worked for The Puck Authority covering the Rapid City Rush and for NGU Vision Media as their News Editor. He is a board game enthusiast and enjoys spending time with others.