In this edition of Toronto Maple Leafs News & Rumors, I'll talk about some of the roster changes happening as the Maple Leafs head into Edmonton to meet the Oilers this evening. As well, I'll review some of the players' statistics and success so far throughout the early part of this 2020-21 season.
Related: Connor McDavid Predicts Jesse Puljujarvi Will Be Huge for the Oilers
Unlike previous recent seasons, the Maple Leafs have shown themselves to be a stronger defensive team earlier this season than in the past. The result is that they now lead the NHL's North Division with a 6-2-0 record. Can they keep up that record when they meet the high-flying Oilers tonight?
Item One: Michael Hutchinson Will Be in Uniform Tonight
Formerly beleaguered and current Maple Leafs' goalie Michael Hutchinson was promoted to active roster and will be in uniform tonight. The Maple Leafs promoted Hutchinson from the taxi squad to the active roster on Tuesday for the Calgary Flames' game.
With regular backup goalie Jack Campbell expected to be out with a leg injury for "multiple" weeks, Hutchinson has taken over as the Maple Leafs' backup goalie for the foreseeable future. Last season, the 30-year-old goalie put together a 5-9-1 record with a goals-against-average of 3.47 and a save percentage of .888 in 16 games with both the Maple Leafs and the Colorado Avalanche.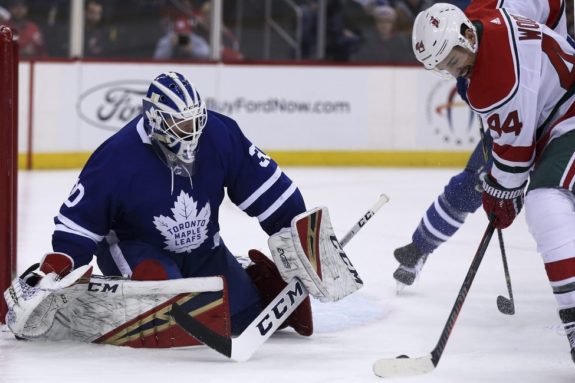 Hutchinson might be a more-confident goalie this season than last after having a strong postseason when he nearly tended the Avalanche to a Stanley Cup Final. In fact, he helped the Avalanche earn back-to-back victories in Game 5 and Game 6 to extend his team's season and become only the seventh goaltender in NHL playoff history to win his first two career postseason starts in games when facing elimination. He was good, which might be a surprise to Maple Leafs fans. If he plays, which Hutchinson will Maple Leafs' fans see?
Item Two: Frederik Andersen Seeks His Third Win in a Row
Frederik Andersen, who won back-to-back games for the first time this season, will be in net against the Oilers. His record now stands at 4-2-0 with a goals-against-average of 2.84 and a save percentage of .896 through his first six games. Although his save percentage is still under .900, it's a vast improvement from what it was to begin the season. In fact, Andersen has let in three goals or fewer in his last four starts after being victimized for nine goals in his first two games.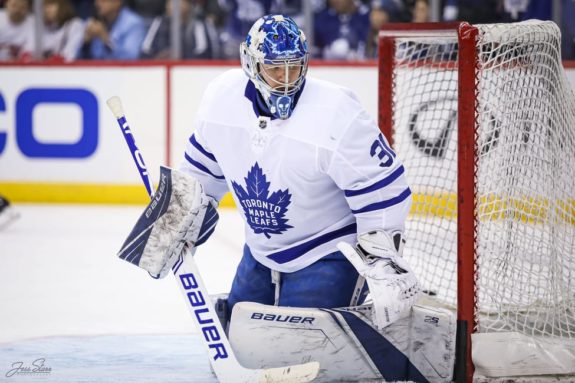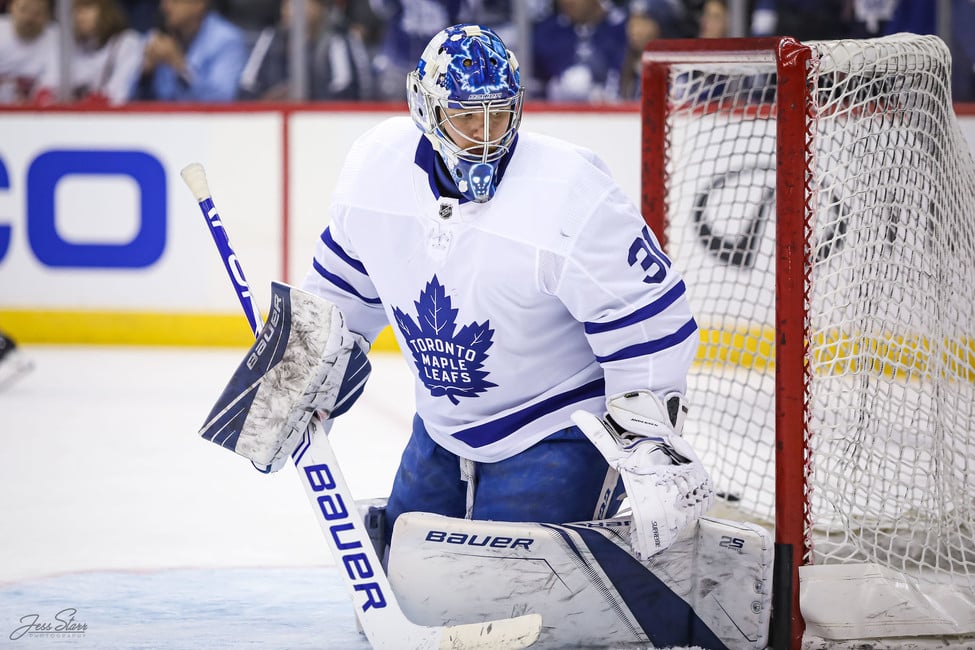 Andersen will seek his third win in a row tonight against the Oilers. So far this season, he's 1-1-0 with a goals-against-average of 2.02 and a save percentage of .925 in his two games against them.
Related: Best NHL Players Not in the Hockey Hall of Fame
If you listen to Andersen talk, you get a sense he's enjoying the way his team is playing. After Tuesday's win against the Calgary Flames, he said: "It's good character to battle these games out and get the two points. We had a chance to take all four (points) today in this little mini-series (against the Flames), and we wanted to do that. It was really nice to see the way we battled until the end and got away with the two points again."
Item Three: Mitch Marner Is on a Tear to Start the Season
The Maple Leafs carry a 6-2-0 record into tonight's game; however, they've been 6-0-0 when Mitch Marner scores a point. The 23-year-old right-winger has begun this 2020-21 season with a bang. He scored the game-winning goal against the Flames in the team's 4-3 win on Tuesday night and added an assist on Auston Matthews' first-period goal.
That game was Marner's fifth multi-point game of the season, and he's now tied with the Oilers' Connor McDavid for the NHL scoring lead. Each player has scored five goals and 12 points.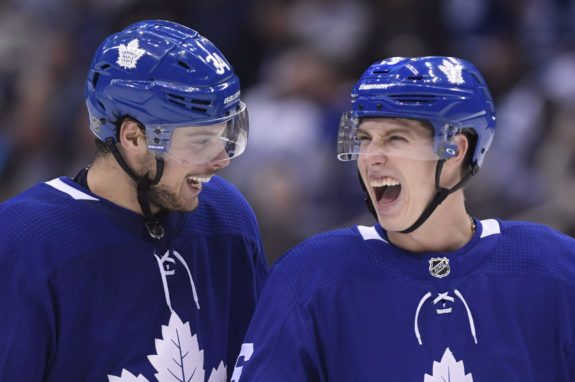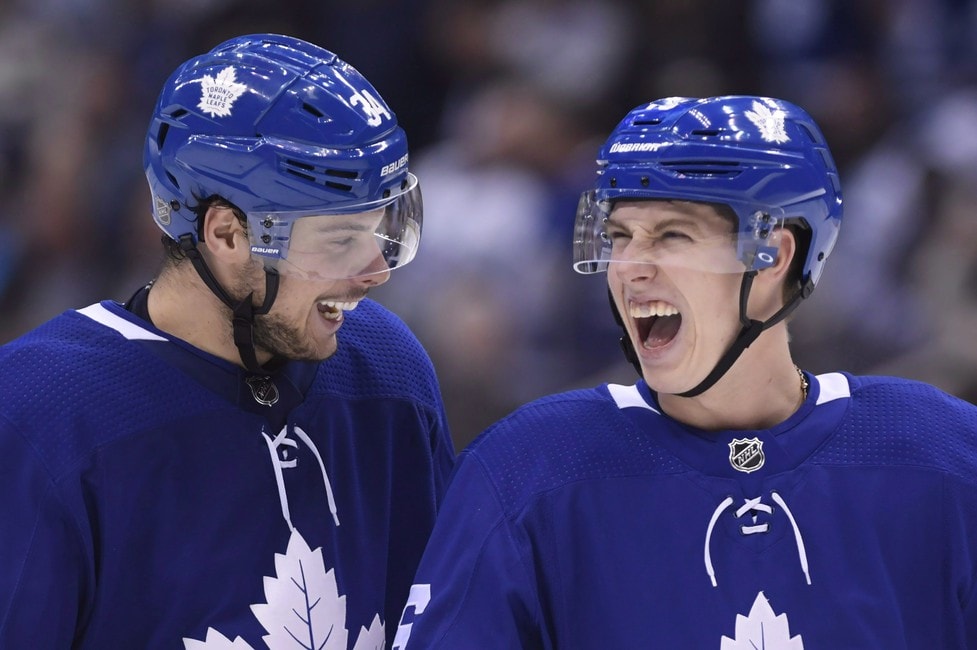 About his play this season with Matthews, Marner admitted that he and Matthews had "really been working on that shot."
Although we usually think of Marner setting up Matthews, Marner noted that he believes the two line-mates can find more chances to connect the other way – where Matthews feeds Marner for a one-timer. Specifically, Marner noted, "I think if I can try to find that spot more, I know he can find me there. … I'm trying to get more of a shot mentality in there, trying to be more of a threat, and it was a great dish by (Matthews) and it was a big goal."
Related: Leveille Out-Duels Shelly in Epic Showdown, Six Win 1st Game on Day 3 of NWHL Season
Item Four: Joey Anderson Likely to Share Space with Jason Spezza
Joey Anderson had his season's debut when he skated on the team's fourth line on Tuesday. He logged almost 10 minutes (9:36) of ice time and had a minor penalty with blocked three shots.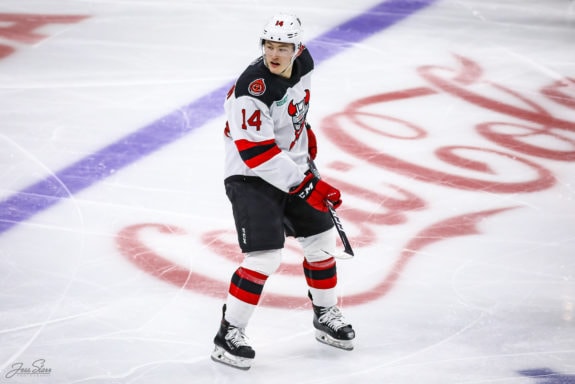 Anderson has been up and down between the taxi squad and the active roster so far this season, but with Joe Thornton (broken rib) and Nick Robertson (wonky knee) both out he got his first chance to play. Until Thornton or Robertson can return to the lineup, fans might see the 22-year-old winger in a rotational role.
What's Next for the Maple Leafs?
The Oilers will likely enter the game in a poor mood. They were up 3-2 against the Winnipeg Jets going into the third period, and the Jets went on a three-goal binge in just over three minutes to take the lead and go on to a 6-4 win over the Oilers. That has to be frustrating.
Related: Maple Leafs News & Rumors: Dermott, Amirov & Abramov
That game, along with the Oilers' loss in Toronto when they played the Maple Leafs last, might ramp up the energy between the two teams. Although there seems to be little animosity between the Oilers and the Maple Leafs – unlike the Maple Leafs and the Flames – it should still be a good game.
Will the defensive-minded Oilers show up or the offensive juggernaut?
The Old Prof (Jim Parsons, Sr.) taught for more than 40 years in the Faculty of Education at the University of Alberta. He's a Canadian boy, who has two degrees from the University of Kentucky and a doctorate from the University of Texas. He is now retired on Vancouver Island, where he lives with his family. His hobbies include playing with his hockey cards and simply being a sports fan – hockey, the Toronto Raptors, and CFL football (thinks Ricky Ray personifies how a professional athlete should act).
If you wonder why he doesn't use his real name, it's because his son – who's also Jim Parsons – wrote for The Hockey Writers first and asked Jim Sr. to use another name so readers wouldn't confuse their work.
Because Jim Sr. had worked in China, he adopted the Mandarin word for teacher (老師). The first character lǎo (老) means "old," and the second character shī (師) means "teacher." The literal translation of lǎoshī is "old teacher." That became his pen name. Today, other than writing for The Hockey Writers, he teaches graduate students research design at several Canadian universities.
He looks forward to sharing his insights about the Toronto Maple Leafs and about how sports engages life more fully. His Twitter address is https://twitter.com/TheOldProf