The dust has settled on a busy few weeks of the NHL off season and the Avalanche roster has seen some notable changes. Now all that is left to do for writers, media heads and fans alike is to scrutinize each move and predict the on ice impact of this immense player turnover (usually to no avail). So what are we waiting for?! As an optimist, we will start first with the good moves the Avalanche made to their roster.
Off season Overview:
In – Iginla, Briere, Winchester, Stuart, Redmond, Noreau
Out – Stastny, Benoit, Parenteau, Malone
The Good
Signing: Jarome Iginla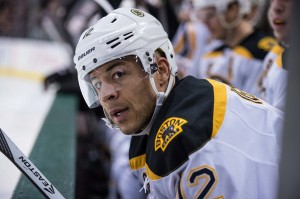 After losing Paul Stastny to the division rival Blues, management had to do something to cushion the blow. Iginla was both the most attractive and logical choice. With Tanguay, McGinn & MacKinnon playing out of position on the right side last season, the team was in desperate need of a top 6 right winger. In Iginla the Avalanche have that and more. Last season with the Bruins 'Iggy' led the team with 30 goals and was third in points with 61. His scoring touch should be enough to replace the offense lost from the Stastny departure, though he will not have the same impact on the defensive side of the puck. What Iginla lacks in Stastny's two way play, he makes up for in leadership and physicality – two characteristics essential to playoff success.
Iggy brings over a decades worth of experience to a young Avalanche team and should be a great mentor to captain Gabriel Landeskog.In fact, in his draft year Landeskog compared his game to that of Jarome Iginla . This cannot be underlined enough. As the youngest captain in the league, Landeskog struggled in his first playoff appearance. The presence of Iginla should take some pressure off him on the ice and be a great to example to learn from away from the rink. Look for Iggy to slot in on the right side next to Duchene and O'Reilly to start training camp, and with his old buddy Alex Tanguay on the PP.
Trade: Daniel Briere for P.A. Parenteau & a 5th round pick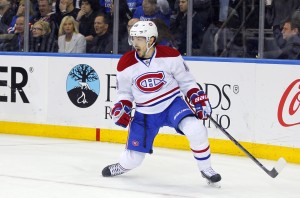 This trade happened with 2 things in mind for Colorado: playoff success and cap flexibility. Though he still looks like he is fresh out of high school, the 36 year old Briere boasts an impressive playoff resume with 116pts in 124 games (or 0.94ppg), a whole 20% increased production on his regular season totals. While Briere & Parenteau carry the same cap hit, Danny is only under contract for 1 more season. This gives the Avs an extra 4M to work with next offseason – which is becoming somewhat of a trend.
Although he was good in the shortened season for the Avalanche, Parenteau could never really find a fit under Roy and it was clear he was going to be moved before next season. Last year he posted only 33 points in 55 games for the Avalanche, so his presence will not be sorely missed during the regular season. Last season was also the first time he has seen NHL playoff action where he was a non-factor.
Signing: Jesse Winchester
The Avalanche needed to add more depth to their bottom 6 in order for Cliche and Bordeleau to see less time. This signing does just that. Winchester is always one of the hardest working players on the ice and will play heavy minutes on the PK. Think of him as a lesser known Jay McClement – he does all the little things on the ice to help his team win and should become a fan favorite in a short amount of time.
 The Bad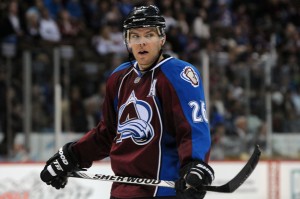 Lost to free agency: Paul Stastny
Losing Paul Stastny was a big blow to the Avalanche forward depth. As mentioned above, his offense should be supplanted by the addition of Iginla and progression of Nathan MacKinnon. However, Stastny's defensive presence on the PK and at 5 on 5 will be sorely missed. He was tasked with shutting down the opposition's top line on a nightly basis which allowed Duchene's line to focus on scoring. So what happens now? With O'Reilly on the wing, the Avs now lack of a legitimate two-way centre and will be their Achilles heal this season. Signing David Legwand for 3M would have been nice to offset this loss, but hindsight is 20/20.
The reality and silver lining in the Stastny situation is that MacKinnon was going to have to move back to centre sooner than later. His development would have been stunted on the wing (see: Seguin, Tyler) and the Avalanche can now use a portion of the money saved to improve the real weakness – defense. Still, it will be weird to see him wear another jersey.
 Fun Fact: With Stastny on the Blues, Cody McLeod is now the longest serving Avalanche player
Trade: Brad Stuart for 2nd & 6th round draft picks
Brad Stuart might be best known in Avaland for concussing Gabriel Landeskog 2 seasons ago/
gettyimages.com
Adding Brad Stuart? Good. Paying a 2nd and 6th round pick to get him? Not so good. Stuart is a physical, defensive defenseman with a plethora of NHL experience that should work well paired with Tyson Barrie. The problem is, there were several defenseman with similar pedigrees that could have been acquired for less (or cap space). Willie Mitchell (4.25M), Tim Gleason (1.2M) and Josh Gorges (2nd round pick) all come to mind. While it's clear the Avs wanted someone with an expiring contract, it makes the deal look like even more of an overpayment. If picks in the 2016 & 2017 draft don't sound like much, remember P.K. Subban, Ryan O'Reilly and Patrice Bergeron were all 2nd round selections in their respective drafts. It's all about asset management, and Colorado failed this test.
The "Meh"
Signing: Maxim Noreau & Zach Redmond–
See it's official now so a big welcome to Denver to Max Noreau! He and I won a Spengler Cup, played in Ambri-Piotta together in Switzerland

— Matt Duchene (@Matt9Duchene) July 8, 2014
We can see how the Colorado scouts got Noreau on their radar. What is most intriguing about this signing is that Noreau is on a one-way contract, meaning he cannot play in the AHL. It would seem odd he would leave the Swiss league if he didn't have a legitimate shot at a roster spot, so what does this mean for Stefan Elliott? Both are right handed offensive defenseman, and with ten NHL caliber defensemen under contract, it seems like a trade is on the horizon from the back end.
Redmond should be one of the most underrated signings of the offseason. He will be battling Guenin, Wilson, Noreau and Elliott for ice time but with his resume and solid play I see him earning a spot on the bottom pairing more often than not.
Lost to free agency: Andre Benoit
Benoit put up 28 points in 79 games for the Avalanche last season, including some timely goals in big games. His offense should be accounted for with a full season of Tyson Barrie and the addition of either Noreau or Elliott. Though his time in an Avs sweater was positive, it's hard for undersized defenseman to stick on a team because of the increased physicality in the playoffs.
So, have they improved?
Though the Avs will not replicate last year's season totals, they should be better equipped for a long post season run. Last year with Roy's fresh approach and Varlamov's career season, everything was clicking. Do not expect another Central Division title. If you thought the division was tough before, add Stastny to the Blues, Richards to the Hawks and Spezza and Hemsky to the Stars. However, Colorado is still a playoff team and I see them battling Dallas for 3rd in the divison; and that's all that matters. They were 1 goal away from the 2nd round last season so that's where I see them ending up. Anything after that is gravy.
It's clear Sakic & Roy see the value of bringing in veterans with playoff experience while creating salary cap flexibility. This natural progression on a young roster signals the re-build is over and the Avalanche are ready to contend. It might not while Iginla & company are with the team but this transition period will allow prospects to develop on defense (I'm looking at you Bigras and Siemens) and young stars like Landeskog, O'Reilly and Duchene to continue to learn from veterans. With 13.1M coming off the books at the end of this season, look for the Avs to make a big splash and go for a Cup run in 2015/16.