You didn't have to be an expert to know that something was clearly wrong with Bobby Ryan last season. The Ottawa Senators' winger was on pace for career lows (minimum 60 games) in goals and assists, and was playing under 17 minutes a game on average. It was very unlike the 4-time 30-goal scorer to be so silent and snakebitten for such a long period of time. Then, after Ryan was helped off the ice after crashing into the boards during a game in Dallas late in the season, word got out that he had a sports hernia and needed surgery.
Bobby Ryan is having season ending sports hernia surgery. According to @tsn_wally he has been playing with the injury since November. #TSN

— TSN Hockey (@TSNHockey) March 27, 2014
Last season started out like any other season had for Bobby Ryan. In fact, even better. Ryan had 20 points (10,10) in 19 games half way through November. He had found chemistry with linemates Kyle Turris and Clarke MacArthur, and the three of them were scoring up a storm. But after his quick start, Ryan showed obvious decline when he put up 28 points (13,15) in his last 51 games. Critics were quick to point the finger and say that he wasn't the prolific goal scorer Ottawa had thought he was when they gave up so much to get him.
Following the news of Ryan's injury, everyone changed their view on his production. All of a sudden, what was disappointing and unsatisfactory became impressive and encouraging. Ryan had fought through this injury that had plagued him for the better part of the season and he was still able to contribute to the team. He gained the respect of fans and media for not giving up until there was no other option but to call the season quits and go under the knife.
"Bobby has worked hard to play through this injury to help his team and his teammates, and had yet to miss a game prior to the injury progressing to this point." – Bryan Murray. CBC. Published: Mar. 27, 2014
"We knew it had been nagging him for a while and for him to battle through it and continue to try playing is something that we all respect him for." – Kyle Turris. CBC. Published: Mar. 27, 2014
Here's where the satisfaction turns into excitement.
Bobby Ryan is set to have a comeback year, and a big one at that. Yes, we all know that he won't be playing injured, and that is a huge step forward from last season, but it's the other changes that are most convincing.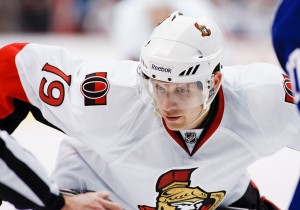 This offseason, the Senators parted ways with a couple of great scoring talents. Jason Spezza and Ales Hemsky, who were offensive catalysts for the Senators last season, are now Dallas Stars and that leaves an opening for someone like Bobby Ryan to step into. Ryan is guaranteed a spot on the first line, whereas last year his line was swapped around and never got clear cut first line minutes. This means much more time on ice, especially on the power play where he is most deadly.
Last season Ryan was also the recipient of some line juggling and sometimes wasn't with his usual linemates, Turris and MacArthur. This season, the three of them will no doubt be the Senators top line from start to finish. Ryan won't have to worry about who he's playing with every night; it will be much easier for him to get into a groove.
Lastly, Bobby Ryan is coming into the final year of his contract. With the way last season went, he will be even more driven to prove that he can be the ample goal scorer the Senators think he can be. The final year in a player's contract always seems to be a big one, production wise. And if somehow Bryan Murray and Bobby Ryan can't find a way to extend his contract, the upcoming season will be a showcase of what the 27-year-old winger is capable of for other teams to see.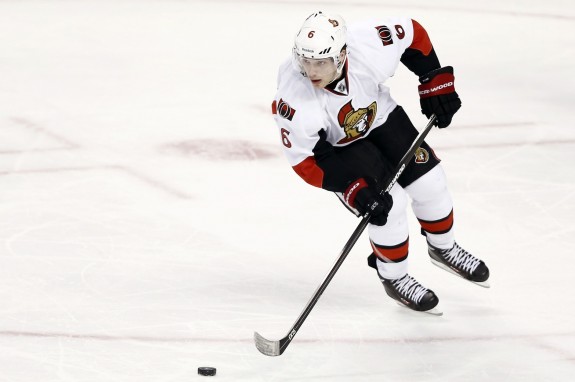 All the pieces are there. A clean bill of health, bigger role, more ice time and the drive of a player returning from injury. What could possibly make this a more highly anticipated season for Bobby Ryan?
A 30-plus goal season from Ryan isn't just hopeful, it's expected. The Ottawa Senators got a lot younger this offseason with the departure of Jason Spezza and Ales Hemsky, and the addition of Alex Chiasson. Curtis Lazar is also looking to crack the roster after having an amazing Memorial Cup winning season in the WHL. With all the youth coming in, Ryan is going to have to lead by example.
I won't say he's a shoe in for the Bill Masterton trophy just yet, but expect great things from Bobby Ryan come next season.