Ahead of free agency opening on July 1, the Colorado Avalanche have an answer regarding the future of one of the club's prospects. Sampo Ranta, who saw limited NHL ice time as he filled in for injuries, will not be a part of the organization next season. Instead, he opted to sign a two-year deal in Sweden with MoDo of the Swedish Hockey League. Of course, with the Avalanche in a bit of a salary cap pinch and a ton of free agents and empty roster spots, Ranta's decision to return to Sweden affects the club and will have resonating effects on the team's offseason decisions.
Ranta's Career With the Avalanche Organization
The young Finn was selected in the third round of the 2018 NHL Entry Draft, 78th overall, and has spent his entire NHL career to date in the Avalanche system. He's played a total of 16 games over two seasons with the club but has yet to record an NHL point.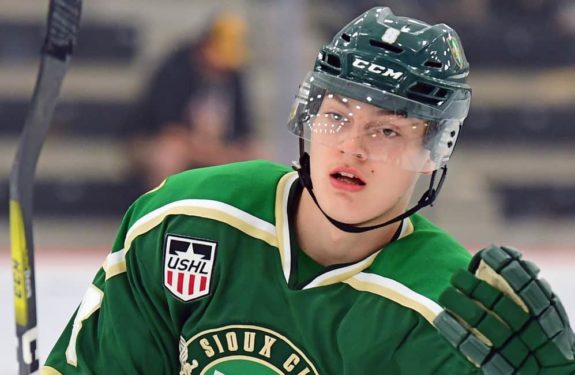 Ranta first made the jump to North America in the 2016-17 season, when he played for the Sioux City Musketeers. He then spent three seasons, from 2018-19 to 2020-21, with the University of Minnesota, where he also was named to the Big Ten First All-Star Team and the NCAA (West) First All-American Team, both in 2021. He spent the remainder of the 2020-21 season, as well as the next two seasons, with the Colorado Eagles (as well as some time with the Avalanche), where he collected 43 points in 110 total games.
Ranta's Departure Complicates the Avalanche's Future
Of course, Ranta avoids arbitration by electing to sign his two-year deal with MoDo and allows the Avalanche to extend a qualifying offer and retain his rights for four years, until he turns 27, with minimal risk. But, obviously, it means that he is unable to play for the Avalanche for the next two years.
As the Avalanche expect a slew of offseason changes, losing Ranta makes the future both simpler and more difficult. It means the club has one less restricted free agent (RFA) to contend with against the cap, but also means there's one less player who can slot into the roster when injuries arise.
Despite the ability to extend a qualifying offer, this likely means that Ranta's time with the Avalanche is over. His signing somewhere else removes him from waiver eligibility, meaning no other team can take a crack at him, though, which could mean that he opts to play out his two-year deal in Sweden and then return to the Avalanche, assuming he has a qualifying offer.
Related: Avalanche Look to Continue Success with Polin & Malinski Signings
---
Latest News & Highlights
---
In the meantime, though, this leaves the situation with RFA forwards Alex Newhook and Denis Malgin to deal with this offseason, as well as defenseman Bowen Byram, who is likely a priority. One less prospect in Ranta complicates the Avalanche slightly, as they don't have second, third, or fourth-round draft picks this year, and will likely need to pull from the Eagles again should injuries arise. His loss could affect which prospects they select, choose to keep and not trade, and even who they draft in Nashville. It has relatively resonating consequences.
Interesting Footnote About the Avalanche and MoDo
MoDo's general manager, Henrik Gradin, is also an amateur scout for the Avalanche, so he likely had some pre-existing relationship with Ranta – but also feels comfortable that the Avalanche have a future without him, be it short-term or long-term.
Regardless of the interesting connection between the Avalanche and Sweden's MoDo hockey club, their offseason just got a little more complex.
---
---