This season's first-round exit from the playoffs was a bit of a downer for the Colorado Avalanche after hoisting the Stanley Cup in 2021-22. They have been one of the NHL's top teams over the past few years, but maintaining that position isn't going to get any easier.
The salary cap crunch is starting to become a real concern for the Avalanche. Players like Nathan MacKinnon, Cale Makar and Gabriel Landeskog have all gotten big contract extensions the past few seasons, and the Avs also paid up to keep the likes of Artturi Lehkonen, Valeri Nichushkin, and Josh Manson around.
There are some tough free agent decisions Colorado will have to make, and the prospects will have to fill some important roles in 2023-24. Here's a look at three prospects that the Avs need to make a significant leap next season.
Jean-Luc Foudy
Jean-Luc Foudy might have the most promise of any of the Avalanche prospects. He was taken in the third round with the 75th overall pick of the 2020 NHL Entry Draft – and he's steadily gotten better since then. He played the last three seasons with the Eagles in the American Hockey League (AHL), and his point totals have increased higher and higher. He also represented the Eagles in the 2023 AHL All-Star Classic.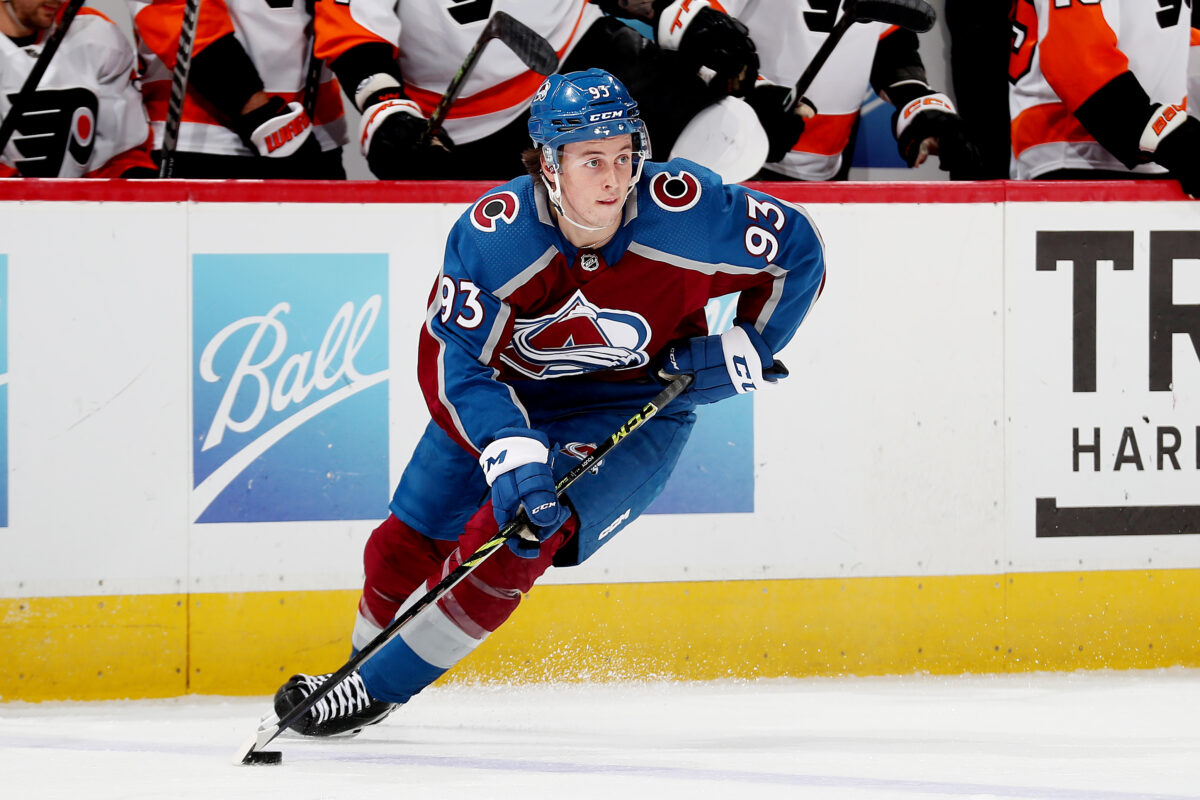 Foudy was fourth on the Eagles in scoring last season, notching 11 goals and 25 assists for 36 points in 46 games. He also made nine appearances for the Avalanche. He failed to register a point in those games but averaged more than 10 minutes of ice time per contest. The bulk of his appearances came early in the season, with Colorado battling injuries. He was rough around the edges but certainly looked like he belonged – particularly in a depth role.
Related: Avalanche's Jean-Luc Foudy Is the Team's Best Call-Up in 2022-23
---
Latest News & Highlights
---
The Avalanche have been looking for depth at center since Nazem Kadri signed with the Calgary Flames in free agency before the 2022-23 season. Foudy might not be the answer at that No. 2 center spot, but he certainly can fill some minutes in the bottom six. He has speed, athleticism, and creativity – and he has steadily improved since he turned pro. Next season would be a prime time for him to make the full-time leap to the NHL level.
Oskar Olausson
The Avalanche took Oskar Olausson with the 28th overall pick of the 2021 NHL Entry Draft. He is a big-bodied forward, listed at 6-foot-2, 181 pounds. He comes with a booming shot and has a good combination of speed and athleticism to go along with it. Olausson was known as a guy that could create chances for himself, but that hasn't really come to fruition for the 20-year-old winger.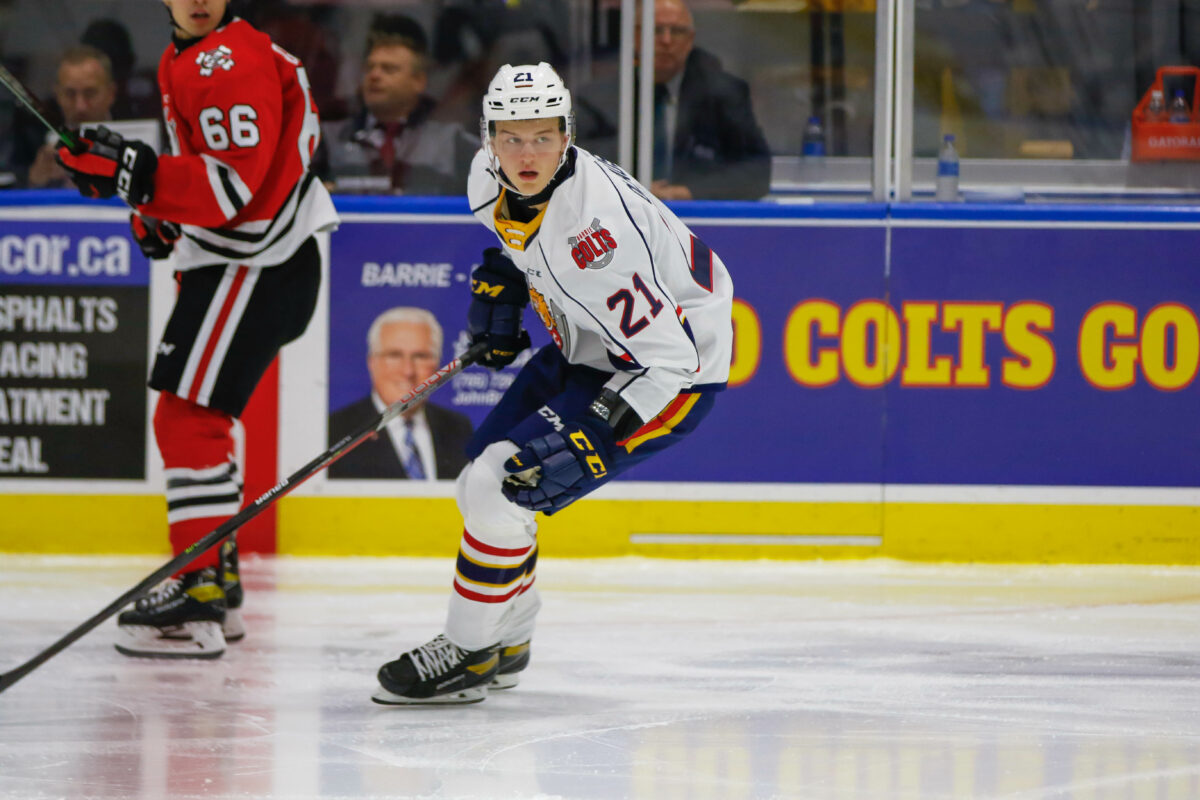 One of the more highly-touted prospects in the Colorado system, Olausson had a bit of a middling season for the Eagles in the AHL in 2022-23. He managed just 11 goals and nine assists in 63 games and played just seven minutes with the NHL club last season. Of course, some growing pains were to be expected, but few expected him to finish with only 20 points in his initial AHL season.
Olausson is a winger, so he won't be able to help with Colorado's crisis at center. However, with Landeskog already out for next season, and the status of Nichushkin uncertain, the Avalanche are going to need all the help they can get. Consistency has always been a knock on him, and he did nothing to shed that label last season. The Avalanche need his play to take a big step forward to help rebuild some of the depth up front.
Ben Meyers
After winning Big Ten Player of the Year in his final season with the University of Minnesota in 2022, Ben Meyers actually made a few appearances with the Avalanche at the end of the 2021-22 regular season. He managed 24 points in 30 games with the Eagles this season, but spent the bulk of the 2022-23 campaign in the NHL. He played 39 games with the Avs, scoring four goals. Now that he has that first NHL season under his belt, it's time to show he can stay there.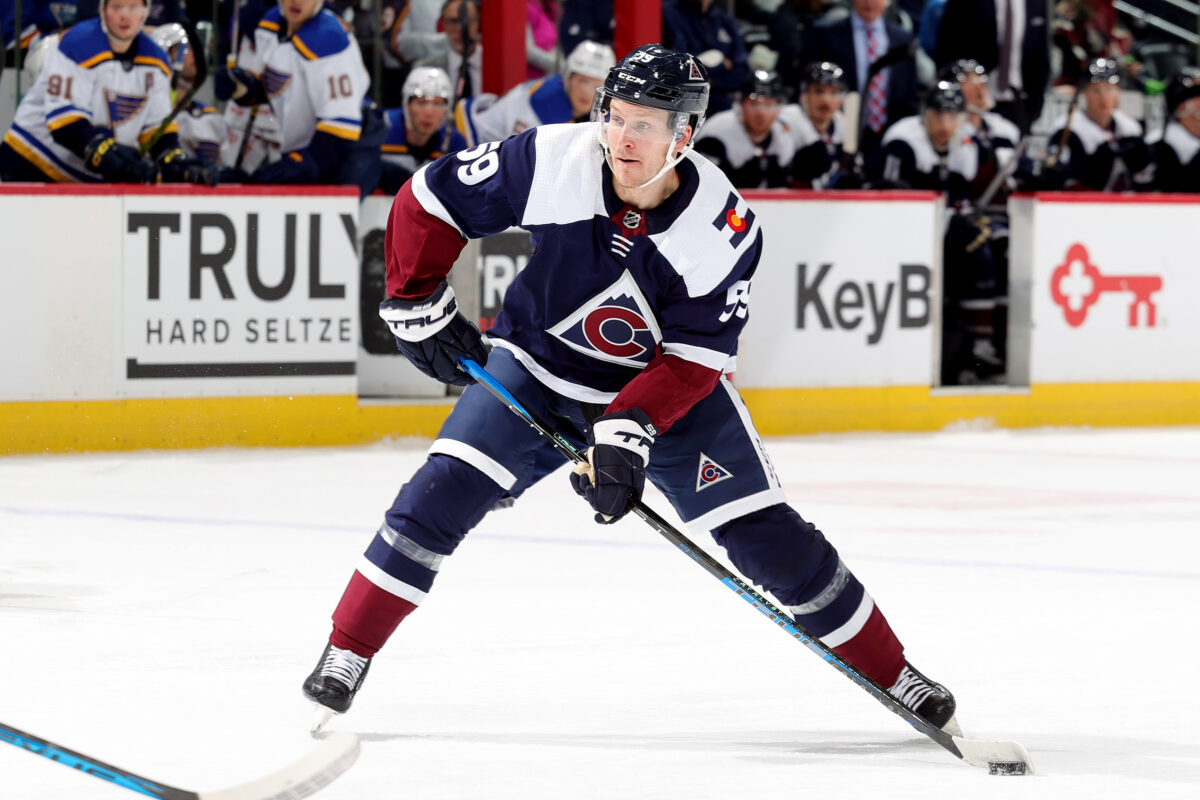 Meyers is 24 years old, meaning the time for development in the minors is wearing thin. He logged almost 10 minutes of ice time per game with the Avalanche last season, and that number has to go up. Colorado's problems at center are well known, meaning Meyers could get even more of an opportunity to shine – particularly if free agency doesn't pan out in their favor.
Meyers' contract is up, and as a 10.2(c) player, he can only negotiate with the Avalanche. If they don't sign him to a qualifying offer by June 25, he becomes a free agent. It would be a surprise for the ultra-thin Avs to dump a center they've invested NHL minutes in, especially one that has Meyers' promise. He looks like he could fit in an NHL lineup, but 2023-24 has to be the season where he makes a significant jump.
Related: Avalanche Have Free Agent Decisions to Make
The Avalanche don't have much of a farm system, as they dealt a number of picks and prospects to set up their Cup run in 2022. That puts even more pressure on those in the system. The Avs have plenty of free agent questions, but they're going to have to trust some of these prospects for them to maintain that image of a contender.
---
---