With 28th pick in the 2021 NHL Entry Draft, the Colorado Avalanche have selected Oskar Olausson from HV71 J20 of the SuperElit League.
About Oskar Olausson
The combination of skill and size is always one that will have NHL general managers drooling, and Oskar Olausson is a picture-perfect example of that type of player. Standing at 6-foot-2 and 181 pounds, he is a top-notch skater that possesses a booming shot to go with it. His speed is often tough to keep up with for opposing defenders as he enters the offensive zone, and he has all the tools to be a top-six winger at the NHL level.
THW Prospect Profile Excerpt
"Olausson is one of those players that oozes great skill and a powerful shot. He was dominant at the J20 level and then made the jump to the Swedish Hockey League (SHL) and the Hockey Allsvenskan in Sweden. On the surface he has all the tools that make him a first-round pick. However, there are aspects to his game where he definitely could refine his skillset.
"Olausson's speed and mobility makes him a real threat at both ends of the ice. He has the ability to enter zones cleanly with control of the puck on his stick and difficult to contain on the cycle. He's very fluid with his movements and when he's on the attack, defenders begin to panic as he roars towards them upon entering the zone. He's always in motion trying to find the open areas of the ice.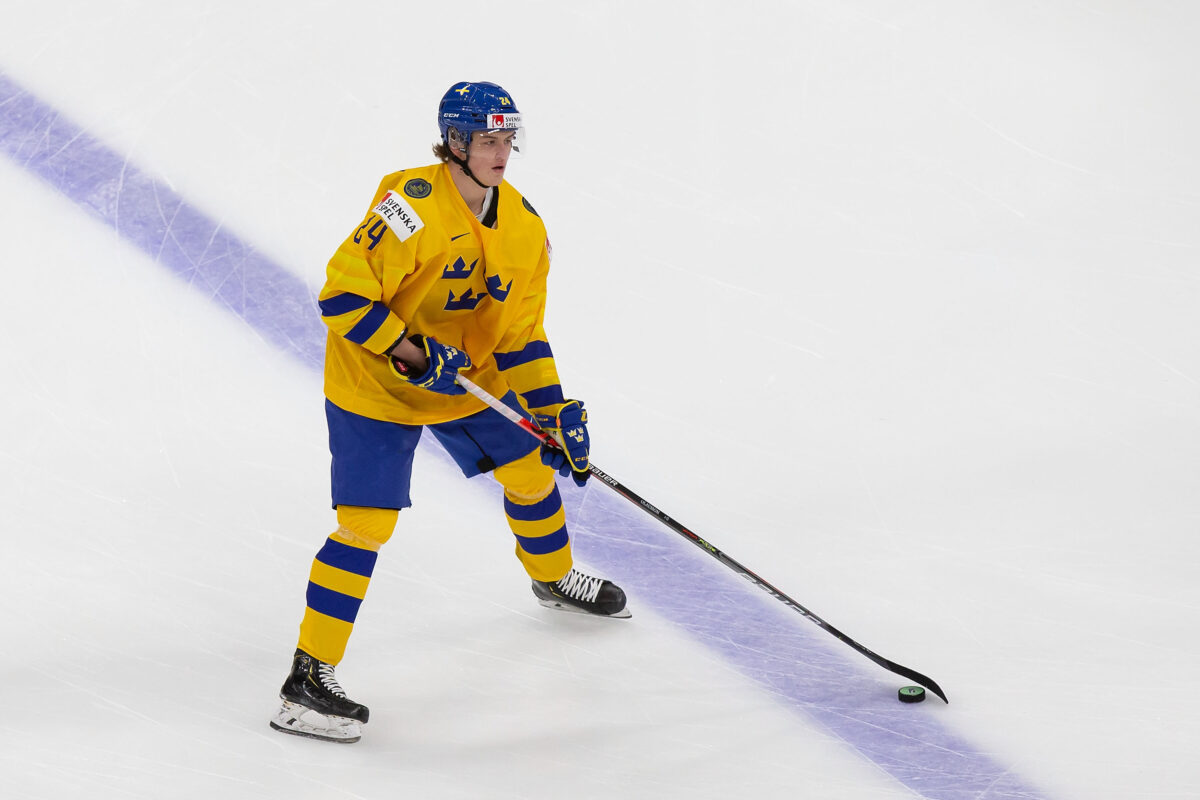 "He's quick in transition and joining in to help out defensively on the back check, having that two-way mentality. He's able to close in quickly on the opposition and does a good job to force turnovers. He has a great shot and a quick release that allows him to be a threat from all areas at even strength and on the power play.
"While those are some positives to his game, he also comes with some question marks. He has a tough time finding consistency and gives a different result each shift. There are times where he's passive when pressuring the puck carrier and battling for the puck. Derek Neumeier from FC Hockey points out that his hockey sense and awareness is an area that needs improvement, as he tends to lose sight of his assignments at times. He does tend to relax in terms of his puck pursuit around the ice quite a bit and doesn't utilize his frame as much as he should. A player with his size and speed can be a difference maker if he's a constant driving force.
"The skillset is there to make the right play. If he can find that consistency and learn to be more aggressive on the puck carrier, he can definitely be a very versatile forward with good two-way upside."
Full player profile can be found here
How This Affects the Avalanche's Team's Plans
After selecting Justin Barron at 26th at the 2020 Draft, the Avalanche get another skilled prospect late in the first round in Oskar Olausson. The 6-foot-1 winger joins the likes of Alex Newhook and Jean-Luc Foudy to pad their forward prospect system. Although a couple of years away from playing in the NHL, he projects as a second-line player with both power play and penalty kill abilities.