As the 2022-23 season comes to a close for nearly all Detroit Red Wings prospects, it's time to revisit the discussion of the prospects more seriously. The NHL Draft is just around the corner and new faces will be joining the already massive ranks of prospects that the Red Wings front office has been building.
Honorable Mention: Carter Gylander
While he might not have made my true top-15 list, Carter Gylander deserves all the appreciation possible after his fantastic year. He truly was the backbone of his team at Colgate University as they had a historic season and even made it to the NCAA Tournament. He had a career-best season with a 19-15-5 record, a .914 save percentage (SV%), and a 2.46 goals-against average (GAA).
Gylander and his teammates shut down Harvard in order to win the ECAC Title which was their first one since 1990. He was named the Most Outstanding Player and awarded a spot on the All-Tournament team for his amazing performance in the entire ECAC Tournament. As the NCAA Tournament got underway, he faced the strongest competition of his entire career as his team lost dramatically to the University of Michigan in the first round. Truthfully, I could see him making a case for a professional roster spot with either the Toledo Walleye or the Grand Rapids Griffins after he finishes out his collegiate career.
The Top 15
Now here is the content you really came here for – my official top 15! When making this list, I considered many factors such as skill level, statistics, overall performance, and everything in between. But most importantly, I evaluated which prospects are the most likely to make an impact for the Red Wings in the coming years.
Related: Red Wings Top 25 Prospects: 2022-23 Midseason Rankings
---
Latest News & Highlights
---
There are so many prospects to choose from when trying to compile a list such as this and it is by no means an easy task. As hard as it is to leave certain players out, there is always a reason why they just didn't make the cut. So, let's get into it! Here are my official top 15 prospects!
15. Theodor Niederbach
Naturally, it is only fitting that the first prospect on this list is one of the beloved Swedes. Theodor Niederbach has consistently been one of my favorite prospects to watch and has yet to give me a reason to be disappointed. He did get bumped out of the Swedish Hockey League (SHL) this season and spent the majority of his time with MoDo Hockey of HockeyAllsvenskan. With seven goals and 11 assists through 31 games with MoDo, he topped his previous best numbers with that same organization.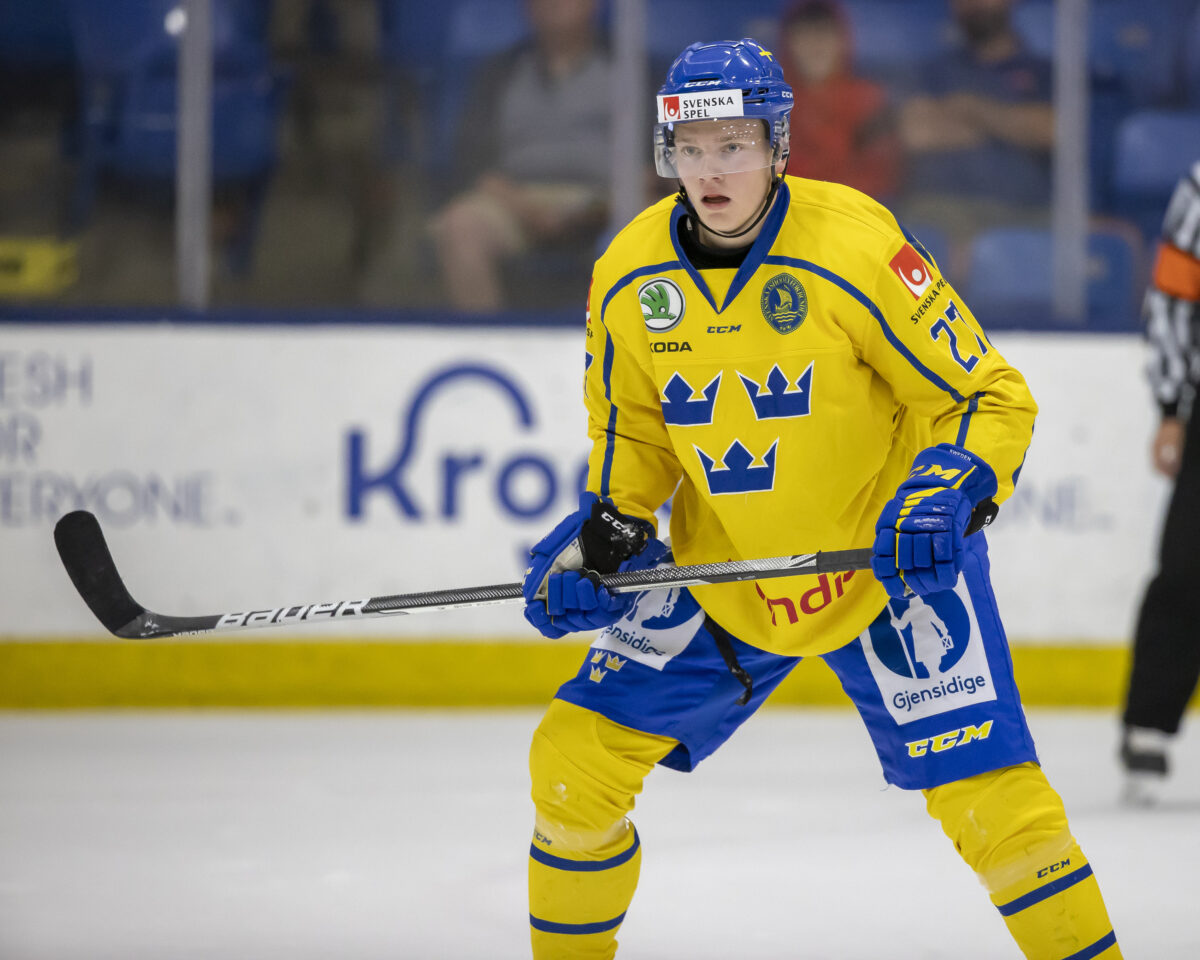 Niederbach is an incredibly strong offensive talent with tons of potential. Personally, I am not sure where his career timeline stands after the demotion from the SHL he faced this season. If he is able to work his way back up to the SHL and then eventually make the jump over to North America, he does in fact have some top-six upside as a forward. Due to the consistency and reliability he displays at a range of levels, he earns spot number 15 on my list.
14. Shai Buium
Entering his junior season at the University of Denver this fall, Shai Buium has been a consistent and reliable presence on his team for two consecutive seasons. He put up four goals and 17 assists through 38 games which is on brand for him as an offensive defenseman. His style of play is rather sneaky and assertive and he has grown more into this role as each season has passed. The Pioneers' 2021-22 season gave him a true opportunity to build on his already strong skill set and learn from veteran presences on the team. On top of it all, he has a strong friendship with Carter Mazur, another top Red Wings prospect, and was able to grow his game alongside him for two seasons at Denver.
His 2022-23 season had a couple of heartbreaks involved including not making the Team USA roster for the World Juniors as well as losing early on in the NCAA Tournament. However, these moments do not take away from what he accomplished this past season. Heading into the season, he and his teammates at Denver were ready to push for a second consecutive national title and he planned to take on more of a leadership role this time as well. I believe he will finish out his collegiate career with Denver by playing two more seasons and then the door to professional hockey may open for him.
13. Eemil Viro
In my opinion, Eemil Viro is still a hilariously underrated Red Wings prospect that deserves much more appreciation than he gets. If I were to describe his game in one word, it would be "consistent." He is not a flashy player by any means but has all the tools needed to be a solid and reliable asset in the defensive zone. In 53 regular season games between the Griffins and the Walleye, he tallied one goal and 10 assists, showing that he has a knack for lending a helping hand in the offensive end on occasion.
"He's raw. Viro still needs to learn some of the finer details of playing in zone defensive hockey. But there's a solid foundation on which to build. He can skate well, plays bigger than his size, and has proven able against men at an age when most are figuring out how to excel against juniors."

– 2020 Elite Prospects Draft Guide
His 2022-23 season is still going as he earned a spot on the Toledo Walleye's playoff roster as they are chasing the Kelly Cup. Through nine postseason games, he has one goal and one assist as the Walleye keep advancing through the tournament. He has thoroughly impressed me as he has played in both Grand Rapids and Toledo this season. I have been able to watch a few Walleye games in person and in each of them, Viro has caught my eye without even searching for him on the ice. Needless to say, this is a prospect that you should keep your eye on in the coming years because I think he could potentially sneak his way onto Red Wings' roster.
12. Alexandre Doucet 
With a 115-point regular season, it is simply impossible not to give Alexandre Doucet a spot on this list. That is simply not something that you see every day even in non-professional leagues such as the Quebec Major Junior Hockey League where he is playing. Between Val-d'Or Foreurs and Halifax, he had 58 goals and 57 assists through 70 games. Doucet and the Halifax Mooseheads are still kicking in the QMJHL Playoffs as they are now in the final round of the tournament. He has a whopping 29 postseason points through 20 games and is putting on a show each time he takes the ice.
He is an absolutely lethal player in the offensive zone in nearly every situation but has a special knack for scoring on the penalty kill and power play. Between both teams he has played on this season, he has 19 power play goals and 13 shorthanded goals. His game is very precise, tactical, and smooth which helps him find the net either on his own or alongside a teammate. Having a player with a knack for scoring in this way is something that the Red Wings have been lacking in their prospect pool, so adding Doucet to the mix this past February was a great idea.
11. Cross Hanas
In his first pro season, Cross Hanas seemed to be on pace to have a really great year. Unfortunately, his season was cut short after suffering a second shoulder injury that sidelined him in February. He recorded nine goals and eight assists through 30 games despite having two shoulder injuries disrupt the flow of his season. This second injury left him in need of surgery so hopefully his recovery goes smoothly and he is able to pick back up where he left off in terms of career progress.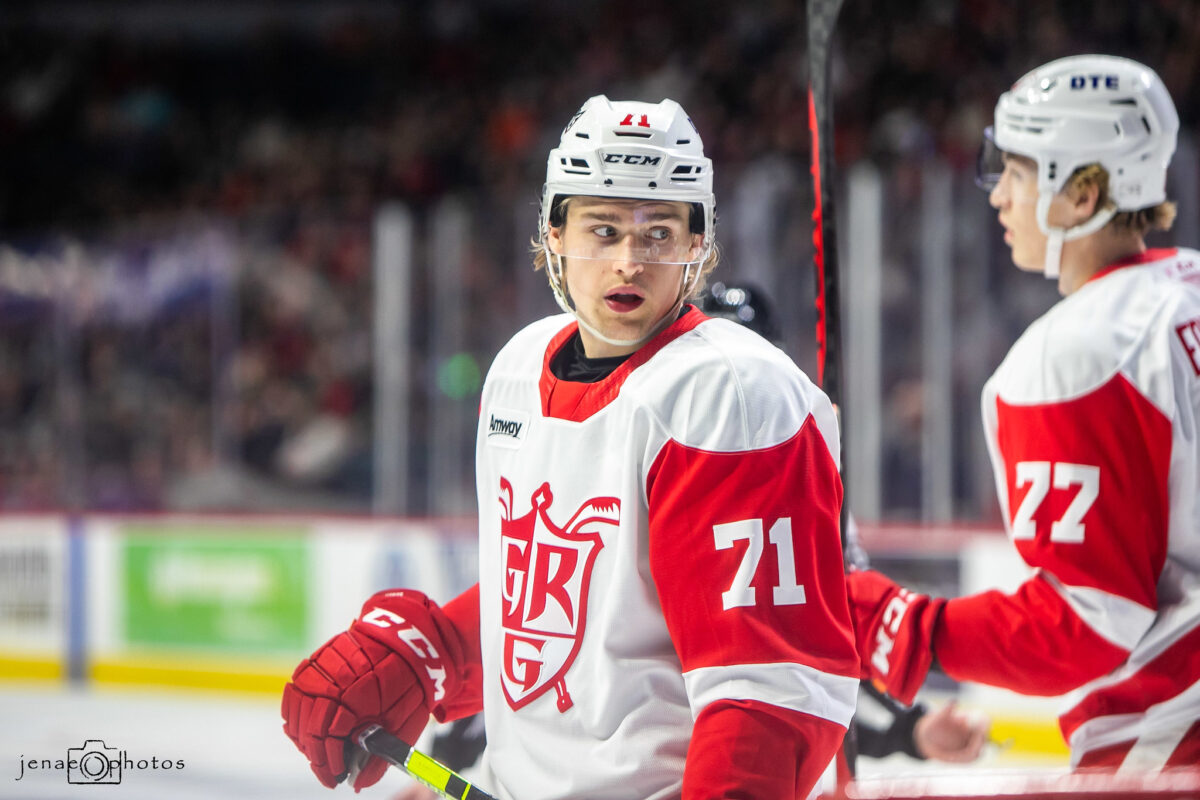 Hanas, a second-round pick in the 2020 NHL Draft, had played in the Western Hockey League (WHL) for four consecutive seasons and a partial season in the United States Hockey League (USHL) before making the jump up to the pro level. He is known for his playmaking abilities and good hockey sense, making him a strong addition to any team's offense. On top of that he is regarded as a "gifted, creative puck handler" (Elite Prospects 2020 NHL Draft Guide), and his skills have seemed to translate well to the professional level so far.
10. Albert Johansson
Albert Johansson was one of the many Red Wings prospects that made his North American pro debut this season with the Griffins. With five goals and 10 assists through 53 games, it seems as if things went pretty well for him. He unfortunately suffered some sort of an injury that put his season to a halt, but it looks like he will be back in action when hockey kicks back up this fall.
"He's always been a great skater, a smart player, a good passer of the puck, but I think his frame was underdeveloped. He made some changes back in Sweden to who he was training with and I think they paid huge dividends."

– Shawn Horcoff (Michigan Live)
With the way that he was playing in Grand Rapids, he was in a position where he could be called up for some NHL games if needed prior to his injury. When the Red Wings needed to fill a defensive vacancy towards the end of the season and turned to Simon Edvinsson, that could have easily been Johansson if he had not been hurt. He is a very strong two-way defenseman and has made huge strides in his development over the past year, making him a truly viable candidate for a spot on the Red Wings' roster this upcoming season.
9. Dmitri Buchelnikov
Dimitri Buchelnikov is an interesting prospect to talk about. He has given us plenty of highlight-reel goals and plays to be excited about. He is truly a flashy player with an incredible offensive drive that makes him a frequent name on any score sheet. With speed, incredible stick control, and a hunger for scoring goals, there is hardly ever a time when Buchelnikov is not making a scoring play of sorts.
He has played on three teams across three leagues this season and is currently representing SKA-1946 in the MHL Playoffs. The majority of his season was spent in the VHL where he played 35 games with 15 goals and 13 assists in the regular season. As SKA-1946 made their run in the VHL Playoffs, he had one goal and one assist through six games. Then he made the transition over to the MHL Playoffs, where he played in nine games with a total of five goals and two assists. Unfortunately, it is highly unlikely that we will be seeing Buchelnikov show up in North America for a few more years as he signed a contract extension with Kontinental Hockey League (KHL) SKA St. Petersberg that goes through 2025.
8. Donovan Sebrango
Up next, I have another defenseman – Donovan Sebrango. In his third season with the Griffins of the AHL, he played 39 games with a total of seven points – four goals and three assists. After joining the Walleye, he tallied one goal and 11 assists in a span of 23 regular season games. At just 21 years old with three years of professional experience under his belt, Sebrango is a huge addition to the Red Wings' depth regarding left-handed defensemen.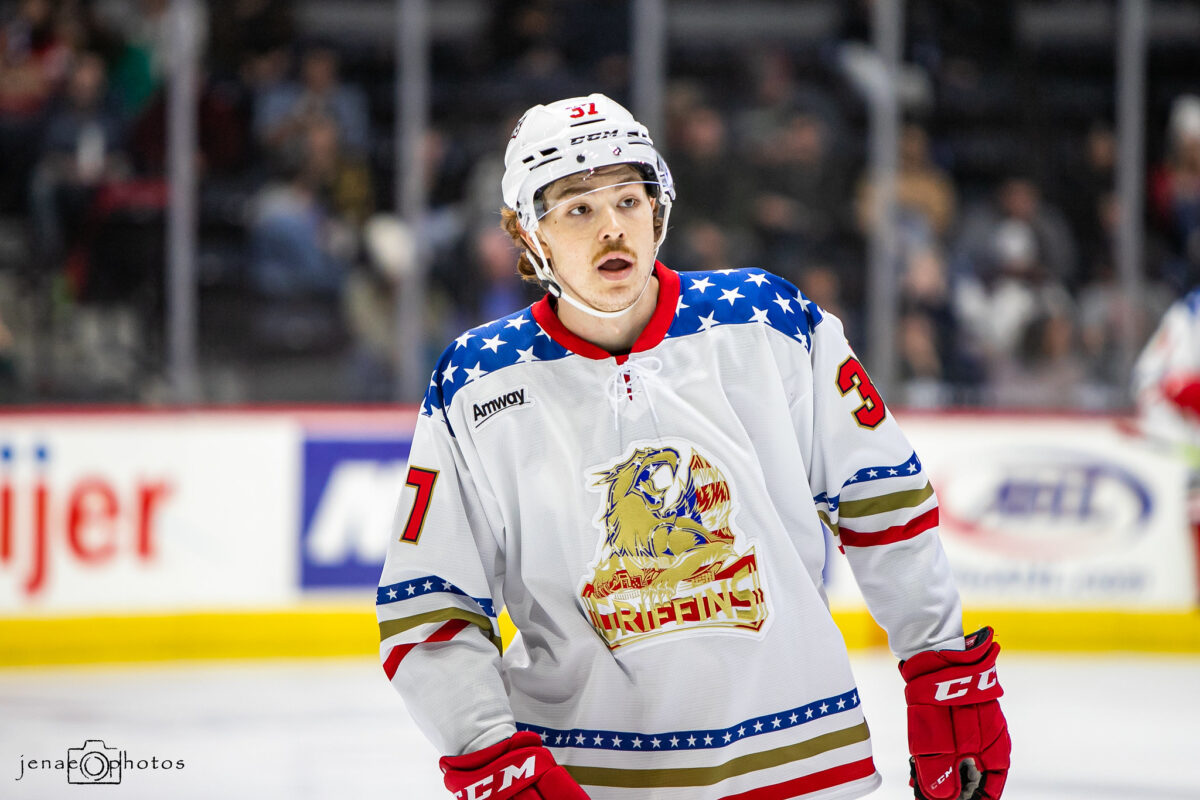 After spending the majority of his season with the Griffins, Sebrango rejoined the Walleye for the postseason. Having played in nine games in the Kelly Cup Playoffs, he has been a large part of the Walleye's dominant success thus far. He is not afraid of being a physical presence in the defensive zone especially when he is under pressure from the opponent. Sebrango is looking to have a solid professional career and I am excited to see if he manages to make a case with the Red Wings in the coming years.
7. Elmer Soderblom
In his stint in Detroit this season, Elmer Soderblom was a part of the short-lived "Redwoods Line" alongside Michael Rasmussen and Oskar Sundqvist. He made his NHL debut at the Red Wings' home opener and put up five goals and three assists through 21 games. He took a shot to the ankle and was out with an injury for some time but ended up finishing his season with the Griffins. Through 20 AHL games, he once again had five goals and three assists, remarkably on par with his numbers in the NHL.
Soderblom has truly shown that he is capable of playing at the NHL level and keeping up with the speed of the game. The cherry on top of this all is that he can still pull off his fancy moves in front of the net that he was known for in the SHL. Even if his ceiling is a bottom-six forward, that is nothing to turn your nose up at. Knowing that he can be successful at both the AHL and NHL levels is huge and makes him well worthy of a spot in my top ten.
6. William Wallinder
Once again, another Swede makes my top-15 list (surprise)! William Wallinder played 50 games with Rogle BK in the SHL this season and had seven goals and 19 assists, which is seven points better than his 2021-22 season. He is one of the top defensive prospects for the Red Wings and is slated to make his full-season debut at the North American pro level in the upcoming 2023-24 season. This season in particular was a huge year for Wallinder developmentally and makes him a strong case for being the best Red Wings prospect that has yet to make his North American debut.
Related: Red Wings' William Wallinder Is A Diamond in the Rough Prospect
Widely regarded as being a player with flat-out raw talent, he hardly fails to disappoint. His 2022-23 season was his best with Rogle BK so far with a total of 26 points – seven goals and 19 assists – which proves how far his development has come. As Rogle's season ended in the playoffs, it was finally time for him to make his debut with the Griffins. He played a singular game with the team and I cannot wait to see him play a full season there starting in the fall.
5. Carter Mazur
One of the most recent Red Wings prospects to go pro, Mazur has done anything but disappoint thus far. Soon after Denver lost in the NCAA Tournament, he put pen to paper signing his first professional contract. This was no shock as it seemed as if he was ready to make the jump up at the end of his NCAA season regardless. With the Griffins, he recorded three goals and three assists in just six games. A point-per-game pace to start your professional career is certainly nothing to complain about!
Most recently, he joined the U.S. Men's team for the IIHF World Championship that is currently still underway in Finland. Team USA is leading Group A with five wins and Mazur has tallied one goal and one assist so far. All this being said, I would not be shocked to see him put up a strong case for a roster spot in Detroit at training camp this summer. I don't feel as confident saying that he would for sure make the roster but who knows, it could definitely happen.
4. Amadeus Lombardi
Arguably the most surprising prospect at the end of the 2022-23 season, Amadeus Lombardi is a star in the making. With a cool name and an even cooler game, he is genuinely someone to be excited about. Not to mention the fact that Red Wings general manager (GM) Steve Yzerman is incredibly high on this prospect, he is well worth the hype. Breaking record after record for the Flint Firebirds this season, Lombardi ended up with a grand total of 102 points (45 goals and 57 assists). Wow.
"Amadeus Lombardi had an awesome year in Flint. He's really a good little player. He's very creative. He's a very competitive guy. He's 5-9, 5-10, 170 pounds. That doesn't matter. He's real competitive. Is he in there running guys over, knocking guys out? No. But he drives to the net, he somehow gets to the corners first, he makes plays, he's very creative. He's a very entertaining player."

– Steve Yzerman (Michigan Live)
One of Yzerman's claims to fame as a GM is finding "hidden gems" in each draft class and that is exactly what Lombardi is. He is confident, speedy, and incredibly skilled and these characteristics are ever present in his game. For being a fourth-round pick, you could not truly ask for much more in a player than what he has to offer. He is one of the newest additions to the Red Wings organization as he was drafted just this past year and has managed to stand out above so many familiar names, earning him a top-five spot on my list.
3. Sebastian Cossa
As you may have heard by now, Sebastian Cossa is absolutely killing it at the pro level. After a lot of back-and-forth moves between Grand Rapids and Toledo, he found a home with the Walleye and has grown into his role there wonderfully. With a .913 SV% and 2.56 GAA, he was one of the top five goaltenders in the entire ECHL through the regular season. Personally, I am over the moon with excitement as I honestly was not sure how he would fare at this level. Thankfully, he is exactly where he needs to be at this stage of his career.
So far in the Kelly Cup Playoffs, Cossa has played in three games with a 4-1-0 record and a .950 SV%. He is second out of all playoff goaltenders with a 1.41 GAA and also second overall for SV%. Since this is his first professional season, the playoffs were going to be a huge test for him as a rookie and he is taking each game in stride. Unfortunately, he was in net for the Walleye's first loss of the postseason as the Idaho Steelheads defeated them 3-0 on the road, snapping their eight-game winning streak. Hopefully, Cossa will yield a better outcome in his next game played, whenever that may be.
2. Simon Edvinsson
Potentially the most anticipated NHL debut out of all the Red Wings prospects who made the transition to North American pro hockey this season, Simon Edvinsson is finally here. He played nine games in Detroit but was primarily tending the blue line for the Griffins in the 2022-23 season. Through 52 AHL games, he tallied five goals and a whopping 22 assists which consequently proved that he can produce at a professional level. The cherry on top of it all is that he scored two goals in his first nine NHL games!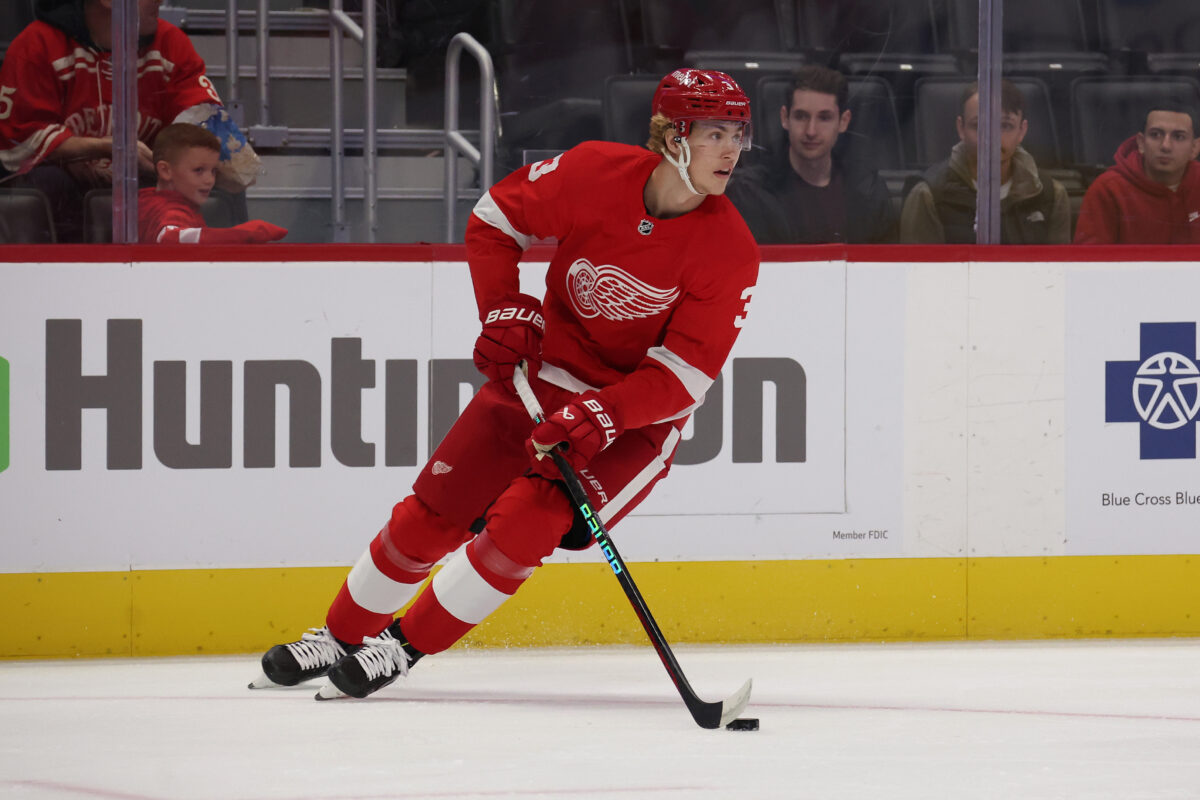 Most recently, we received the unfortunate news that he will be out for 4-6 months after having successful surgery on his shoulder. This timeline places him at hopefully being back for training camp in Traverse City this September. Worst case scenario, he isn't back in action until the season is underway. No matter what the start of his 2023-24 season looks like, the progress he made this past season is nothing to overlook. Red Wings fans needed Edvinsson to prove that he was worth the hype leading up to his professional debut and frankly, I would say that he exceeded my expectations in most ways and I am excited to see where he goes from here.
1. Marco Kasper
To finish things off, the prospect who made his NHL debut with a broken kneecap has to come in first overall on my list. Marco Kasper contributes massively in all aspects of the offensive and defensive zones. In his NHL debut against the Toronto Maple Leafs, he looked like one of the most poised and confident players on the ice. He was not afraid to get up in veteran players' faces and crash towards the goal every time the puck was in the zone. This one game alone was enough to make me very excited about Kasper playing at the NHL level in the near future.
I believe he has a genuine chance of cracking the Red Wings' roster this upcoming season, or at least being their go-to call-up. As of now, it looks as if he is recovering well from his kneecap injury and just finished up his high school exams in the last few weeks. Not only is he a great player on the ice, he has a wide range of skills off the ice, a tenacious work ethic, and a contagious personality. He earns the number one spot on my list, since overall he is the prospect who has impressed me the most as a player and a person throughout the last season.
With the 2023 NHL Draft coming up in just over a month, there will be plenty of new faces added to the already stacked ranks of Red Wings prospects. Heading into the draft is a perfect time to discuss the prospects who have played a role in shaping the organization's future and the 16 players that I have mentioned above are at the heart of it all. Rebuilds take time and are immensely frustrating at times, but the Yzerplan is hard at work and the future of the Red Wings franchise is very, very bright.
---
---