Since taking over the Detroit net in 2009, Jimmy Howard and the Detroit Red Wings have been eliminated in round one three out of the last four seasons. Coincidence? Maybe not.
In four playoff appearances Howard has been average. If Detroit has any hope of making a long playoff run then that needs to change this year.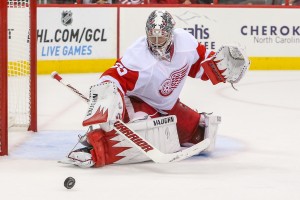 Yet, contrary to popular belief, Howard's career playoff stats (. 918 SV % / 2.57 GAA) suggest that his play has been better than average. Still, a big cause for concern is the fact that Howard just finished arguably his worst regular season since joining the team.
And, in the playoffs, Howard's biggest achilles heel has been his inability to make the timely save. Patrick Marleau's Game 7 series clinching goal in 2011 is a good example of an opportunity Howard missed to keep his team alive.
Only minutes after giving up the third goal did the Red Wings strike to draw within one, but the damage had already been done. If Jimmy Howard stops Marleau then Detroit pushes it to overtime and who knows what happens?
Expecting Howard to shut out the Bruins every game is unrealistic; however, asking him to close the door at the big moments is a reasonable request. For Howard, the reality of the situation is this: he doesn't have to win the series, so much as he doesn't lose it.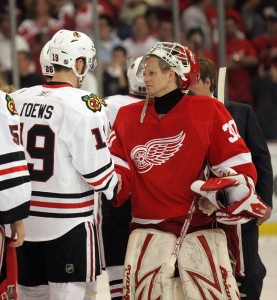 The idea of simply not losing a series for the Wings is something a lot of netminders have heard in Detroit, no more so than Chris Osgood. If Jimmy Howard needs inspiration for overcoming playoff disappointments he should look no further than number 30 for motivation.
Like Howard, Osgood was criticized for his post-season play on several occasions. However, the list of Osgood's playoff blunders are a lot more painful than anything Howard has dealt with:
1. Jamie Langenbrunner's overtime goal from center ice that was going wide until Ozzie directed it into his own cage.
2. Another center ice blast courtesy Al MacInnis.
3. A bad Osgood clear led to a series clinching Jamie Baker goal in 1994.
Yet, it was Osgood's mental toughness that allowed him to win the Stanley Cup. Ozzie had an amazing ability to quickly put bad goals behind him and just keep playing.
Howard will have to show the same type of mental fortitude against the Bruins. There will be moments when things don't go right for him, and the Wings can't afford to have Howard check-out at any point in this series.
Chris Osgood won his first Stanley Cup for the Detroit Red Wings starter in his 5th post-season. If Jimmy Howard can do that in his 5th playoffs with the Wings all of his prior transgressions will be forgotten.
Babcock Calls Out Jimmy Howard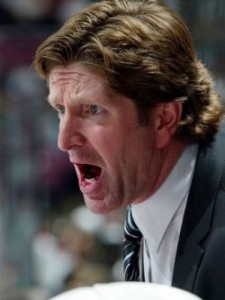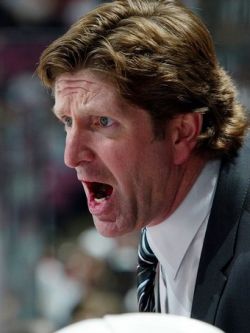 When asked about Detroit's chances vs. the Boston Bruins Mike Babcock's response was blunt:
If we get goaltending, we'll be a tough out.
Let me translate Babcock's comments for you: if Jimmy Howard sucks the Wings don't stand a chance. Or, what about this one: if you play the way you did for the majority of the regular season we're totally screwed.
Notice Babcock didn't say if the defense doesn't play well, or if the forwards don't score goals because he's not concerned about those parts of Detroit's game. He believes that Detroit's forwards will score goals and their defense will play strong.
What he's not so sure about is whether or not the Wings will get consistent, quality goaltending. To have a shot at beating the President's Trophy winning Bruins average goaltending just won't cut it.
The coach issued a public challenge to his goaltender; and, how he responds will determine the Detroit Red Wings' playoff  fate. Unfortunately, for Detroit, good goaltending still might not be enough.
Ultimately, Babcock only got one thing wrong with his call-out: he should have asked for great goaltending instead.