As the curtain dropped on the 2013-14 Calgary Flames season, the mood of the building was conflicted. On one hand, the organization that was expected to be a league doormat played quite well in the last chunk of the season. On the other hand, the team didn't make the playoffs.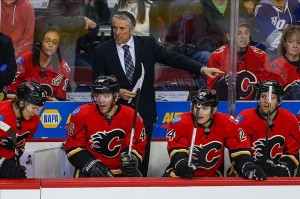 Both the team's head coach and the president of hockey operations had the same basis assessment of the club's performance.
"The conclusion of a season that does not include playoffs is a failure," said president of hockey operations Brian Burke. "We acknowledge that failure, but it was not a lost or wasted season in any sense of the word. There were a lot of positive developments in this season that I'm proud of."
"We know where we finished this year is not good enough," assessed head coach Bob Hartley. "And if we go two or three [spots up] in the ranks, it still won't be good enough, because this is the best hockey league in the world. You need to be top-16. If you're not top-16, you can be happy about your progress, you can be happy about everything around, but the passing grade is we want to play hockey here in late April, May and June, and give our fans what they're cheering for."
Burke noted a couple aspects of the season he felt were especially important to the team's future success.
"I think two things happened this year that needed to happen if we're going to take a step forward as an organization and get back to winning hockey, and that is we had a major culture change," detailed Burke. "One is that our work ethic has to match our opponents or exceed it, I think our players delivered on that, and second is we have to believe in our systems and execute them and stick to the system, and I think we did that. I don't think our team had a chance to improve or take the next step without that culture change and those two steps."
"It's not always a matter of points," said Hartley. "It's a matter of where we draw the line. We decided late last year that we would get a new face to this organization, that we would go with younger players. We lost a number-one goalie [Miikka Kiprusoff] who was the face of the franchise along with Jarome Iginla, you don't just replace those guys… It's a process. I look at the dedication, the commitment of all of our players, what they've shown us game-in and game-out from the inside…I saw commitment and I saw progress."
During his remarks, Burke noted that the coaching staff in Calgary – Bob Hartley and assistants Jacques Cloutier, Martin Gelinas, Clint Malarchuk and Jamie Pringle – will be retained for the 2014-15 campaign, praising them for a lot of the progress made this season. Abbotsford Heat head coach Troy G. Ward, in the final year of his current deal, will also be approached to discuss a new deal to stay with the Flames' top affiliate. The new general manager – potentially not hired until after the 2014 NHL Draft – will likely inherit the existing coaching staff and evaluate whether to extend them beyond their current contract.
The Flames did make some strides this year in a few key areas:
Karri Ramo emerged as a bonafide NHL goaltender following a stint in the Kontinental Hockey League. Following his recovery from an MCL injury prior to the Olympics, Ramo was very impressive.
Mark Giordano continued to elevate his play on both sides of the puck; he's one of the best possession defenders in hockey, as well as one of the top defensive scorers. He'll get a lot of consideration for a Norris Trophy this year and continue to make his paltry $4.02 million cap hit look like the best bargain in the league.
Several of the team's question-mark or "bubble" guys going into the year made significant strides. Mikael Backlund found his scoring touch in a big way. Joe Colborne transitioned to the right wing and was quite effective. Paul Byron became an NHL player.
Sean Monahan scored more goals in his rookie season (22) than Jarome Iginla scored in his (21). Several other young players made strong impressions during stints with the club: Tyler Wotherspoon, Markus Granlund, Corban Knight, Kenny Agostino and Johnny Gaudreau.
Brian Burke noted that the Flames were one of the hottest teams in the league over the last 10 weeks of the season, playing at a playoff pace from the January 18 visit to Vancouver onwards. While the team's skill level may not be there yet to extend that pace over a full season, the team may have the team concept in place to maintain it. In September, since-deposed general manager Jay Feaster preached the importance of a "pack mentality" for his club, with the whole being more than the sum of its parts. The feedback from both players and coaches as the season came to a conclusion was that pack mentality was very much in place.
"I love my players. I've said this many times during the season, but those guys were a tight-knit group, great individuals, and I always preach that great players make great teams, and this year we definitely made some very interesting steps," noted Hartley.
With some key free agents such as Mike Cammalleri potentially leaving town, and some young players knocking on the door for NHL roster spots, the 2014-15 season could be one of the most interesting in recent memory. With training camp still months and months away, and players already chomping at the bit to prove that the last few months revealed the "real" Calgary Flames, waiting for this summer to end may seem like an eternity.
But, as happens every year, they'll be back on the ice before you know it.