Last Thursday the New York Islanders defeated the Tampa Bay Lightning 5-1 in a game that saw its fair share of scuffles, and trash talk during and after the game. This made me wonder if these events will carry-over to Thursday's game in Tampa. When I look at the Lightning I see a more accomplished version of the Islanders, in 2010 Tampa went from bottom feeder all the way to the Eastern Conference Finals, this year the Islanders are looking to go from perennial loser to a playoff team. The #1 overall pick in 2008 Steven Stamkos has already scored 51 and 45 goals in a season, #1 overall pick in 2009 John Tavares has yet to put those types of numbers in his young NHL career but seems poised to make such a leap. The Lightning seem ready to challenge the likes of the Bruins, Capitals, and Penguins so a team like the Islanders isn't necessarily on their radar, but to the Islanders the Lightning represent where they'd like to be so to them these match-ups mean more.
How do the Islanders get the Lightning's attention? By beating them the way they did last week, they dominated the game from start to finish only playing with the lead for all but 2:54 . Where things get interesting is the Islanders felt Victor Hedman and Steve Downie took unnecessary swipes at Tavares. Midway through the third period while Tavares and Downie were fighting for puck possession Hedman hit Tavares from behind a few times drawing a roughing minor, during the scuffle Downie appeared to punch Tavares in the face, after retaliating Tavares drew a roughing minor as well. Tavares left the game after serving his two minutes leaving many Islander fans holding their breath hoping it wasn't serious (turned out to be a quad cramp). After the game it looked like Matt Martin said something to Hedman as he skated past him, could be something to keep an eye on come Thursday.
Another incident occured near the end of the third period while the Lightning were on a powerplay, Vincent Lecavalier took a swing at Islander Travis Hamonic. Hamonic followed by decking Lecavalier with a cross-check, adding insult to injury Lecavalier was given a two minute minor for roughing. While being interviewed after the game P.A. Parenteau expressed his joy over Dwayne Roloson being pulled saying he was "so happy." This leads many to believe Roloson was not well liked by his former team prior to his trade last season. I'm sure that quote made its way back to Roloson which could add more incentive to beat his former team
Roloson is one of five former Islanders playing for the Lightning, the others are Nate Thompson, Bruno Gervais, Eric Brewer, and Marc-Andre Bergeron. The fact that the Lightning have so many former Isles makes the match-up that much more intriguing, especially given the way some left the team. Gervais and Bergeron never lived up to expectations with the Islanders and were traded away for draft picks, Brewer was given up on too soon and went on to have a successful career after being traded by the Islanders.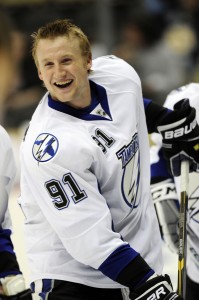 Whenever the Lightning and Islanders square off I always get excited about Stamkos and Tavares squaring off, both have tremendous talent, are former #1 picks, and both wear #91. Everything that Stamkos has accomplished thus far is everything that is expected of Tavares in the near future, I don't think it's out of the question that these two will be competing for future scoring titles. For now that remains a pipe dream for Islander fans but that's the type of pressure that goes along with being a #1 pick, Stamkos has already proved he can handle it now it's time to see if Tavares can. Both scored goals in last weeks game I'd look for each to continue to create scoring chances Thursday night.
Back to Tavares and Hedman, no matter each player does in their respective careers they will always be linked together because they were the 1st and 2nd overall picks in the 2009 NHL Draft. It would seem to make them natural rivals, did it sting Hedman a little extra knowing it was Tavares who was awarded the goal that he put in his own net? If it were me it would. Maybe that's what made Hedman go after Tavares later in the game, either way Tavares won the battle on the score sheet with four points and more importantly won the battle on the scoreboard. The beauty of sports is Hedman and the Lightning will have their chance at retribution Thursday night in Tampa.