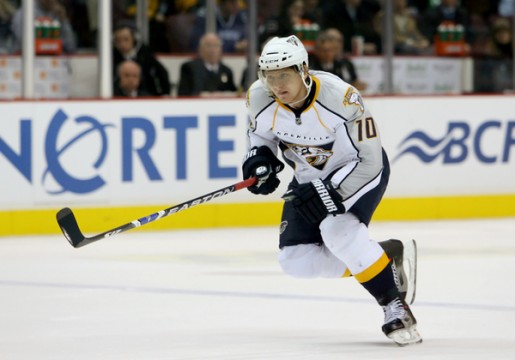 Frustrating. As much as I like him, this would be my word of choice if I had to describe Nashville forward Martin Erat. His expensive contract coupled with his injury history and low offensive output has oftentimes led to criticism of Nashville's most skilled forward, with many fans wondering if they will ever see Erat put together a season they know he is capable of doing.
I took a liking to Erat during his rookie season when he teamed up with Denis Arkhipov and Vladimir Orszagh to form the "Vowel Line", notching an impressive 33 points. Nashville's 7th round selection in the 1999 NHL Entry Draft struggled in the '02-'03 campaign, splitting time between Nashville and their AHL affiliate in Milwaukee, before tallying 49 points the season before the lockout, solidifying his spot on the Preds roster.
Erat showed flashes of brillance at times with his speed, outstanding wrist shot and ability to get pucks to the net, at the time giving Preds fans hope that perhaps he was part of the solution for their woes on offense (if you can spare five minutes, take a look at this clip of Erat in '05-'06 that Dirk Hoag of ontheforecheck.com shared in his season preview). After registering back-to-back 57 point seasons in '06-'07 and '07-'08 and with the then 26 year old just about to enter his prime, general manager David Poile inked the Trebic, Czech Republic native to a seven-year, $31.5 million contract on May 12, 2008.
It's been a roller-coaster ride ever since.
Injuries have taken a significant toll on Erat's ability to contribute.  He missed 11 and 8 games in the first two years of his new contract, respectively, and last season proved to be even more frustrating, as back spasms were responsible for most of the 18 regular season games he missed, followed by a late hit by Anaheim forward Jarkko Ruutu in Game 4 of last season's series with the Ducks that forced Erat to miss the final two games of that series. He even took a high stick in Game 2 of the series with Anaheim that resulted in him losing teeth, but he didn't miss any time as a result. Bottom line, the guy couldn't catch a break. The fact he was tied for the team lead in points, even though he played in 64 games, spoke volumes on his value to Nashville.
All of that brings us to the present, where, 5 games into the season, Erat is once again out with the infamous upper-body  injury that he suffered in the season opener in Columbus. In terms of salary, this season will be Marty's most expensive of his contract, as he is due to make $6 million, which would make him the most expensive player on the roster if it weren't for a certain defenseman named Shea Weber; perhaps you've heard of him. It's frustrating to know that the best forward on the team couldn't even stay healthy for one regular season game following a season where he was on pace to set career highs in every offensive category if it weren't for, again, injuries. I'm was hoping that this was the year that Erat proved all of his critics wrong by having a career year, but considering he's already missed four games and has no timetable for his return, I'm not holding my breath.
Frustrating.
Josh Farrar is a junior at the University of Tennessee – Knoxville, majoring in psychology. Born and raised in Tennessee, he somehow managed to become obsessed with hockey in a state where football is king.