The Nashville Predators asked the Oilers about Ryan Nugent-Hopkins. It's not really a shocker. They need a centerman, and have a plethora of defencemen to dangle in a trade. I don't know who they would be willing to part with though, because the strength of Nashville's game is their blueline. They don't have guys who just happen to play the position. They have really good NHL defencemen. The Predators get a ton of offense from the back-end. Roman Josi leads the team with 26 points. Shea Weber is right behind him with 24. Ryan Ellis has 14 points. Seth Jones and Mattias Ekholm both have 10.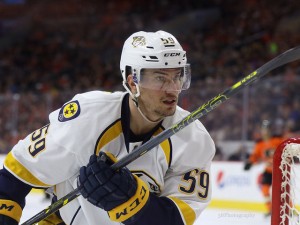 Nashville's success is largely attributed to the skill of their defence corp (though having Pekka Rinne in the net doesn't hurt either). The Preds have been drafting well for years, with a clear focus on bolstering their blueline, and now their plan is coming to fruition. Josi and Weber were both second round picks. Ellis and Jones were first rounders, while Ekholm was taken in the fourth round. (He left in free agency, but Ryan Suter was a first round pick of the Preds, and a huge part of their team for a while). It's a mix of good scouting, and commitment to the direction of the team. You can argue that their lack of depth at center will ultimately sink them if they don't make a trade. But their ability to churn out great defencemen is a big reason they've only missed the playoffs three times since 2004.
The Edmonton Oilers have employed somewhat of the opposite philosophy, selecting forwards with high picks and building their team on the offensive side rather than the defensive. But a quick look over the Oilers recent draft history in terms of choosing defencemen is cringe-worthy. The 2003 draft, known as one of the best ever, wasn't so kind to the Oilers. They chose Marc-Antoine Pouliot with the 22nd overall pick. He played 192 NHL games, scoring 21 goals in the process. He is currently playing in Switzerland. They chose three defencemen that year. David Rohlfs and Josef Hrabel, neither of whom have played an NHL game, and Mathieu Roy, who suited up for just 66. If you have stomach for it, here are the rest of the defencemen the Oilers have drafted since then.
2004:
Roman Tesliuk (0 NHL games)
Bryan Young (10 NHL games)
Max Gordichuk (0 NHL games)
2005:
Taylor Chorney (91 NHL games, no longer with the organization)
Danny Syvret (59 NHL games, no longer with the organization)
2006:
Jeff Petry (348 NHL games, no longer with the organization)
Theo Peckham (160 NHL games, currently playing in the ECHL)
Cody Wild (0 NHL games)
2007:
Alex Plante (10 NHL games, currently playing in Europe)
2008:
Johan Motin (1 NHL game, currently playing in Europe)
Jordan Bendfeld (0 NHL games)
2009:
Troy Hesketh (0 NHL games)
Kyle Bigos (0 NHL games)
2010:
Martin Marincin (104 NHL games, no longer with the organization)
Jeremie Blain (0 NHL games)
Brandon Davidson (35 NHL games, currently with the team)
2011:
Oscar Klefbom (107 NHL games, currently with the team)
David Musil (4 NHL games, currently playing with AHL affiliate)
Dillon Simpson (0 NHL games)
Martin Gernat (o NHL games)
2012:
Erik Gustafsson (6 NHL games, no longer with the organization)
Joey Laleggia (0 NHL games)
2013:
Darnell Nurse (27 NHL games, currently with the team)
Ben Betker (0 NHL games, currently in the ECHL)
2014:
William Lagesson (in college)
2015:
Caleb Jones (in Junior)
Ethan Bear (in Junior)
John Marino (in the USHL)
Ziyat Paigin (currently in the KHL)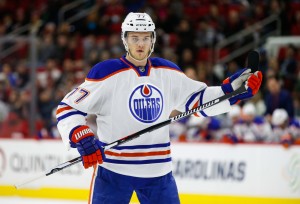 Drafting is far from an exact science. In fact, many teams suffer from poor scouting and bad draft choices and it hampers them for years. In the case of the Oilers, they made decisions based on the best players that were available, but the fact that they have just three defencemen in their lineup from the past 12 seasons of drafting is a huge reason why their blueline has suffered. They tried to make up for it by signing Justin Schultz as a free agent, but he's turned out to be a disappointment.
The Oilers simply don't have enough home-grown defensive talent, and it may force them to have to make a trade in order to upgrade the back-end. Darnell Nurse really looks like he's going to be a great player. Oscar Klefbom has his ups and downs but he's a solid player. Brandon Davidson has been a pleasant surprise, but he certainly wasn't expected to be a mainstay. Obviously the teams focus now has to be on defence, because there isn't any way around it anymore. They don't have much depth, if any at all, and if the injuries continue to pile up, they'll be in bigger trouble. Hindsight is 20/20, but there is no doubt where the team's area of weakness is. It may be time to adjust the draft strategy.