The Sabres extended the losing streak to four games last night and 8 of their last 9, with the loss in Madison Square Garden.  Old habits from the early season struggles have returned to go along with injuries.  After making noise and climbing to the edge of joining the playoff race, the Sabres have now returned to the bottom of the NHL standings.
Dreadful Penalty Killing
Over the last 9 games the Sabres have managed to only kill off 52% of their penalties.  Not only are teams potting 2 or 3 power play goals a night, but the Sabres are giving up the goals early in the penalty.  Never giving themselves a chance to set up defensively and clear the puck.  One of the issues the Sabres are having, is the lack of experience.  As Head Coach Ted Nolan put it, the Sabres are "force feeding" some players penalty killing experience.  Players like Deslauries, Zadorov, and Ristolainen are getting used to being a penalty killer at the pro level.  As with any young player, you can expect a learning curve.  However, with all the excuses, the penalty kill for this team is at an embarrassing level that cannot continue.   See how the Rangers torched the Sabres on the PP Saturday at the nhl.com link below.
http://video.rangers.nhl.com/videocenter/console?id=716951
Defensive Struggles
During the period when the Sabres won 10 of 13, they were allowing 2.1 goals a game.  Over the last 7 games, Buffalo is allowing 4.4 goals a game and returned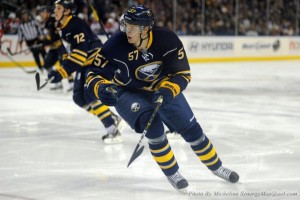 to the struggles from early in the season.  The Buffalo defense is struggling with their gaps in the neutral zone, support from the forwards, and numerous turnovers.
The Sabres are not talented enough to overcome these defensive zone mistakes.  When the mistakes occurred during their winning streak, Enroth was on his game to bail them out.  As expected, Enroth has returned to Earth and playing at an average level.  If the Sabres don't get the great goaltending and a nearly mistake free game they won't be able to win a lot of games.  Buffalo has not had the scoring touch all season and can't win games giving up 4+ goals a game.
Tyler Myers is likely returning from his injury this week and could bring some stability to the defensive zone.  It remains to be seen if Myers return alone will allow the Sabres to be competitive on their current road trip.  If the Sabres can't turn it around, they could find themselves in or very close to the 3oth spot in the standings within a few weeks.