In many cases, scoring chances and opportunities result of intelligent play without the puck.
Just ask Sam Gagner of the Arizona Coyotes, whose movement without the disk enabled the 25-year-old to pick himself off the mat and recently put up credible numbers. Off to a horrendous start, Gagner accumulated just 10 scoring points in his first 29 games in Sedona Red and since, scored points in five of his last seven games.
This represents a rather dramatic turnaround, because "I put a great deal of pressure on myself when I came here," Gagner admitted after practice at Gila River Arena Sunday afternoon.
The result was recognition by the NHL and Gagner was named the league's third star of the week ending last Monday Dec. 28. In that span, he topped all players  in scoring points with six points (2 goals, 4 assists), including a pair of goals against his former Oiler teammates in Edmonton on Dec. 23.
For now, there appears to be two changes in Gagner's hockey life to alter the course of  his game, and both for the better.
First, the native of London, Ont. was moved from his natural position of center to the right wing and the change enabled Gagner to expand the capacity of his game.
"While I still like to play at center, the move was good for me," he said. "This gave me a chance focus on creating chances and not worrying about face-offs. Also, this helped me to really focus on my game."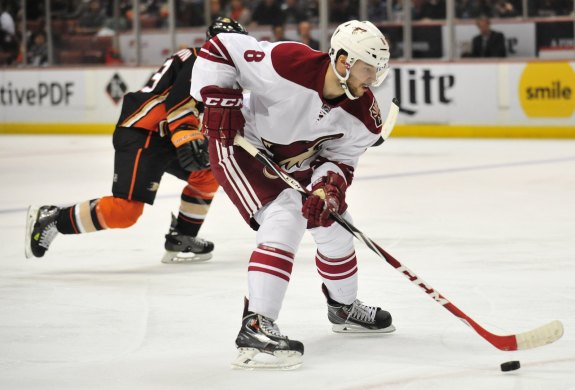 a move for the positive
After benched for a home game against against Minnesota on Dec. 13, Gagner returned to the lineup for the next contest with Edmonton at Gila River Arena. This time, coach Dave Tipped moved Gagner to right wing, placed Martin Hanzal at center and Tobias Rieder on the left wing. The result gave Gagner a breath of fresh air and the recipient of strong play from Hanzal in front of the net.
The true benefits were realized this past Saturday night when Gagner and Hanzal each registered a four-point game, and Gagner pumped in two power play goals.
Now with points in five of his past seven games, Gagner reached near the top of the Coyotes' scoring sheet and his 20 points in the team's first 38 games is good for fifth behind points leader Keith Yandle (26 points), Antoine Vermette (25 points), Mikkel Boedker (22 points) and Hanzal (22 points).
"(Gagner) has improved over the past few weeks because he's moving better without the puck," Tippett said after Sunday's practice. "Also, he's developing a bit of chemistry with Hanzal and that has increased his play."
After missing the playoffs the past two seasons, general manager Don Maloney sought changes and Gagner was one of the first.
After the Oilers traded him to Tampa Bay after last hockey campaign ended, Gagner was quickly on his way to the desert.
"As soon as I traded to Tampa, I was told I would not be there for long," Ganger said. "I looked around the league and decided the Coyotes would be an ideal fit for me and so that deal was made."
Gagner then came over from the Lightning along with forward B. J. Crombeen for a sixth round pick in the 2015 draft. Immediately, he faced two conditions.
"First, we needed to get a feel for his talents," Tippett pointed out. "Then, we had to decide where he would make the best fit, at center or wing."
Tippett decided on center and experimented with different sets of linemates. Once the decision was made to move Gagner to wing, that opened a healthy competition.
While the Gagner-Hanzal-Rieder line is considered the Coyotes' second unit behind the trio of Vermette at center, Boedker on left wing and captain Shane Doan on the right side, Gagner hopes his line will push others and create a heightened level of play.
"If we push (Vermette's) line, that will only make the team better," Gagner said. "It's a kind of internal competition and I think if the competition is healthy and out to benefit the team, we can only show results."
With a two, power play goals against Columbus in his last game, and a renewed sense of confidence, Gagner said he's looking forward to help catapult the Coyotes back into the Western Conference playoff picture.
The journey continues Tuesday at home against the Blues, currently sitting fourth in the overall Western Conference, and continuing with the current home stand against Winnipeg, Ottawa, San Jose and Calgary.
Follow Mark Brown on twitter, @journalsit193
was named as a the third star of the week ending