Over the last few years, the National Hockey League has undergone a lot of stylistic changes and a lot of them have to do with speed and puck possession. Today's game is faster than ever and it's ripple effects have been felt throughout every league leading up to the NHL, including the Ontario Hockey League and the OHL Draft.
For defensemen, we've witnessed a rising offensive prowess and knack for scoring big goals. For forwards, it's in their size and uncanny speeds. Players with speed are recognized as forces not to be reckoned with and this trend is sweeping the NHL and it's feeder leagues. This year's OHL Draft, in particular, demonstrated how important skating has become.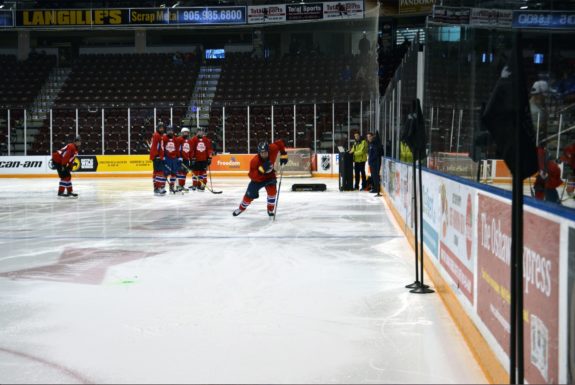 Before the Draft, top prospects are invited to the OHL Development Combine, an event that assists general managers in evaluating players. This year, a new on-ice component was introduced to identify the next generation's fastest playmakers. The 1080 Sprint technology was used to measure power, force, speed, and acceleration with robotic weight resistance.
The number one overall forward of the 77 participating prospects in the Combine's on-ice testing was Mitchell Russell, a 16-year-old centerman from the Barrie Colts Minor Midget AAA team. This season, Russell tallied 29 goals and 19 assists in 33 regular season games, followed by scored six goals and four assists in 10 playoff games. He also ranked third overall in the off-ice testing category too.
2017 #OHLCombine On-Ice Testing Leaders: https://t.co/tEeKUAJLCk pic.twitter.com/2vIOZWnE1l

— OntarioHockeyLeague (@OHLHockey) April 2, 2017
Russell is a beauty, and though his measurements from the Combine marked him at 5-foot-11 and weighing 185 pounds, he believes he still has more growing to do.
[miptheme_quote author="Mitchell Russell" style="text-center"]…Everyone else in our family, like my grandparents, are 6'2" and my brother is 6'1 and a half.[/miptheme_quote]
Regardless, Russell doesn't see his height as a disadvantage. On the contrary, he says it can actually be an advantage to his game. "Yes, I think being smaller is tougher – in the corners, battling, but at the same time, it could be an advantage to get away from the defenseman," he said. "If he's 6'-4" and his feet move a little slow, you can get away from him… and he won't have a chance to get near you or hit you."
In the last few years, Russell has discovered an effective tactic to combat bigger defensemen in the offensive zone when going into the corners and it's getting him noticed.
[miptheme_quote author="Mitchell Russell" style="text-center"]Getting the puck in the corner and making a quick turn on the D – I did that a lot last year on the bigger D and so it gives me a lot more time and space after I make the turn because it takes so much longer for them to turn and move their feet when they're so much bigger.[/miptheme_quote]
Russell says he's pretty good at protecting the puck too. When taller defensemen try to use their longer reach on him, he simply takes the puck out of their reach with a quick pivot and brings the puck to his side.
OHL Draft Bound
It seems that he's really impressed a lot of people throughout the 2016-17 season. There were a lot of general managers interested in getting their hands on the Combine's top on-ice forward but the Owen Sound Attack was the lucky winner, selecting him at No. 20 in the OHL Draft last month.
Shortly afterwards, Russell competed in the OHL Gold Cup, an eight-team tournament which featured players recently selected in the OHL Draft. The event was held in Kitchener, Ontario from May 3-7, and served as an evaluation opportunity for Hockey Canada to select potential players to compete in the World Under-17 Challenge. Again, Russell performed quite well, registering two goals and two assists in five games.
Thank you @OHLHockey for an amazing weekend! What a great experience. pic.twitter.com/nMmb9xFMkj

— Mitchell Russell (@MitchRussell_) April 3, 2017
A True Trend-Setter
Interestingly, Russell's father never played hockey. "He played every sport but hockey," said Russell. However, his dad's interest in sports played a pretty big role in his life. When he was younger, he golfed a lot and even earned his Canadian PGA card. As a club pro, he taught golf professionally for many years at a course in Muskoka that was frequented by NHL players, movie stars and other celebrities. "When I was younger, there was a point when I wanted to take golf seriously, where it was golf or hockey," Russell said. "I went with hockey, so hopefully that works out."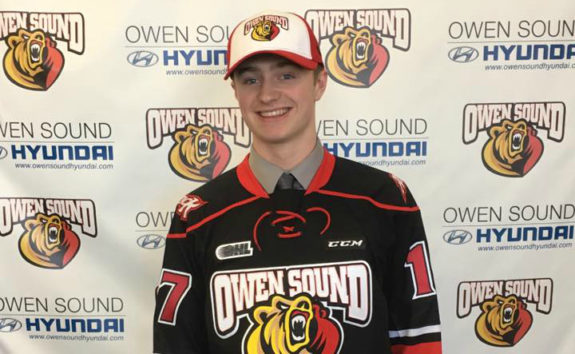 One of Russell's key strengths is his decision-making and his decision to pursue hockey professionally is working out great so far. In the last month and a half, he was invited to the OHL Combine, ranked extremely well and/or the best in all testing components, was drafted into the OHL during the first round, scored a couple times at the OHL Gold Cup and exposed himself to Hockey Canada scouts searching for team Canada's next roster for the World Under-17 Challenge.
The world of professional hockey could surely use someone with his speed, skill, and determination and the OHL will showcase a lot more of what he's got throughout the next two years.
I'm a Hockey Journalist based out of Barrie, Ontario, a Contributing Writer for The Hockey Writers covering OHL, and NHL prospects with an insatiable thirst for all things LA Kings, and PR gal for Abel Sports Management.