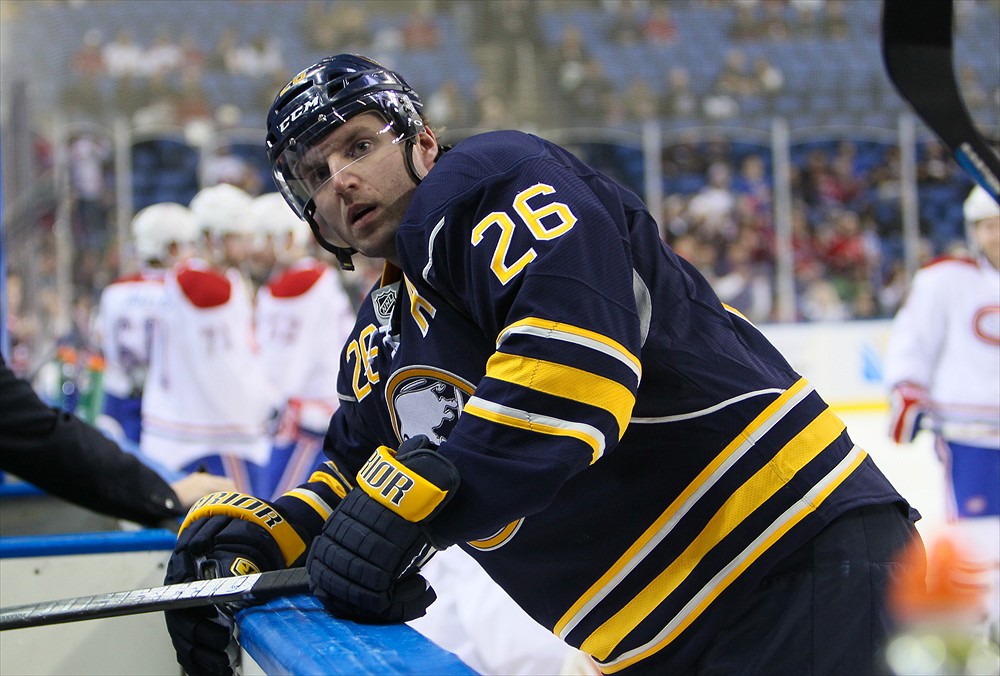 After a discouraging home shootout loss to division rival Montreal Canadiens, a dejected Lindy Ruff stood in front of reporters and plainly told them how it was with Buffalo last place in the Eastern Conference.  Ruff said "I'm obviously very disappointed. Embarrassed.".  In Ruff's 14 year tenure as head coach, the Sabres have only finished out of the playoffs on 4 occasions.  In fact, you'd have to go back to 1987 Adams division to find the last time that the Sabres finished last in the East (then the Wales Conference), when they tied the New Jersey Devils with 64 points in a 21 team NHL in which only 5 teams missed the playoffs.
The Sabres are only 2 seasons removed from a 100 point, 3rd place season in which they succumbed to the Boston Bruins in the first round of the playoffs.   A season ago, the Sabres were out of it at the trade deadline, but after owner Terry Pegula took over the helm of the franchise, the Sabres went on a miraculous 16-4-4 tear, never losing two consecutive games and snagging the 7th seed in the Eastern Conference.
Can they do it again?
Some were beginning to think they might.  After winning the last game before the All-Star break, the Sabres came out of All-Star weekend with 4 straight wins and an overtime loss for a 5-0-1 record.  Since then the club has lost 4 straight, including last night's defeat to the Habs, a game that Ruff feels they should have won "We went 5-0-1 and then we gave 3 back and now it's another overtime loss, you know this was a game we should have put away, but didn't."  Unfortunately, due to a collection of incidents that went the other way, they just didn't make it happen.  Here is Ruff's entire post game discussion with reporters.
http://video.sabres.nhl.com/videocenter/console?catid=-5&id=158475
Most disappointing is that over the last 4 games that the Sabres have given back have all been to teams that the Sabres need to leapfrog to get into a playoff spot.  All of Tampa Bay, New Jersey, Philadelphia and Montreal are either in a playoff spot or fighting for the same one the Sabres hope to claim.  However the glass half full type would tell you that the point Buffalo secured last night was a vast improvement over the sloppy game in Philly and it's that magical time in the schedule again.  With 24 games remaining in the schedule, 18 of which are versus the Eastern Conference, and being only 9 points back, it isn't an impossible feat, especially the way that teams 6-15 have played.
Realism however will tell you that is is highly unlikely.
The Sabres are 9 points behind 8th place Toronto, who is on a slide of their own and go into Vancouver tonight, a place that they haven't won since before the lockout season.  They are 13 points behind Ottawa who have put together a couple of big wins after only winning 1 of their previous 9.  The Sabres also have 2 games in hand on the Sens.  Do these division rivals even want to make the playoffs?
Buffalo has Saturday night off, but will be back at it on Sunday at 12:30pm as they host the Penguins who will be coming off a matchup with their Pennsylvania rivals on Saturday.  In Hockey talk, 2 points will be up for the taking.  Can they stick the slide and get back on the right track?  If so, They will need to improve upon their last matchup with Pitt, as they lost 8-3 in Pittsburgh on December 17th in their last matchup.
Over the next week, the Sabres will need to decide if they have a chance or not.  As the trade deadline looms, Darcy Regier and company will have to determine if their team wishes to strive for a playoff spot or start collecting assets for their impending UFAs and make a campaign to 'fail for Nail' as a talented high draft pick waits in the wing.