Following their five-game defeat at the hands of the eventual Stanley Cup-winning Pittsburgh Penguins in the first round of the playoffs last spring, the Rangers vowed to get younger, faster and bigger in 2016-17. They also sought to find players who could add juice to their offensive game, and others who could help a deficient penalty kill unit that sunk to 26th in the NHL a year ago.
Now, after adding the likes of Mika Zibanejad, Jimmy Vesey, Michael Grabner, Brandon Pirri, Nathan Gerbe, and Nick Holden this summer — while also resigning key RFAs Chris Kreider, Kevin Hayes, J.T. Miller and Dylan McIlrath, and inking star prospect Pavel Buchnevich to an entry-level contract — the Rangers not only have addressed most of their key issues, they have also created an extremely healthy competition for roster spots and positioning within the lineup as training camp opens on Friday.
Moving Forward Up Front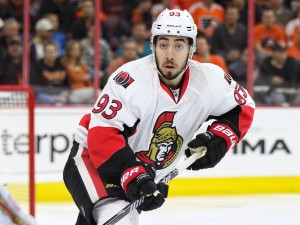 The Blueshirts will bring 36 forwards to training camp, arguably half of them with a chance to make the opening-night roster. Head coach Alain Vigneault will carry at least 13 forwards on the roster, perhaps 14, making for an intriguing battle the next few weeks.
Barring trades or injuries, Zibanejad, Kreider, Hayes, and Miller all have spots up front, as do Rick Nash, Derek Stepan, Mats Zuccarello, and Jesper Fast. So, too, does Vesey, the Hobey Baker Award winner whose spot is contractually guaranteed with the free agent deal he signed this summer with New York. Add Grabner, the speedy veteran free-agent pickup who is one of the league's elite penalty killers, and that makes ten forwards in place already, leaving eight others scrambling for three or four spots on the roster.
Of that group, Oscar Lindberg (13-15-28 in 68 games as a rookie last season) is a likely candidate to be on the team this year, but he is recovering from off-season hip surgery which likely will set him back and keep him off of the opening night roster. That opens up a spot for someone, even if only temporarily.
Buchnevich, the 75th overall selection in the 2013 NHL Draft, will get a long look in camp, as well as every opportunity to make the varsity. He is a highly skilled 21-year old that already has several years of experience playing in the KHL, where he recorded a career-high 16 goals and 37 points in 2015-16.
Like Vesey, Buchnevich checks off several items on the Blueshirts' wish list since he is a young, extremely talented offensive player who skates well and would count less than a million dollars against the salary cap.
If he can stay healthy, the 25-year-old Pirri is an intriguing option to make the team, as well. Two years ago he scored 22 goals in only 49 games with the Florida Panthers, though he had only 14 in 61 contests last season while splitting the year between Florida and Anaheim. Unlike many of the top offensive forwards on the Rangers-notably Zuccarello, Stepan, Hayes and Buchnevich-who lean towards being playmakers, Pirri is a shoot-first threat. Whether or not Vigneault trusts him defensively might ultimately decide whether Pirri makes the team or, if he does, how much playing time he sees.
The other forwards battling for roster spots all bring different elements to the Rangers. Gerbe is a popular hard-working veteran known for his high-end speed and solid play on the penalty kill, while also carrying the reputation for being a great teammate. Josh Jooris, the former Calgary Flame, is a fourth-line candidate who is also a strong penalty killer with some offensive upside. Rugged winger Tanner Glass, in the final year of a three-year contract, is a Vigneault favorite who is one of the club's few physical players, one who again last season ranked among the league leaders in hits.
Rookies Nicklas Jensen, a former Vancouver Canucks first round pick, and Marek Hrivik are knocking on the door following very strong campaigns in the AHL a year ago — and in the case of Jensen, an excellent tournament at the 2016 World Championships last spring, as well. Both are fourth-line candidates whose chances of making the squad dimmed considerably with the late-summer signings of Vesey and Pirri that shook up the depth chart up front.
Getting Defensive
Keith Yandle left the Rangers this summer, signing a free-agent deal with the Panthers. Dan Boyle departed as an unsigned UFA. That opens up two spots among the Rangers' top six defensemen.
Likely one of those openings will be filled by Brady Skjei, New York's first-round choice in the 2012 NHL Draft, who had a solid first year at the pro level with the Hartford Wolf Pack in 2015-16 before playing well while appearing in all five post-season games the Rangers played. With a strong two-way game and the ability to play either the left or right side, the smooth-skating Skjei should easily win a job in this year's camp, joining Ryan McDonagh, Marc Staal, Dan Girardi and Kevin Klein in the top six.
That leaves McIlrath and Holden to battle it out for the other remaining spot, with the loser of the fight filling the role as extra d-man on the roster. The hulking 24-year-old McIlrath, the 10th overall selection by New York in the 2010 draft, has developed slowly but did acquit himself well while appearing in 34 games as an NHL rookie last season. McIlrath is extremely popular with The Garden Faithful for his physical brand of play, though Vigneault seems reluctant to trust him .
Holden, who appeared in all 82 games and averaged over 22 minutes per game with the Colorado Avalanche in 2015-16, is likely the safer bet to crack the top six, especially since he has a higher upside offensively than McIlrath.
Off-season additions Adam Clendening and Michael Paliotta both have three things going in their favor of possibly making the opening-night roster, thus adding intrigue to the pre-season battle among the d-men: they are both young, right-handed, and solid puck-movers. This is the type defenseman Vigneault would love to add to the mix, so watch them the next three weeks, especially if the coach decides to keep eight defenders on the roster.