The Minnesota Wild closed out the 2016 Traverse City Prospects Tournament with a 3-1 win over the Chicago Blackhawks Tuesday. The win, which took three third-period goals including a game-winner from Alex Tuch, prevented the Wild from taking last place in the tournament.
But wins and losses at a prospect tournament, though important to the skaters, aren't that important to the broader picture of the franchise. The broader picture showed improvements in organizational prospect talent and though they took three losses, none of them were blowouts. A goal in the final minute of their game against the New York Rangers sunk them, and they ostensibly lost by just one goal to the Dallas Stars, who scored an empty-netter.
Casting aside the game results, here's a look at what was important for the Wild in Traverse City.
The Best Were the Best
The team's best prospects were the team's best prospects, and that should be heartening. Alex Tuch managed to be one of the team's leaders and had one of the highest shot volumes of any player at the tournament. At times he could have used his big frame to drive the net a little harder and be more of a physical presence, but he was clearly the team's best player.
He averaged 4.5 shots per game and tied with Christoph Bertschy and Gustav Bouramman for the team lead with three points.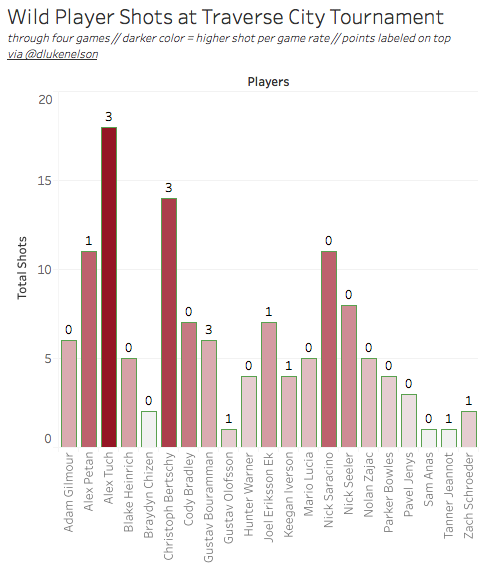 Joel Eriksson Ek wasn't as physical and intimidating of an offensive presence as he was during Wild Development Camp or at National Junior Evaluation Camp for Team Sweden, but he had good moments as well.
On the blue line, Bouramman, who isn't likely to be joining the pro ranks this season, was good and Gustav Olofsson was solid in the handful of minutes he played before getting injured. (Olofsson is expected to be healthy and joining the team at camp by the end of the weekend.)
The Second Tier
I don't know that we need to rank prospects in any kind of numerical order (more on that in a second), but the tier below those top prospects contains a handful of players who could develop into contributing NHLers. Bouramman, Bertschy, Mario Lucia and Sam Anas are probably the players in that group for the Wild's prospects present at the tournament.
Bertschy gets the #mnwild goal thru traffic. pic.twitter.com/mQSzrPCbUR

— AdamWS (@AdamStafki) September 19, 2016
In particular, Lucia and Bertschy had a good tournament. Both opened a little slow but were making an impact at both ends of the ice for the Wild. Lucia is interesting because he clearly has a ton of skill, but it's hard to tell just how much of it will translate to the next level, particularly after a mixed final season at Notre Dame.
In the team's first game, Lucia wasn't much of a factor, but he steadily improved and gained comfort. He was effective on the penalty kill and showed more confidence with the puck, making moves and getting himself toward the net.
Bertschy, who made his NHL debut last season, was in a similar position. He steadily improved and found himself on the top line with Tuch and Eriksson Ek for the final game. He plays positionally sound, smart hockey. He looked capable of overcoming his small stature and playing strong enough to be a third-line wing in the NHL.
The Invitees
The team featured a handful of invitees, some of which will be making an appearance at Wild training camp in St. Paul. Of those, Alex Petan, the 2016 WCHA Player of the Year, continues to be a standout. He's a smart player and ranked third on the team in shots in Michigan. However, he's a smaller player and, like we saw at times during Development Camp, he can shy away from the physical aspects of the game.
He was, again, the team's best invitee, but it's hard to see how he could make an impact on the NHL club. Both his size and the depth of prospects in the system make it difficult to project any way he's working up to the NHL. But he is a very smart player who could definitely surprise in the AHL this year, and smart players have overcome more in the past.
He was tied for third on the team in shots with Nick Saracino, another invitee. Saracino, who was an alternate captain for Providence College last season, had some good moments as well. Like Petan, he finished last season by turning pro and spending time on a tryout contract with the Iowa Wild.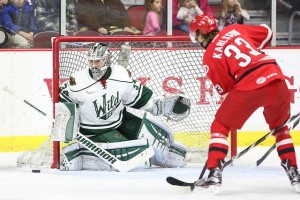 Goaltending Improvement
For the majority of last season, the goaltenders with the Iowa Wild weren't actually a part of the NHL organization. Late in the year, former Harvard goaltender Steve Michalek stepped up from the ECHL's Quad City Mallards and had some success. However, goaltending should show some organizational improvement this year.
With Alex Stalock set to be the starter in the AHL, Michalek and Hungarian free agent signee Adam Vay will compete for time in the AHL. Both looked good in Traverse City. Neither were outstanding and had some struggles, but both had some very good moments as well.
Michalek was hurt in the opening game (he returned for their third game), but up until Vay had to take over in the third, he looked solid. Vay has upside but entered the franchise as a bit of an unknown. He stopped all nine shots he faced in relief of Michalek, then struggled in his second game. But in the team's finale, he was great and was a big part of the win. The Wild outshot the Blackhawks, but the number of quality opportunities Chicago had could have put the Wild in a frustrating hole if it weren't for strong play from Vay.
The Pyramid
Ranking prospects numerically is a weird thing. It supposes that you can compare a 23-year-old coming out of the NCAA with a 20-year-old from Sweden who has been playing pro hockey with an 18-year-old in juniors with a 24-year-old AHLer.
A more effective way of thinking about it, to steal from Steve Dangle, is a pyramid. Layer the prospects into classes. There are a couple of guys at the top who could be top-four/top-six talents. There's another layer with more players below that who could get up to that top level but are more likely middle-of-the-road NHLers. Etcetera.
Down the pyramid for the Wild, there were some good signs. Nick Seeler looked good. He has decent speed, sees the game well and has a physical edge that isn't there in among the more-talented defensemen in the system.
Former Boston College forward Adam Gilmour was in Traverse City as well, after not being able to attend Development Camp. He played a sound defensive game and was a bit of a utility knife. He isn't going to break a game open, but he made sound, safe offensive plays, moved the puck well breaking out of the defensive zone and backchecked hard.
All-in-all, the Wild didn't amaze anyone in Traverse City, but it's a prospect pool that is improved. Reading too much into a tournament like this is a mistake. There were players missing — Chase Lang and Dmitry Sokolov weren't there, Dylan Labbe is injured and the roster didn't include many players returning to college hockey like Luke Kunin and Jordan Greenway.
The Wild's prospect pool is in the best shape it's been since it graduated a handful of players like Mikael Granlund, Jason Zucker, Marco Scandella and others from the Houston Aeros a few years back.