The Toronto Maple Leafs have had their fair share of players known for getting under the skin of their opponents. However, after Michael Bunting's suspension from an incident that happened in Game 1, two players immediately come to mind. 
One, of course, is Bunting. The other is Nazem Kadri. Just over four years ago — almost to the week — Kadri was suspended for the remainder of his team's first-round series by the NHL's Department of Player Safety for delivering a dangerous cross-check to the head of Boston Bruins' forward Jake DeBrusk.
Related: Toronto Maple Leafs: Revisiting the Nazem Kadri Trade
In the past three days connections have been made between Bunting's suspension and Kadri's similar action. Even Kadri tweeted about the topic, saying that he should be left out of the conversation about Bunting's similar first-round incident. Say what he wants, the incidents ring pretty similar bells to me.
In this post, I will take a closer look at both players and compare their careers. Finally, I will wonder if they might face a similar outcome in regard to their relationship with the Maple Leafs.
A Quick Review of Michael Bunting's NHL Career 
Bunting was born on Sept. 17, 1995, in Scarborough, Ontario. He played junior hockey with the Sault Ste. Marie Greyhounds of the Ontario Hockey League (OHL). During his time in the OHL, he developed a reputation as a hard-working, physical player with a scoring touch.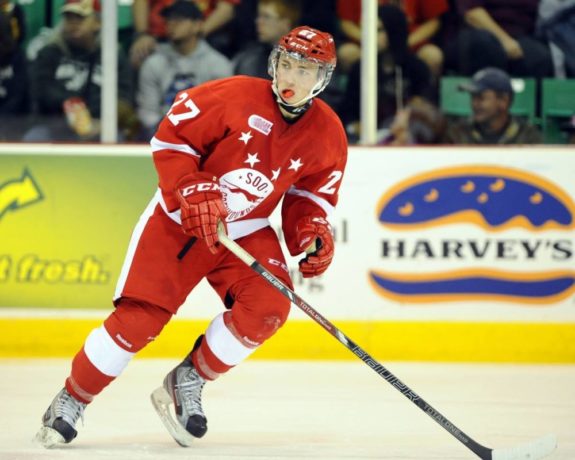 Despite going undrafted, Bunting was signed by the Arizona Coyotes as a free agent in 2014. He spent most of his professional career with their American Hockey League (AHL) affiliate, the Tucson Roadrunners. However, near the end of the 2018-2019 season, he got his first NHL chance. He played a total of 26 games with the Coyotes over the next two seasons, scoring four goals and adding four assists in his first season.
During the 2020-21 season, Bunting had a bit of a breakout year in the NHL. He scored 10 goals and added three assists in just 21 games. As an unrestricted free agent, he chose to come home to Toronto and sign with the Maple Leafs as a free agent in the summer of 2021. He made it clear that this is where he wanted to be.
Related: Maple Leafs Already Made Decision on Bunting Prior to Suspension
Bunting quickly became a fan favorite with his gritty style of play and willingness to go to the net. In his rookie season, he scored 23 goals and came in third in Calder Trophy voting (the award given to the NHL's top rookie). He was also a key contributor to the team's success in the 2022-23 season, scoring 23 goals while playing on the top line with Auston Matthews and Mitch Marner.
A Quick Review of Nazem Kadri's NHL Career
Although Kadri is only five years older than Bunting, he's had a much longer NHL career. This season, he finished his 14th NHL season. He, too, is from Ontario. He was born on Oct. 6, 1990, in London. He was drafted by the Maple Leafs in the first round, seventh overall, of the 2009 NHL Entry Draft.
Kadri played his junior hockey with the London Knights of the Ontario Hockey League (OHL). He was a standout. In his last season with the Knights, he had 93 points in just 56 games. He came in third place in the voting for the Red Tilson Trophy as the OHL's Most Outstanding Player.
Kadri made his NHL debut with the Maple Leafs in the 2009-10 season, but he did not become a full-time player until the last half of the 2012-13 season. Starting in 2013, he established himself as a skilled offensive player. He scored 61 points in the 2016-17 season. Kadri was also known for his physical play and willingness to stand up for his teammates. He played with an edge and was often involved in scrums and altercations on the ice.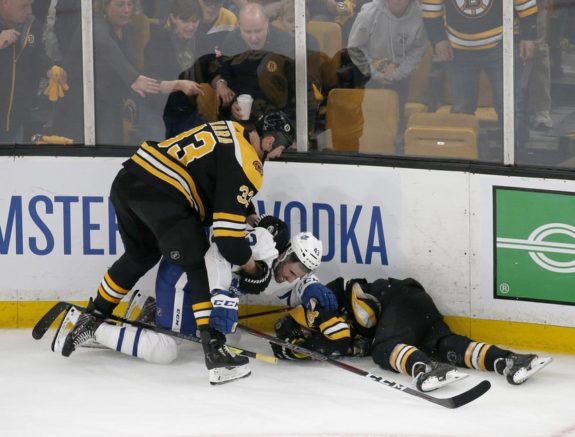 Similar to Bunting, these altercations led to a growing reputation for playing dirty. Kadri was assessed a number of suspensions and fines for illegal hits and other on-ice incidents.
Kadri was traded to the Colorado Avalanche in 2019. Although no one in the Maple Leafs' organization said it aloud, punishments that came at difficult times of the season had probably become too much of a problem for the team. 
Related: Rangers' Goalie Showdown – Lundqvist vs. Richter
It was hard to say just when or how far Kadri would "go off" the line. It was also difficult to say just what and when those actions might arise and cost the Maple Leafs. There were times he just seemed to lack control of his actions.
In the 2021-22 season, Kadri became a key player for the Avalanche and helped lead his team to the Stanley Cup Final win against the Tampa Bay Lightning. Last season, he produced offensively while also playing with physicality and toughness. After his contract expired on July 1, 2022, he signed with the Calgary Flames. His Flames' team finished the season out of the playoffs.
Comparing Bunting's and Kadri's Careers
It's tough in a way to compare Kadri's career with the Maple Leafs to Bunting's. They've had different career trajectories and different roles on their team. Kadri played for the Maple Leafs for a decade, establishing himself as a skilled offensive player and reliable offensive center. He did it all for a team-friendly contract.
---
Latest News & Highlights
---
Kadri had some productive seasons in Toronto, including a 32-goal season, and averaged nearly a point per game in the 2017-18 season. However, Kadri also had issues with discipline, particularly in the playoffs. Like Bunting, he was suspended for dangerous hits. He desperately wanted to stay in Toronto, but finally agreed to be traded to the Avalanche.
In contrast, Bunting is a relatively new addition to the Maple Leafs, having signed with the team as a free agent in 2021. In his two seasons with the team, he's been a hardworking, physical player who brings energy and grit to the team. He too loves playing in Toronto and is also doing it on a team-friendly contract.
Related: Maple Leafs' Michael Bunting: Not Someone to Bet Against
Both Kadri and Bunting have played for the Maple Leafs and brought different strengths to the ice. However, they're different types of players with different styles of play. However, both Kadri and Bunting engage in physical play and bring energy on the ice. They also walk the line in terms of taking poorly considered penalties.
As far as crossing the line, Kadri's offenses would just come as a surprise. He was a pest, but he was also a bit of a ticking bomb. He seemed to get caught in the moment, usually trying to defend a teammate. On the other hand, Bunting always seems to make it clear that he knows exactly where the line is and that he was choosing to skate close to it. His pest-like play is yappy and more obvious.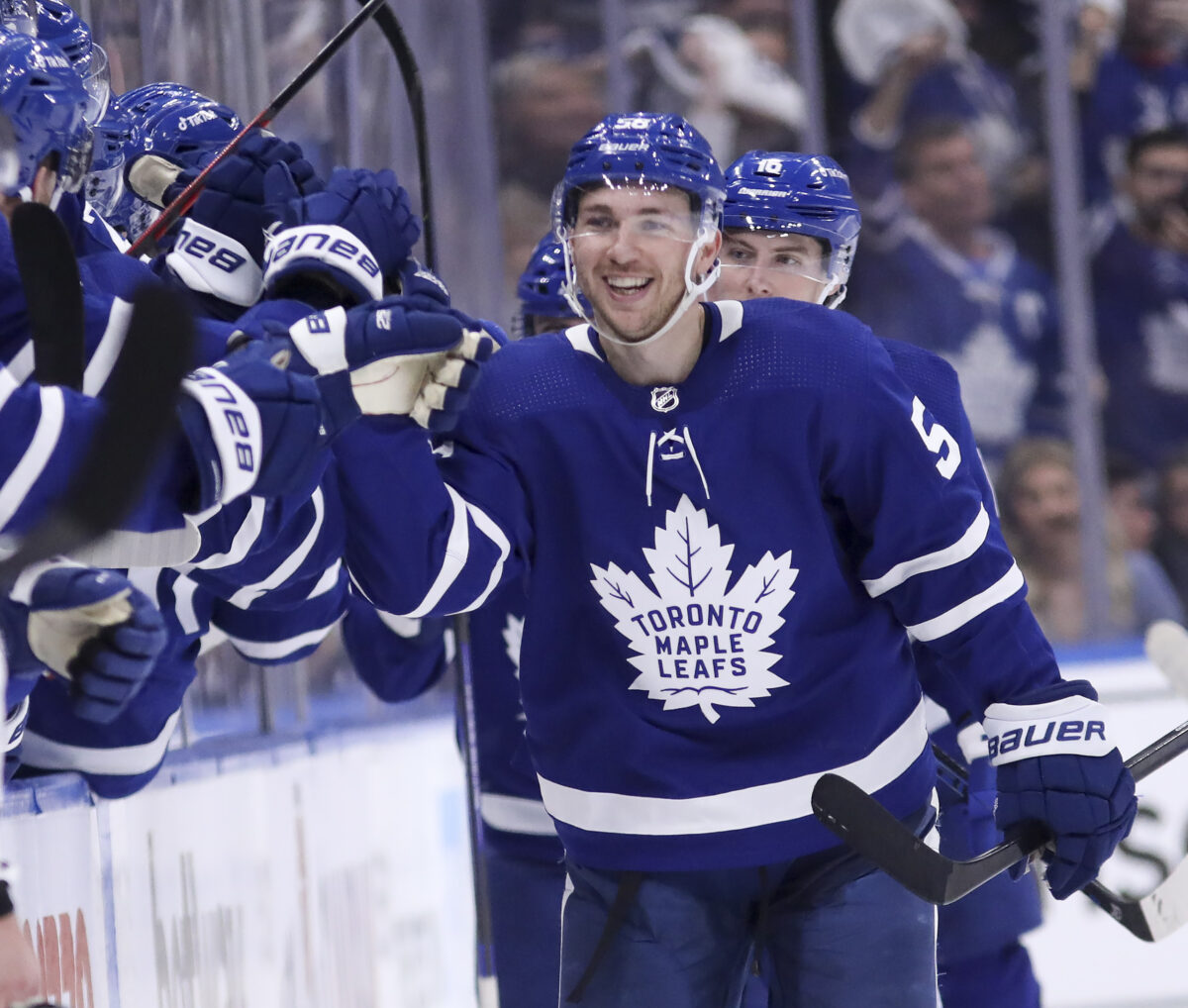 Both players are talented, but those talents come at a potential cost to their team. Four seasons apart, both players were suspended during a first-round playoff series for three games. 
4 Key Similarities Between Bunting and Kardi, and a Possible 5th
There are four similarities between Bunting and Kadri which I think can be summarized as:
Both players are known for getting under the skin of their opponents and playing with physicality.
Both players have had altercations on the ice, leading to a growing reputation for being pests.
Both players have been suspended from games for illegal hits or other on-ice incidents.
Both players have been assessed infractions that contributed to team losses in crucial playoff games.
Now there has to be some concern about whether there's another similarity between Kadri and Bunting on its way. Does the recent suspension of Bunting highlight his lack of self-control? Further, is his style of play similar to former Maple Leafs' Kadri, who had a history of suspensions during his time with the team?
Related: Nazem Kadri Laughs Off Negative Michael Bunting Comparisons
The real question now is whether Bunting and Kadri will soon share the same fate. Specifically, will Bunting's style of play lead to him being traded or released by the team? Many of Kadri's decisions were seen as selfish and untimely. They frustrated both fans and management. In much the same way, hockey analysts have suggested that Bunting is close to being "Kadri 2.0."
If that's the case, what happens next? Will he, too, be gone?
---
---