The Chicago Blackhawks were among the busiest teams throughout the 2022-23 season. There were many moving parts through trades and call-ups throughout the year. Because it was a rebuilding season where playoffs were out of the equation from the start, head coach Luke Richardson wanted to give prospects as much of a look as possible as it was the perfect time to do so with little pressure and expectation. They also made eight trades at the NHL trade deadline, so between call-ups from the Rockford IceHogs of the American Hockey League (AHL) and through trades, there have been 10 new faces. Here is how the Blackhawks' newcomers performed this season.
1. Anders Bjork
2 Goals, 6 assists, 8 points, plus-4 in 13 games
Anders Bjork was one of the most pleasant surprises this season. The Blackhawks acquired him from the Buffalo Sabers at the trade deadline in March as he needed a change of scenery. He mainly played in the AHL, but the 26-year-old had played in one NHL game in Buffalo this season before getting dealt. He ended up fitting in with the Blackhawks right away. He had three assists in his first two games, but unfortunately suffered a lower-body injury on March 10 that kept him out of the lineup for seven games. However, he finished the season strong with five points in his last five games.
Related: Blackhawks' Anders Bjork Setting an Early Example for the Team
---
Latest News & Highlights
---
Bjork hoped to re-establish himself in the NHL, and mission accomplished. He fit great on the third line with Jason Dickinson and MacKenzie Entwistle, and he even developed good chemistry with defenseman Seth Jones as well, as he assisted on three of Jones' 12 goals this season. Bjork showed great on-ice vision and elite defensive instincts. He was among only two Blackhawks' regulars with a "plus" on the plus/minus scale. Him being a plus-4 on a team with a minus-97 goal differential is impressive. Considering he showed offense and defensive promise, it wouldn't be surprising if the Blackhawks opted to extend a qualifying offer and re-sign the restricted free agent (RFA).
Final Grade: B
2. Cole Guttman
4 goals, 2 assists, 6 points, plus-1, 52.1% faceoff percentage (FO%) in 14 games
When speaking of the other player, besides Bjork that was a "plus" on the team, rookie Cole Guttman was the one. The rookie was recalled from Rockford in February after Jonathan Toews went on injured reserve (IR) with a COVID-related illness. Granted, the call-up would have happened anyways because the 24-year-old was third-best on Rockford in goals (16) and fifth-best in points (30) in 39 games. The Blackhawks gave him a lot of responsibility right out of the gate as they made him a second-line center alongside Tyler Johnson and Taylor Raddysh against the Toronto Maple Leafs for his NHL debut. He made an early impression as he scored his first NHL goal in his third NHL game. His game style fits as part of his name, gutsy. He doesn't play with fear and has a tremendous, accurate shot. He always seemed to be in the right place at the right time.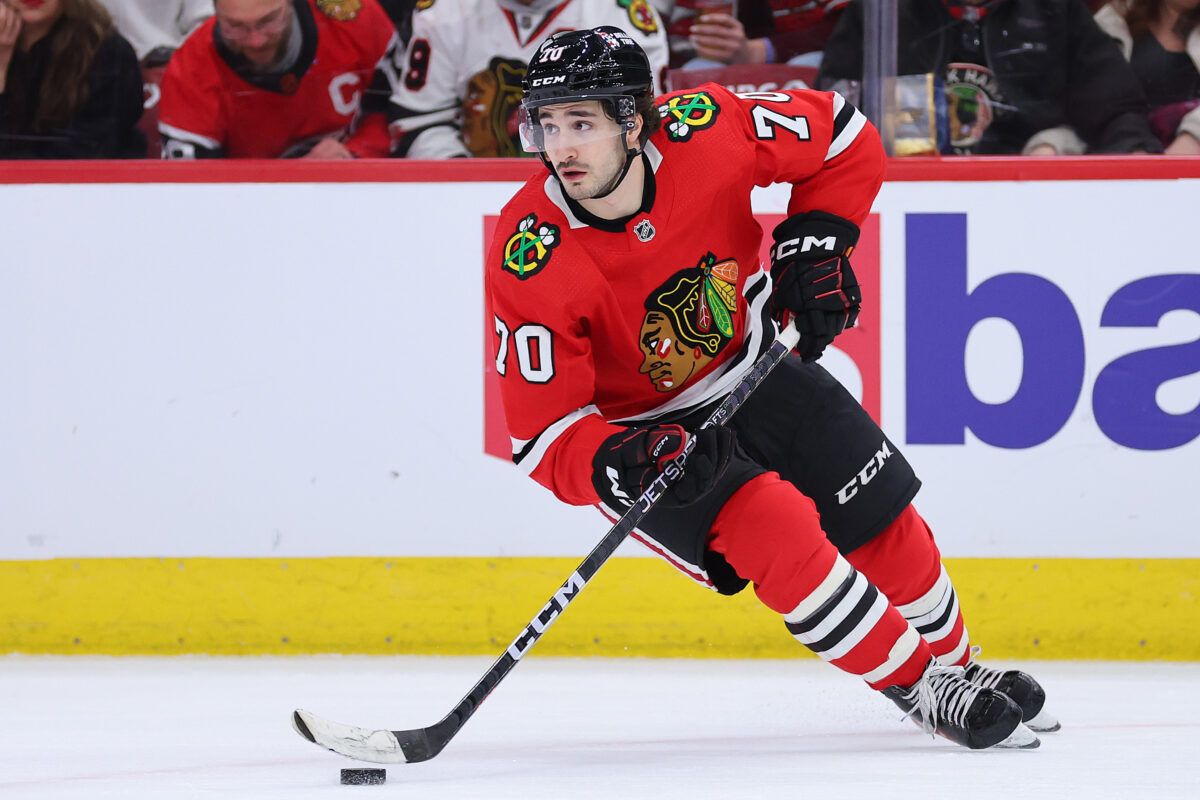 Guttman impressed the Blackhawks so much that they decided not to place him on waivers to make him eligible for the AHL playoffs. It became known the reason for that was because he suffered a shoulder injury in November but played through it until the team shut him down for the season in March for surgery. However, I believe the Blackhawks would have made the same decision even if he didn't have an injury to allow him an entire offseason of training. He had three points in his last three games, even with a bum shoulder. Gusty. He was signed as a free agent last summer, and now, it's looking like a home run, with him potentially being a significant depth scorer for them going into the future. The team values him highly.
Final Grade: A-
3. Mike Hardman
Zero Points, minus-2 in 8 games
Mike Hardman has been with the Blackhawks' organization since 2021. He played in 21 games last season and recorded 21 points. This season, he mostly spent his time with the IceHogs, but the Blackhawks recalled him after Bjork got injured. He posted 16 points in 49 games in Rockford. With the Blackhawks, he didn't show a lot on the fourth line, but he did provide an excellent blocking presence.
Other Blackhawks Player Grade Articles:
He had three blocked shots against the Colorado Avalanche on March 20, which was the most on the team. The Blackhawks lost the game, 5-0, but that kind of selfless play gets you recognition from your team. However, besides plays like that, the offense was nonexistent. He plays the game hard, but believing he has a long-term future with the Blackhawks is hard. He will likely be an IceHogs regular next season.
Final Grade: D
4. Brett Seney
1 goal, 1 point, minus-2 in 7 games
The Blackhawks recalled Brett Seney when they were going through an injury spurt in January. The 27-year-old has been in the NHL since 2018, but in the last two years, he only played in four NHL games and was mostly in the AHL. However, this season, his production exploded. When recalled, he was the second-best scorer in Rockford with 38 points in 32 games. He was an AHL All-Star this year as well. He played a bottom-six role, and has always been known as a gritty, dependable forward. The Blackhawks rewarded him with a one-year, two-way, $775,000 contract, which was well deserved. There is nothing to complain about how he played with the Blackhawks. He was fine in the limited showing he had.
Final Grade: C
5. Joey Anderson
4 goals, 2 assists, 6 points, minus-9 in 24 games
One of the hidden gem acquisitions this season came from Joey Anderson. He was acquired as part of the Jake McCabe and Sam Lafferty trade to the Toronto Maple Leafs. He played 14 NHL games (three points) with the Maple Leafs and then 24 with Chicago. He was another one that seemed to fit right in. He was mainly on the third/fourth line with Jujhar Khaira and Boris Katchouk, which became one of the team's best lines in the final two months. Anderson described himself as playing "straightforward hockey," nothing fancy, but effective. From watching him, that is an accurate description.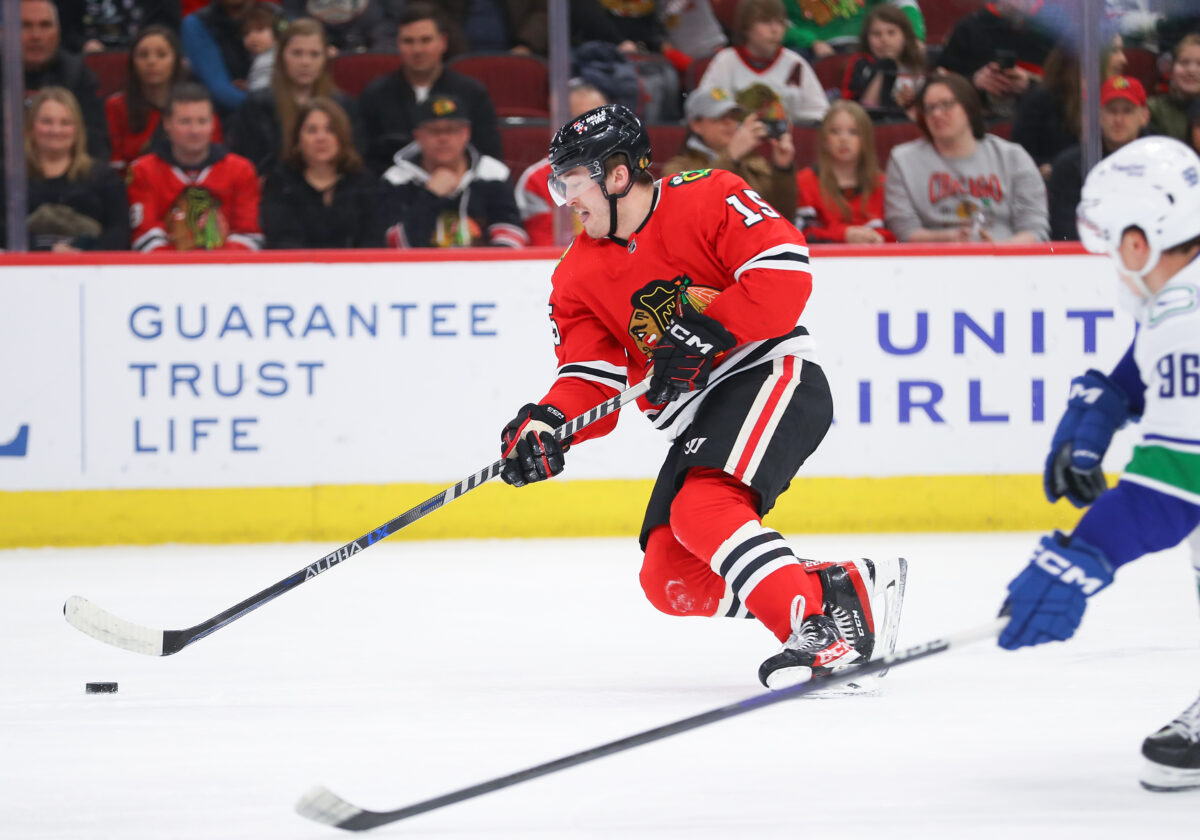 Anderson skates well and drives hard to the net, and that is part of why that line was so successful. The 24-year-old's six points were the most NHL points he had seen since 2019-20, when he recorded six points as a member of the New Jersey Devils. The Blackhawks made him eligible for Rockford's Calder Cup Playoff run, and him being on the first line with Lukas Reichel and Rocco Grimaldi is a big boost for them. He is an RFA this summer, and he is someone I think the Blackhawks will re-sign as a continued depth piece since he did so well in that role.
Final Grade: B-
6. Austin Wagner
1 goal, 1 assist, 2 points, minus-2 in 7 games
Austin Wagner may be an unfamiliar name on the roster because his fresh start didn't go according to plan. The Blackhawks acquired him from the Los Angeles Kings at the trade deadline, but he has spent the last two seasons with the Ontario Reign of the AHL. The team figured they would allow him to showcase his talents, but he had a hand infection, which kept him out of the lineup for 13 games, and he ultimately played on the fourth line. I don't think the team will re-sign him this summer, but we'll always have his beautiful goal against the Calgary Flames on April 4 that put the team up 4-2 in the third period. If only the 25-year-old had more time to show more of that.
Final Grade: D+
7. Buddy Robinson
1 goal, 2 assists, 3 points, plus-1 in 9 games
No one wanted to ruin the Blackhawks' "tank" more than Buddy Robinson. He saw three call-ups from Rockford this season. The 32-year-old veteran spent the most NHL playing time with the Anaheim Ducks last season (32 games), and he has provided depth during his limited stint with Chicago. Robinson had three points in his final two games of the season, leading to a big win against the Pittsburgh Penguins on April 11. He played on the second line with Anders Bjork and Andreas Athanasiou and seemed to have good chemistry. I could see the Blackhawks' re-signing him to a two-way contract to keep him in Rockford, but time will tell.
Final Grade: C+
8. David Gust
1 goal, 1 point, minus-2 in 4 games
Out of all the newcomers, no one had a feel-good story quite like David Gust. He is a native of Orland Park, IL, and he spent the last five years in the AHL with no NHL call-ups, despite winning the Calder Cup with the Chicago Wolves last season. He contemplated leaving the game entirely due to the lack of NHL opportunities but decided to give it another chance. During his first year with the Blackhawks' organization, he hit career-best numbers in Rockford. When recalled in February, he was fourth-best in the AHL with 24 goals and was tied for eighth with 50 points in 51 games. He was also an AHL All-Star alongside Seney.
To make the story better, during his NHL debut against the San Jose Sharks on Feb. 25, he scored his first NHL goal during his first shift, and it was his first shot of the game while on the third line with Jason Dickinson and Colin Blackwell. The Blackhawks ultimately rewarded him with a two-year, two-way, $1.525 million contract extension. He will likely spend more time in Rockford next season, but seeing the 29-year-old hometown kid get another crack at the Blackhawks' lineup wouldn't be surprising.
Final Grade: B
9. Luke Philp
1 assist, 1 point in 3 games
Luke Philp was another feel-good story for the Blackhawks. When Tyler Johnson injured his ankle in January, Philp got his first NHL opportunity. At the time, he was top-five on Rockford in points (30) and goals (14) in 31 games. So, Coach Richardson and company felt he deserved a look. The 27-year-old had spent the last three seasons in the AHL with the Flames organization, but this was his first season with the Blackhawks. He played on the third line and got his first NHL point in his second game against the Flames, which was an assist on Boris Katchouk's goal. Again, small sample size, but he did well for his first opportunity.
Final Grade: C
10. Lukas Reichel
7 goals, 8 assists, 15 points, minus-8 in 23 games
Last but not least, the Blackhawks' golden child, Lukas Reichel. Many were disappointed he didn't get an entire year with the Blackhawks, despite more development in Rockford making the most sense. But no harm no foul, he still got an extended look with the team, and he was excellent. He played 11 games last season but did look a bit timid, although the talent was there. This season was a different story. He came out of the game in three different call-ups, looking elite. He was a lot more assertive with the puck, was driving to the net almost immediately, and impacted the score sheet. He skates effortlessly, has excellent offensive instincts, and he had a positive impact on his teammates.
Related: Blackhawks Sensible to Send Lukas Reichel to AHL
He got his first NHL goal in his third game with the 'Hawks this season. Reichel finished the regular season in Rockford with 51 points in 55 games and was an AHL All-Star alongside Gust and Seney. There is nothing to complain about with how he played. He was a top-line, impact player who showed significant strides, precisely what the team hoped to see.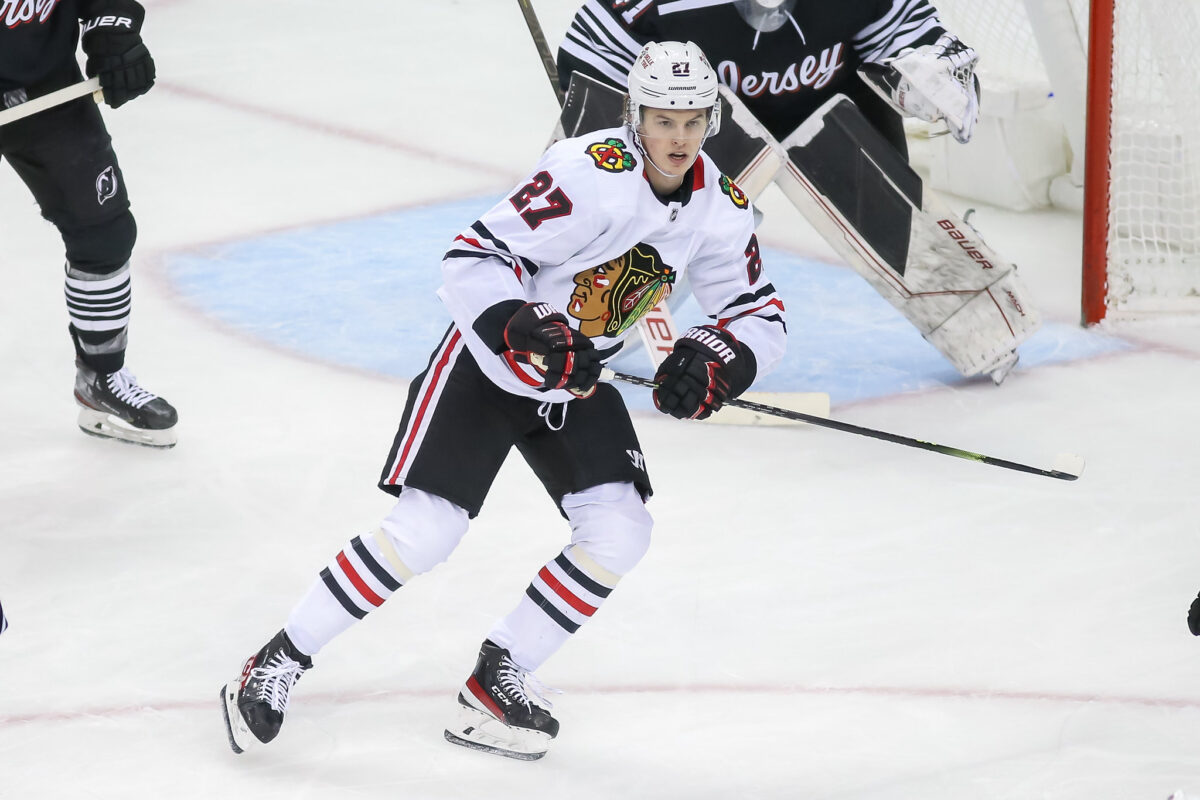 The only "con" is that management wants to see Reichel put on more weight to be stronger on the puck (he is 6-foot, 185 pounds). He worked on that last summer, and this summer will be the same. The 20-year-old's season made fans excited about his potential. It's unclear where his actual ceiling is, but this season indicated he could be a solid top-six player in the NHL. His 15 points in 23 games was a 53-point pace in a regular 82-game setting, and he finished the season with eight points in his last eight games. Plus, he developed great chemistry with Philipp Kurashev, who the team will likely re-sign over the summer, making for a dangerous future pairing. Whoever Reichel plays with next season, he will be the one to watch. I initially gave him an "A-" grade on our latest Blackhawks Banter podcast, but I think he is higher than that.
Final Grade: A
The Blackhawks may have finished third-worst in the NHL, but they succeeded with their Rockford players and the players they acquired via trade. Usually, only a select few stand out in one season. That aspect contributed to them playing better than expected, and it should give fans a lot of excitement going into next season.
---
---