The Chicago Blackhawks were likely the busiest team at the NHL Trade Deadline, making nine trades. Because so many moves were made and there are plenty of new faces, players have to do something that stands out to garner the attention of the Blackhawks' faithful in their game. Anders Bjork is one of the names acquired at the trade deadline, and even though he has only played in two games, fans are quickly becoming acquainted with his name for compelling reasons.
Anders Bjork's Background
Bjork's name might sound familiar to you from his time with the Boston Bruins, as he was there from 2017 to 2021 and was a bottom-six forward who earned a lot of success on the third line with Charlie Coyle and Brett Richie. He put up career-best numbers during the 2018-19 season, where he notched nine goals, 10 assists, 19 points, and was a plus-5 in 58 games. He was ultimately traded in April 2021 to the Buffalo Sabres as part of the trade package that saw Taylor Hall go to the Bruins. However, his tenure with the Sabres was challenging. He was mainly a fourth-line player, and the criticisms surrounding him stated that he "didn't have any consistency or unique selling point." He only garnered eight points in 58 games last season and struggled with the defense aspect of his game.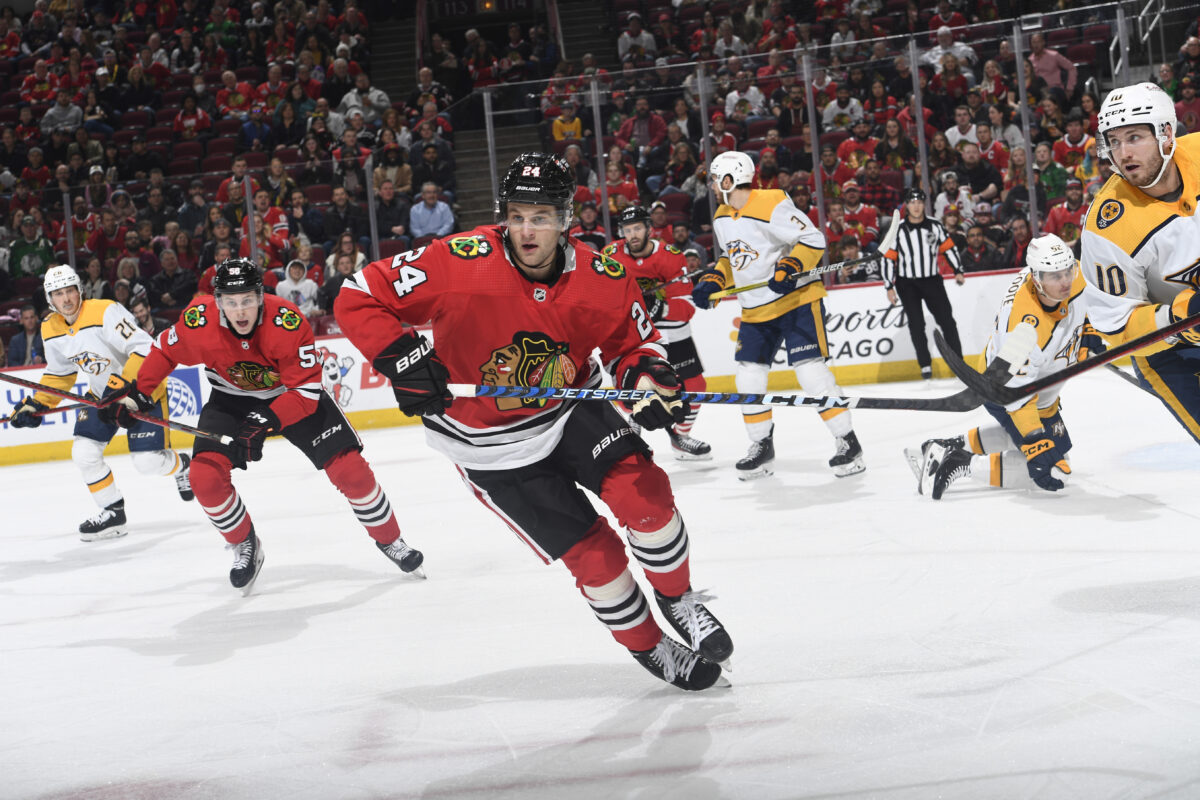 Fast forward to this season, he only appeared in one NHL game for the Sabres and was sent down to the Rochester Americans of the American Hockey League (AHL). Sabres general manager Kevyn Adams said the move was made to help him find his game, as that is hard to do when sparsely in the lineup. Bjork put up respectable numbers in Rochester with eight goals, 17 assists, and 25 points, and was a plus-5 in 42 games. After being sent down to the AHL, he had a great attitude, saying he knew his career was at a crossroads, but mentioned, "I just want to improve as a hockey player and influence my teammates, push them to work harder by working hard. I'm going to work my butt off and improve." The Sabres wanted to give him a fresh start, and rebuilding teams like the Blackhawks, who are missing most of their talent, allows players like Bjork to showcase his game at the NHL level again. 
Bjork's Blackhawks' Tenure
Even though he has only been with the Blackhawks for two games since the trade deadline, he is quickly establishing himself. He has three assists since joining the team, all in the game against the Ottawa Senators on March 6, which was a career-first for him.
Related: Blackhawks: Getting to Know the Post-Trade Deadline Roster
---
Latest News & Highlights
---
Two games are not a lot, but a few things stand out. First, Bjork already leads the team in plus/minus, being a plus-3, and his 15:16 ice time is the most he has seen since 2020-21 when he averaged 17:02 minutes. His assists per 60 minutes are at a career-high with 5.9. His previous career-high was 1.3 in his rookie season in Boston in 2017-18. With being put on the Blackhawks' third line with Jason Dickinson and MacKenzie Entwistle, they combined for one goal-for and zero against and recorded 12 chances for and 16 chances against. Now, to look at the eye test for Bjork here is one of Seth Jones' goals he assisted on.
Something that stands out to me right away is his passing ability. He was making cross-ice passes to Jones all night that was right on his stick, and that one was a goal. The second thing is his vision. It can be hard to see the ice when the opposition is crowding the middle of the ice, but he seems to thrive under the pressure of that scenario. There were no hesitations with his passes, and he could quickly locate players in the best position to score. Pace in the Blackhawks' scoring ability has been missing for a bit. They can be in the right positions, but they often wait too long to shoot or pass, but that doesn't seem like a part of Bjork's game. He mentioned a strength of his is quick plays, which he showed against Ottawa.
When Bjork was asked what his game style was, he responded, "I like to play fast, and I got some offensive ability, but I pride myself being responsible and being a two-way player. With my speed, [I can bring the] energy and disrupt on the forecheck or D-zone disrupting, helping break pucks out and retrieve pucks on the forecheck as well. I think speed is probably my best asset, and I try to use that the best I can to the team I'm on." The Blackhawks love speed and have been prioritizing adding players that have it, so it makes sense why the team had an interest in him.
Bjork's Expectations Going Forward
An under-the-radar quality about Bjork is his work ethic. In one of the quotes above, he talked about working hard and influencing his teammates to do the same. He followed the same quote by saying, "winning those battles, that's a huge part of playing in the NHL. I want to show that example for the guys down here [in Rochester]." The Blackhawks have mentioned character many times as part of the qualities they target in players, and this mindset will be significant for the rest of the year. He showed that he plays by example. Playing the right way is contagious, rubs off on his linemates, and produces goals. He will not have three-point nights every night, but in two games, he showed he is there to play and work hard, which is part of the culture coach Richardson is trying to build for the future.
Related: Blackhawks Bytes Deadline Edition: Johnson, Lafferty, Kane, Domi
Going into the next phase of this rebuild without star players like Patrick Kane and Max Domi can leave a bad taste in some of the player's mouths, but players like Bjork are needed to show that there is still a lot to play for. The 26-year-old becomes a restricted free agent at the end of the year with a $1.6 million cap hit, so he has a lot to prove for his NHL future. The expectations for him are to continue to play the way he has shown already. If he does, he may have a future with the team.
Again, it is a super small sample size, so these numbers will likely come back down to earth, but it is encouraging to see players want to be a part of the solution during the Blackahwks' rebuild. He mentioned Chicago is his dream team because he grew up close by in Wisconsin. He already seems like an easy player to root for based on his work ethic alone. He may not be an offensive powerhouse the rest of the season, but he will give 100% every night, and for Chicago, that's all they can ask for.
---
---