This is an argument that can be made for any NHL superstar player, but in the case of Connor McDavid, the question feels more relevant on Saturday following a 3-2 overtime loss to the Los Angeles Kings where a questionable high-stick that McDavid swears he saw but was ruled inconclusive upon review, and a number of missed or ticky-tack calls in Game 3 decided the outcome.
Some fans will make the argument that the Oilers need to be better — which is true. Many of their top guys have been largely invisible and their depth hasn't stepped up to help in a series that isn't going Edmonton's way. At the same time, some fans are having a hard time overlooking what appears to be a sizeable bias toward the Oilers' power play and the greatest player in the world.
The Argument Against the Officials
So far, it's hard to ignore just how much the officiating in the 2023 NHL playoff has been a factor. Not a game goes by where there isn't a questionable call or a contest where an NHL review seems to be the takeaway narrative from the outcome.
---
Latest News & Highlights
---
There were questions about whether Wes McCauley should even be allowed to officiate a Maple Leafs' game considering his history with Sheldon Keefe, there have been insanely inconsistent penalty calls in multiple games, a question mark surrounding whether a puck crossed the goal line, and more. In the Oilers series versus the Kings, fans and media are now talking about little else than a high-sticking play in OT and questionable penalties that stole the show in Game 3.
As Bob Stauffer of Oilers Now and 630 CHED tweeted, "I have always believed the PLAYERS are the Show in the NHL. The Unsportsmanlike call on 2019-20 MVP Leon Draisaitl right after Connor McDavid's 2nd PPG was the sign of an Official who thinks he is the show!" Stauffer is not alone in feeling like the referees have tried to take over games this postseason.
Is McDavid Someone That Should Be Trusted?
There's an argument that can be made that when the officials don't know what to call, it's best not to guess and instead, to err on the side of the superstars. Not only should the NHL want to protect its best players, but these same players — who have an insane ability to process the game differently than others — see things during a game that others (including four officials) don't.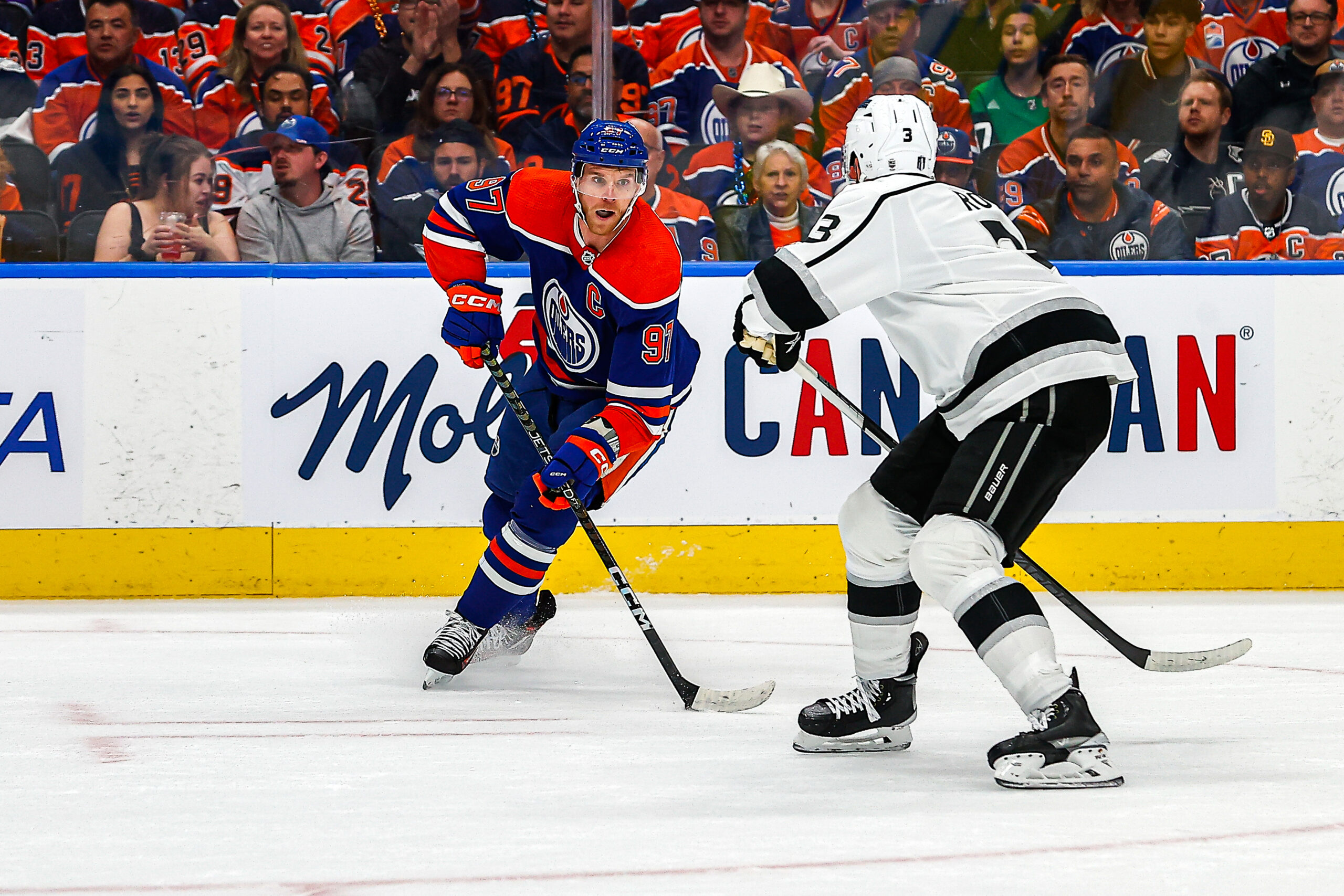 In Game 3 for the Oilers, more than a handful of calls have people scratching their heads. Leon Draisaitl goes to the box for a slash after McDavid scores his second goal of the game on Friday. Philip Danault two-hands McDavid in the same game, no call. Darnell Nurse runs into Victor Arvidsson who puts on an Oscar-worthy performance in selling the penalty (the refs actually reviewed it to see if it was worthy of a major), but McDavid gets run by Drew Doughty and no call. Finally, McDavid immediately raises his hand in the air during overtime (as the play is ongoing) to signify he saw the puck get hit with a high stick and there's no stoppage in play. The Kings get possession and score the overtime winner.
I'm not here to say I agree or disagree with any of these conspiracy theories when it comes to No. 97. I'm only pointing out that there are enough questions in the Oilers vs. Kings series and in others around the league to wonder if players like McDavid simply aren't a factor when the officials are making their assessments in real-time. And, I'm also wondering if that's the right way to go about things.
Objectivity vs. Getting It Right
Understandably, one could make the argument that McDavid is going to call things in favor of his own team. After all, it clearly benefits him to get a call that goes Edmonton's way. At the same time, we've already seen instances during the season where officials are human, they make mistakes, and the best players in the world want the refs and the NHL to get it right.
Related: 3 Takeaways from Kings 3-2 Game 3 Overtime Win
Look no further than Cale Makar who, in December, told the officials that a penalty call they were about to make against Mathew Barzal was not actually a penalty. Makar waved his hand to indicate to the ref that he actually just slipped and the referee took back his decision. Becoming an embellisher isn't a good long-term play by anyone, so the tendency would be, to tell the truth. Like selling products on eBay, you don't last long if you're getting early negative feedback from your buyers because you lie about the product or ship it in bad condition. If you lie about calls or try to make the officials look foolish, you immediately become untrustworthy. They will remember that down the line.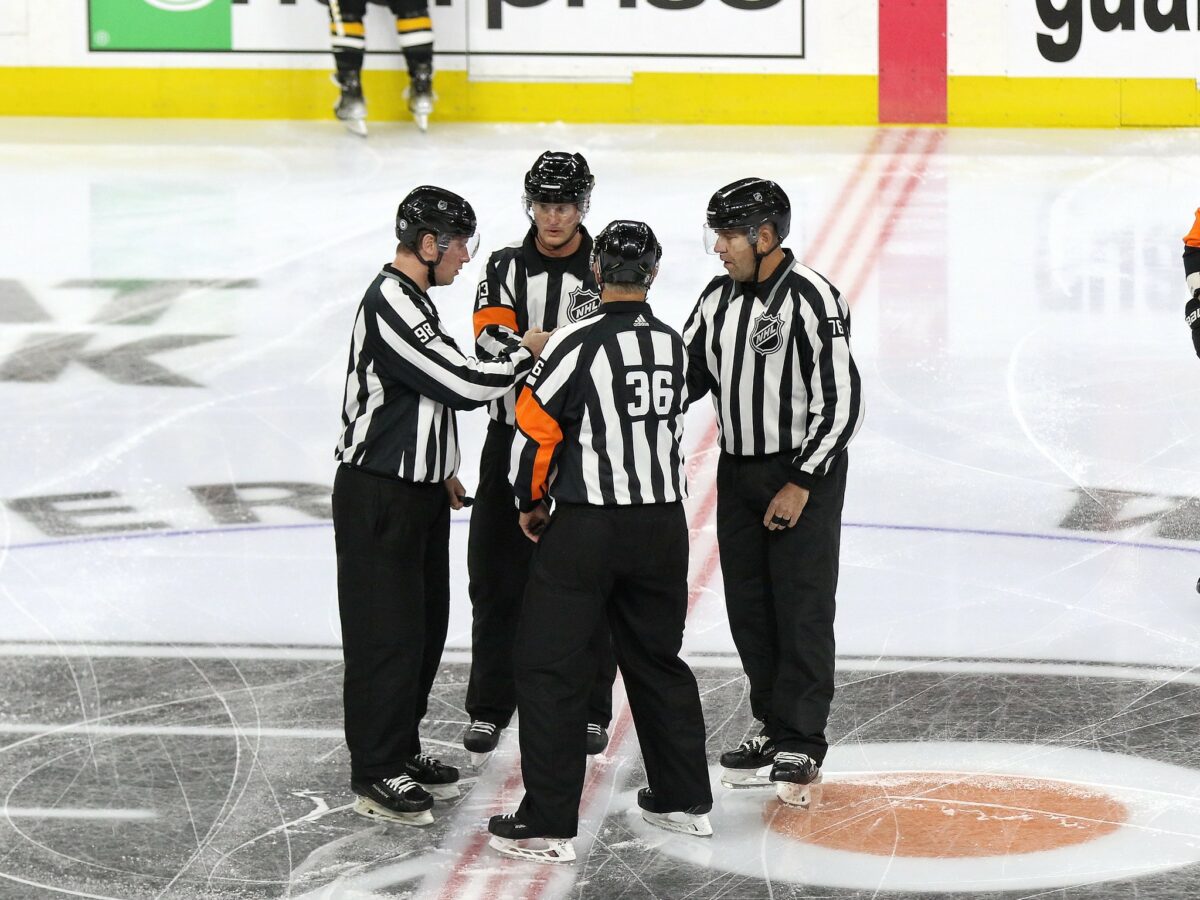 The point here is, some players will take advantage and some just want the right play to be called. McDavid's raising his hand, while also playing a crucial sequence is more reactionary than it is trying to steer a call that wasn't there. McDavid acting like he's hurt on a slash isn't embellishment for the sake of trying to get his league-leading power play more chances (of which they've had very few). He's simply playing the game he's really really good at. Sometimes he sees things others don't and feels things because they hurt.
Is it time the referees look to players like McDavid, Nathan MacKinnon, Auston Matthews, and others as the action is ongoing and follow their lead if they aren't sure? The NHL has become a league overrun by reviews and rarely are fans satisfied with the outcome of what's being called. Perhaps the game would go a little more smoothly if the officials realized the best players in the world saw something they might have missed. A quick huddle in OT between the officials saying, 'None of us saw it, but McDavid swears it was a high stick, let's say it was and review it.' That leads to an entirely different outcome since the inconclusive nature of the play then goes in favor of the infraction actually happening and the game continues with both teams still having a chance to win.
As Oilers' head coach Jay Woodcroft said, "In the end, I'm gonna go with the greatest player in the world who's three feet away." Maybe the officials should consider believing him too.